Cymru-Wales
CPS Cymru-Wales is currently maintaining core business functions, while doing all we can to minimise in-person contact.
Please communicate with us by email, telephone and secure digital media wherever possible. Royal Mail and other post delivered to our offices will be checked periodically, but normal mail response times cannot be guaranteed. All hand deliveries must be made by appointment only.
Our main contact number is 02920 803800 with options for the various units. Contact numbers for specific offices can be found in the Contact Us section at the bottom of this page. Please note that our offices will not be staffed as usual.
Email addresses:
If you are a member of public, you can use the following email addresses without including .cjsm.net, which will work only for members of the Criminal Justice Secure Mail system. DO NOT use these addresses to send sensitive information unless via .cjsm.net.
For cases in North Wales, Abertystwyth and Llandrindod Wells:
For cases in South East Wales:
For cases in South West Wales:
Area Fraud Centre:
Rape and Serious Sexual Offences (RASSO) work:
Email: CymruWalesRASSO@cps.gov.uk.cjsm.net
---
The Crown Prosecution Service (CPS) is the main prosecuting authority in England and Wales. We work in partnership with all agencies in the criminal justice system, especially closely with the police, although we are independent of them. The police will investigate crime and our role is to prepare and present cases to the courts.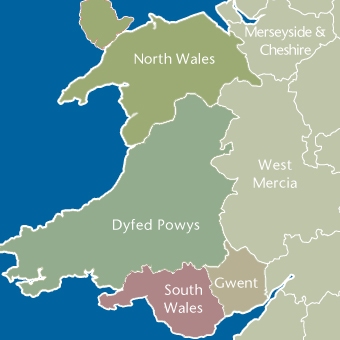 The CPS has 14 Areas across England and Wales. CPS Cymru-Wales is our Area. The CPS in Wales serves a population of over three million people and our local teams work alongside partner organisations in the four police force areas in Wales: Dyfed Powys, Gwent, North Wales and South Wales.
CPS Cymru-Wales employs around 280 members of staff, consisting of lawyers, paralegals and administrator.  We work remotely across a wide range of locations in Wales but our three main offices are in Cardiff, Mold and Swansea.
Our duty is to prosecute the right people for the right offences. We aim to act professionally and strive for excellence, continually looking to improve our service and the way we work.
We are committed to providing a high quality service in the Welsh or English language, on an equal basis.
CPS Cymru-Wales is headed by Chief Crown Prosecutor (CCP) Jenny Hopkins, whose responsibilities include: carrying out prosecutions; setting and maintaining professional and ethical standards; representing the CPS locally; contributing to national policy and strategy; and ensuring effective employee relations.
The CCP is supported by a team of senior managers with expertise in legal and business management issues. On the legal side, support is provided by Deputy Chief Crown Prosecutors Deborah Rogers and Huw Rogers. Mike Grist is the Area Business Manager and has responsibility for the business and operational delivery functions.
Executive Team
Toggle accordion
Jenny Hopkins, Chief Crown Prosecutor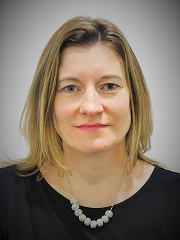 Jenny grew up in Wales and was a solicitor in private practice before joining CPS London in 1998 as a Senior Crown Prosecutor.  She became a Legal Manager in CPS London before spending 5 years as a Unit Head in the Organised Crime Division.  She returned to CPS London as the Head of Homicide and in 2011 was appointed the Deputy Chief Crown Prosecutor with responsibility for the Complex Casework Unit.
Between 2014 and 2018 Jenny was the Chief Crown Prosecutor for the CPS East of England Area before taking up her post as the Head of the Special Crime and Counter Terrorism Division.  Jenny was appointed as the Chief Crown Prosecutor for Wales in May 2021.
---
Deborah Rogers, Deputy Chief Crown Prosecutor
Deborah was called to the Bar in 1983. She started her career as a Magistrates' Court Clerk in Bradford and Manchester. 
Deborah joined the CPS in 1986 and was based in London before joining CPS South Wales. With over 25 years' experience as a Senior Crown Prosecutor, Deborah has been Head of the Rape and Serious Sexual Offence (RASSO) unit and also the Crown Court Unit in Cardiff.  
She is the violence against women and girls (VAWG) coordinator for Wales and was appointed to the post of Deputy Chief Crown Prosecutor in March 2013.  Her Deputy CCP role is in respect of the Crown Court casework conducted in CPS Cymru-Wales.
Huw Rogers, Deputy Chief Crown Prosecutor
Huw joined the CPS in 2004 after several years in private practice where he was head of the firm's criminal department.  He has been Head of Complex Casework and RASSO in CPS South West before he joined CPS Wales in 2018.
Huw is experienced in prosecuting cases in both Crown and Magistrates' Courts and is the Deputy Chief Crown Prosecutor with responsibility for our work in the Magistrates' Courts.
Mike Grist, Area Business Manager 
An experienced Business Manager, Mike has been with the CPS since its inception in 1986.
Mike originally joined Hampshire County Prosecuting Solicitors in 1975 as a Law Clerk and subsequently held positions of Senior Law Clerk and Acting Chief Law Clerk.
In 1991 he took up post of Chief Law Clerk for Wiltshire and Gloucestershire CPS. In 1993 he moved to Wales to take up an Operations post and in 1996 he was appointed as Area Administrator for Wales.
In 1999 Mike was appointed as Area Business Manager for CPS West Midlands and after eight years' service returned to Cardiff to take up a similar post for CPS South Wales. 
In 2011, Mike became Area Business Manager for the newly-created Cymru-Wales Area.
Magistrates' Court Unit
Toggle accordion
The Magistrates' Court Unit prosecutes a wide range of offences where the maximum sentence for each offence does not exceed six months' imprisonment or one year if two or more relevant offences are to be considered. All cases commence in the magistrates' court.
Crown Court Unit
Toggle accordion
The Crown Court Unit deals with more serious cases and those likely to receive higher penalties. Our Crown Court Unit includes teams who deal with complex casework and rape and serious sexual offences.