Cymru-Wales
CPS Cymru-Wales is recruiting. For more details, please visit the CPS Careers page.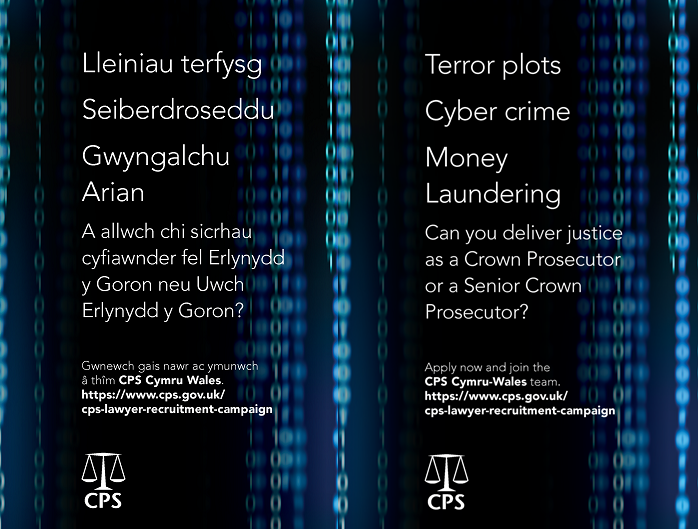 The Crown Prosecution Service (CPS) is the main prosecuting authority in England and Wales. We work in partnership with all agencies in the criminal justice system, especially closely with the police, although we are independent of them. The police will investigate crime and our role is to prepare and present cases to the courts.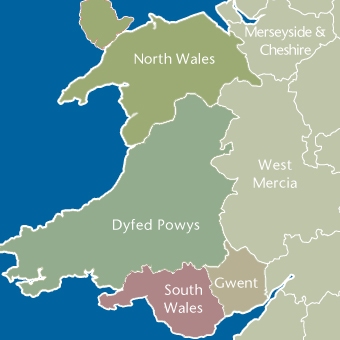 The CPS has 14 Areas across England and Wales. CPS Cymru-Wales is our Area. The CPS in Wales serves a population of over three million people and our local teams work alongside partner organisations in the four police force areas in Wales: Dyfed Powys, Gwent, North Wales and South Wales.
CPS Cymru-Wales employs around 280 members of staff, consisting of lawyers, paralegals and administrator.  We work remotely across a wide range of locations in Wales but our three main offices are in Cardiff, Mold and Swansea.
Our duty is to prosecute the right people for the right offences. We aim to act professionally and strive for excellence, continually looking to improve our service and the way we work.
We are committed to providing a high quality service in the Welsh or English language, on an equal basis.
CPS Cymru-Wales is headed by Chief Crown Prosecutor (CCP) Barry Hughes, whose responsibilities include: carrying out prosecutions; setting and maintaining professional and ethical standards; representing the CPS locally; contributing to national policy and strategy; and ensuring effective employee relations.
The CCP is supported by a team of senior managers with expertise in legal and business management issues. On the legal side, support is provided by Deputy Chief Crown Prosecutors Deborah Rogers and Gerallt Evans. Mike Grist is the Area Business Manager and has responsibility for the business and operational delivery functions.
Executive Team
Toggle accordion
Barry Hughes, Chief Crown Prosecutor for CPS Cymru-Wales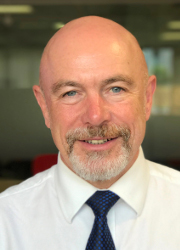 Barry Hughes is from Liverpool and studied law at Sheffield University before joining the newly formed Crown Prosecution Service in 1986 as a Crown Prosecutor in North London. In 1996 Barry was promoted to the post of Assistant Chief Crown Prosecutor for London and then appointed Chief Crown Prosecutor for Cheshire in 1999.
In 2004 he was appointed Chief Crown Prosecutor for CPS Direct and set up the CPS service which provides charging advice outside normal working hours across England and Wales.
In 2007 Barry was appointed Chief Crown Prosecutor for Avon and Somerset. Following a CPS restructure in April 2011, Barry became Chief Crown Prosecutor for the South West. In June 2017 Barry took up post of Chief Crown Prosecutor for CPS Cymru-Wales with ultimate responsibility for all criminal prosecutions in Gwent, South Wales, Dyfed Powys and North Wales.
He is married with two children and lives near Bath.
Mike Grist, Area Business Manager 
An experienced Business Manager, Mike has been with the CPS since its inception in 1986.
Mike originally joined Hampshire County Prosecuting Solicitors in 1975 as a Law Clerk and subsequently held positions of Senior Law Clerk and Acting Chief Law Clerk.
In 1991 he took up post of Chief Law Clerk for Wiltshire and Gloucestershire CPS. In 1993 he moved to Wales to take up an Operations post and in 1996 he was appointed as Area Administrator for Wales.
In 1999 Mike was appointed as Area Business Manager for CPS West Midlands and after eight years' service returned to Cardiff to take up a similar post for CPS South Wales. 
In 2011, Mike became Area Business Manager for the newly-created Cymru-Wales Area.
Deborah Rogers, Deputy Chief Crown Prosecutor
Deborah was called to the Bar in 1983. She started her career as a Magistrates Court Clerk in Bradford and Manchester. 
Deborah joined the CPS in 1986 and was based in London before joining CPS South Wales. With over 25 years' experience as a Senior Crown Prosecutor, Deborah has been Head of the Rape and Serious Sexual Offence (RASSO) unit and also the Crown Court Unit in Cardiff.  
She is the violence against women and girls (VAWG) coordinator for Wales and was appointed to the post of Deputy Chief Crown Prosecutor in March 2013.  Her Deputy CCP role is in respect of the Crown Court casework conducted in CPS Cymru-Wales.
Gerallt Evans, Deputy Chief Crown Prosecutor
Gerallt is the Deputy Chief Crown Prosecutor with responsibility for prosecutions in the Magistrates' Courts across Wales. 
He has worked for the CPS for over 25 years after starting his career as a defence solicitor in a high street practice. A fluent Welsh speaker, Gerallt worked for many years as a front line prosecutor and manager in Wales dealing with a wide variety of casework including a number of complex and high profile cases.
In 2014 Gerallt was appointed Deputy Chief Crown Prosecutor for CPS London with responsibility for the Magistrates' Court unit, which at the time was the largest operational unit within the CPS.
In June 2017, Gerallt returned to CPS Cymru-Wales as Deputy Chief Crown Prosecutor.
Gerallt is one of the longest serving CPS Hate Crime Coordinators and has established strong links with local and national community groups. He was the first chair of the Welsh Government's Hate Crime Criminal Justice Group and is the CPS national operational lead on hate crime. Gerallt was also recently appointed as the national CPS lead on wildlife and heritage crime.
Magistrates' Court Unit
Toggle accordion
The Magistrates' Court Unit prosecutes a wide range of offences where the maximum sentence for each offence does not exceed six months' imprisonment or one year if two or more relevant offences are to be considered. All cases commence in the magistrates' court.
Crown Court Unit
Toggle accordion
The Crown Court Unit deals with more serious cases and those likely to receive higher penalties. Our Crown Court Unit includes teams who deal with complex casework and rape and serious sexual offences.