Arsonist who killed two people in flat fire jailed for life
A Reading man who admitted murdering two people when he set fire to a block of flats has today been sentenced to a whole life order.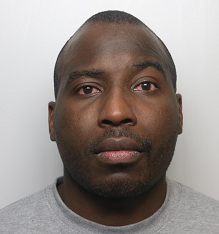 In the early hours of 15 December 2021, Hakeem Kigundu, 32, used petrol to set fire to the block of flats in which he lived, after a dispute with his neighbours. 
The fire rapidly spread through the building, blocking the communal stairs and exits and forcing residents to jump from their flat windows. Many were hurt as they tried to escape, with two sustaining serious injuries. Sadly, two residents died in the fire.
Two months before the fire, Kigundu had been served an eviction notice following numerous noise complaints made by his neighbours; he also lost his job during this period. The Crown Prosecution Service made the case that Kigundu blamed his neighbours for his eviction and planned his attack as a form of revenge. 
Despite Kigundu's initial claims that the fire was an act of impulse caused by a fit of rage, the Crown's case was that his attack was premeditated and deliberately done with the intention of causing as much harm to others as possible. Evidence of his planning included his large purchases of fuel containers and petrol in the two weeks preceding the attack, and an audio diary he had recorded nearly a week earlier in which he said "All the actions I am about to take are warranted believe me. Only cure for a **** who's persistent is death and I am going to give them that."
Lawyer Hayley Garey of the Crown Prosecution Service said: "Hakeem Kigundu carried out a premeditated and devastating revenge attack, having planned his actions in the weeks and days beforehand. He started the fire in the middle of the night when he knew it would cause the most harm, damage, and ultimately deaths. 
"The strength of the evidence gave Kigundu no option but to plead guilty to the charges against him. One small consolation is that this saved the victims and witnesses from having to relive their horrific experiences in court.
"Our thoughts are with the families of the victims who were killed, and with the survivors who have lost their homes and most of their possessions. We hope this sentence can bring them some sense of justice."
Kigundu pleaded guilty to one count of arson, two counts of murder, and two counts of grievous bodily harm at Reading Crown Court in September and was sentenced today (7 October 2022).
Notes to editors
On 20 September 2022, Hakeem Kigundu (D.O.B. 30.6.1990) pleaded guilty to two counts of murder, one count of arson with intent to endanger life and two counts of causing grievous bodily harm with intent. This took place at a plea hearing at Reading Crown Court. 
He was sentenced to a whole life order in prison at the same court on 7 October 2022. 
Hayley Garey is a Senior Crown Prosecutor for CPS Thames and Chiltern.