Woman sentenced with her father for drugs conspiracy
A Liverpool business woman and her father have been sentenced for a drugs conspiracy and laundering the proceeds of the criminal enterprise.
The Crown Prosecution Service (CPS) said that Faye Dunn, 38, and her father Michael Dunn, 68, were involved in supplying multiple kilos of Cannabis and money laundering.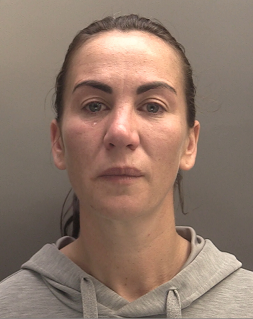 Faye, of Rupert Road, Huyton, was the key player in the conspiracy. Her father had a subordinate role. Faye, who ran a number of businesses in the Liverpool area, including a restaurant and a children's play centre, and her father, used EncroChat phones to conduct their business. These phones use heavily encrypted messages and were thought to be impenetrable by the authorities. They have been used by many organised crime gangs.
But the system was cracked in 2020 and many criminals have been brought to justice since.
Encrochat users have "handles" to identify themselves to others, rather than their real names. Faye's "handle" during the period of the investigation, December 2019 to June 2020, was 'stiffninja' and Michael's was 'Zincbat'.
Faye was found to be in an operational role, who had influence on others, including her own father. Her role included organising the supply and movement of both drugs and cash. She acted as an accountant to the group, keeping a tally of individual transactions and recording the amounts of cash for each.
Michael Dunn carried out the handling, movement and supply of cannabis for his daughter and also met up with other co-conspirators to transfer money and arrange meetings.
In May 2020, during the first COVID lockdown, Faye Dunn travelled via Ferry from Portsmouth to Santander in a Vauxhall Van insured to Michael Dunn with a significant amount of cash hidden on her. It's thought this was meant for family members in Spain. She said she was worried that the authorities were on to her and were tracking her movements. Between December 2019 and June 2020 it is believed Faye Dunn distributed over £650,000 from her accounts, all or part were the proceeds of criminal activity.
Faye Dunn was arrested and interviewed on 13 June 2022, having returned to the UK from Spain. Michael Dunn was arrested and interviewed on 11 July 2022. Both remained silent throughout.
Faye Dunn has no previous convictions but Michael Dunn has several both in the UK and abroad, for drugs offences and burglaries. Both pleaded guilty to conspiracy to supply Cannabis and offences under the Proceeds of Crime Act at earlier hearings.
On 6 September 2022, at Liverpool Crown Court, Faye Dunn was jailed for 3 years and 9 months. Michael Dunn was given a two year jail term, suspended for two years. He must also complete 20 days of a Rehabilitation Activity.
Senior Crown Prosecutor Adam Till, of CPS Mersey Cheshire's Complex Casework Unit, said: "Faye Dunn was a high achieving and successful businesswoman. Now she is a convicted criminal.
"She was able to take her managerial skills into the drugs trade to assist others for their and her own personal gain, and is now behind bars. She played an operational role in the conspiracy that included directing her father Michael. He returned to his previous criminal life to help her, despite his reported ill health and age.
"Many young and vulnerable people are exploited in the cannabis trade. Faye and Michael Dunn entered into this trade hoping to make a lot for money. They have only themselves to blame for the result of today's hearing."