Man jailed for trying to kill the mother of his former girlfriend
A man who tried to kill the mother of his former girlfriend with a 13-inch knife has been jailed for 22 years.
The Crown Prosecution Service (CPS) said that Michael Moon, 39, of Cherry Sutton in Widnes, attacked Carmel Ratcliffe around 9pm on 4 June 2022 near her home in Tabley Avenue, Widnes.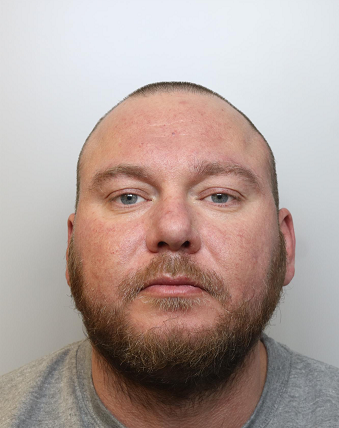 He drove there having consumed two litres of vodka and cocaine. He stabbed Ms Ratcliffe eight times and continued to stab her after she fell to the ground. As he walked away, he threw the knife at Ms Ratcliffe and it embedded in her shoulder.
Carmel Ratcliffe was helped at the scene by her husband and a neighbour, Kenneth Reed, who is a retired paramedic. She was taken to hospital where medical staff confirmed that the actions of these two after the attack saved her life. The surgeon confirmed that, without this, she would have died within the hour.
Moon was arrested in Widnes the day after the attack. By then he had changed his bloodstained clothing and disposed of his mobile phone which was never recovered. 
There had been a long running dispute between Moon and his former girlfriend Leanne Finnegan, Ms Ratcliffe's daughter, about access to their child. He claimed Ms Ratcliffe had been making the situation worse and he said this was why he attacked her.
On 6 July 2022 at Liverpool Crown Court Moon pleaded guilty to attempted murder. On 5 September 2022 at Liverpool Crown Court he was sentenced to 22 years in prisons and four more years on extended licence.
The Judge, HHJ Neil Flewitt, recommended the neighbour, Mr Reed,  for an award for his actions. In a Victim Personal statement read to the court, Ms Ratcliffe described how she struggles with everyday life now and may not be able to work again.
Senior Crown Prosecutor Kelly Ward of CPS Mersey Cheshire said: "The actions of Michael  Moon on that day were truly horrific. He took a large knife to the home of Ms Ratcliffe and clearly intended to inflict serious harm.

"The level of violence was shocking and Ms Ratcliffe is lucky to be alive. He claimed that Ms Ratcliffe had deliberately damaged relations between him and his former partner and their daughter. But it's clear that all of the damage has been done by him.

"The brutality of this attack, committed in a residential road beggars belief. His guilty plea has at least saved the victim and her family the ordeal  of a trial.

"The Crown Prosecution Service would like to thank them for their help in bringing this case and we hope the successful conclusion helps them to move forward."