'Manipulative' Havant woman jailed for murdering boyfriend
A manipulative woman obsessed with serial killers has been jailed for life for stabbing her on-off boyfriend to death in her bedroom.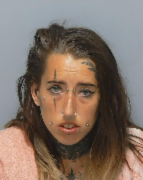 Killer Shaye Groves, 26, created a web of lies in a bid to get away with the murder of 25-year-old Frankie Fitzgerald.
She stabbed him multiple times with a dagger in her Havant bedroom, and left him to die without calling for any medical help during the early hours of 17 July last year.
Today (22 February 2023) at Winchester Crown Court she was sentenced to life imprisonment with a minimum term of 23 years for the murder.
Marie Watton, CPS Wessex Senior Crown Prosecutor, said: "Shaye Groves had a macabre fascination with serial killers and murder documentaries. She had pictures of serial killers on her walls, owned many gangster books, and watched murder documentaries.
"This meant that she was familiar with what to do and say to try and engineer a situation where she would look like a victim, which of course completely unravelled in the face of the evidence collected from key witnesses, mobile phones, call data and CCTV recordings."
The court heard that in the hours after killing Frankie, Groves video-called her friend, and showed her Frankie's body wrapped in a duvet with an obvious wound to his neck. She told the friend that she had been a victim of non-consensual sexual violence, and sent three video clips as apparent proof. Groves however was caught when the police found CCTV which proved that Groves was lying. The recordings made it clear that the sexual acts between the couple had been consensual and, whilst they may well have had rough sex, they had discussed and agreed a safe word.
Later police investigations found that Groves had been a willing participant in the sexual activity, and that she had cleverly edited the video clips to create a false impression of rape and manipulate her friend into believing her lies.
Witness testimony proved that Groves had admitted sending messages to a friend to fabricate an alibi for the murder. It was also proved that she had taken measures to cover her tracks by cleaning the crime scene.
Mobile phone analysis found that Groves had sent messages to another man, inviting him over to spend time with her even though Frankie's body lay in her bedroom.
Groves later tried to create an excuse for her actions, by saying the murder had been spurred by the fact that she had looked through Frankie's mobile phone and discovered that he had been messaging a 13-year-old girl. This was true – but it was clear that Frankie had blocked the girl when it became clear to him that she was 13. This would also have been obvious to Groves as well.
Ms Watton added: "Groves stabbed her boyfriend in a jealous frenzy and then set about trying to cover for herself. Her actions were cold, callous and calculated. She spun a web of lies, and everything she did was an attempt to further manipulate the situation and detract from taking any responsibility for her crime.
"The details of this case will have been extremely distressing for Frankie's family to have to endure, while they continue to grieve for the untimely loss of their loved-one.
"Our thoughts remain with his family today and we hope that they feel that a sense of justice has been delivered for Frankie."