North East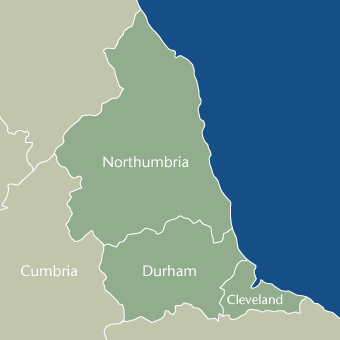 The Crown Prosecution Service (CPS) is the main prosecuting authority in England and Wales. In our daily operations we work in partnership with all agencies in the criminal justice system. We work especially closely with the police, although we are independent of them.
The CPS has 14 Areas/Regions across England and Wales - the CPS North East Area consists of the counties of Northumbria, Tyne and Wear and Cleveland.
Chief Crown Prosecutor Andrew Penhale is the head of the CPS North East Area and he is supported by Deputy Chief Crown Prosecutor Tracy Easton.
Gary O'Brien is the acting Area Business Manager with overall responsibility for Business and Operational Delivery functions across the region.
We currently employ 279 staff across the region, working out of our Newcastle and Middlesbrough offices.
The Area is supported by a Business Centre which houses a team of specialists in the fields of performance, finance, human resources, communications and inclusion.
Executive Team
Toggle accordion
Andrew Penhale, Chief Crown Prosecutor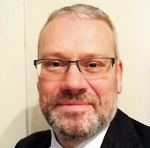 Andrew Penhale took up his appointment as Chief Crown Prosecutor for the North-East Area in June 2017.
Andrew's career with the CPS began in 2001 when he joined the then Casework Directorate in York, having practised for a number of years as a defence solicitor in Leeds and Wakefield.
Building upon a track record of serious, complex and sensitive casework, Andrew was appointed Unit Head for the Organised Crime Division in 2007, leading teams in Manchester and York, handling a wide range of cases involving drug-trafficking, money-laundering, cyber-crime and people-trafficking. In 2011, Andrew was appointed as Deputy Head of Fraud, in what is now the Specialist Fraud Division. The role involved responsibility for large, complex fraud and tax evasion cases, leading 250 staff based in six offices in England and Wales.
In January 2015, Andrew joined CPS Yorkshire & Humberside as Deputy Chief Crown Prosecutor with responsibility for casework in West and North Yorkshire. He was the Area lead for the introduction of Better Case Management and oversaw the introduction of the Digital Case System, both of which were piloted in Leeds. In addition, Andrew was the Area Violence Against Women and Girls and Hate Crime Co-ordinator and managed the Yorkshire & Humberside move to a single, central Rape and Serious Sexual Offences Unit.
Andrew is the current lead on the national roll-out of section 28 Youth Justice and Criminal Evidence Act 1999, the early video cross-examination of children and other witnesses.
Tracy Easton, Deputy Chief Crown Prosecutor
Tracy joined the Crown Prosecution Service in September 1986, initially working as a Law Clerk, based at the Old Bailey. After being called to the bar in November 1992, she worked as a Crown Prosecutor in courts across London. In 1995 Tracy became a Unit Head within the Criminal Justice Unit and then the Bristol Trials Unit at CPS Avon and Somerset, becoming one of the first employed Barristers to become a Higher Court Advocate in 2001. In 2004 she became the District Crown Prosecutor for CPS Hampshire and the Isle of Wight, before moving to Surrey as the temporary Chief Crown Prosecutor (CCP) in January 2007. In September 2007 she was appointed as the CCP for CPS Devon and Cornwall and became the Deputy CCP for CPS South West in 2011.
As a national trainer for the CPS, Tracy has developed training programmes for all CPS staff, before returning to her native North East as Deputy Chief Crown prosecutor in 2017.
Magistrates' Court Unit
Toggle accordion
Our Magistrates' Court Unit prosecute offences of domestic violence, assaults, criminal damage, minor public disorder incidents, all but the most serious traffic offences, possession of drugs, dangerous dog offences, offences of dishonesty and commercial burglaries.
The list is not exhaustive but generally comprises of any offence where the maximum permitted sentence for each offence does not exceed six months imprisonment or one year if two or more relevant offences are to be considered. 
Crown Court Unit
Toggle accordion
The Crown Court Unit deals with cases such as murder, robberies, serious assaults, dwelling house burglaries, complex fraud, the supply and trafficking of drugs, and the most serious road traffic offences especially those that result in a fatality.
Complex Casework Unit
Toggle accordion
The Complex Casework Unit houses a team who work in collaboration with the police to tackle organised and serious cross border crime, and to robustly tackle and disrupt criminal enterprises.
The bulk of their casework arises from serious and organised crime, particularly drugs importation and distribution, money laundering, organised crime group multi defendant homicide and serious fraud, usually involving a value of over £1million plus at least one element of complexity such as multiple defendants / companies / victims and/or complex financial / restraint issues.
Rape and Serious Sexual Offences (RASSO) Unit
Toggle accordion
The Rape and Serious Sexual Offences Unit is a dedicated and specialised team who prosecutes cases such as rape, serious sexual offences, child abuse, child sexual exploitation, honour based violence and Female Genital Mutilation.
The staff on the unit all have a great deal of understanding of the sensitivities of prosecuting cases of this nature and how difficult and harrowing it can be for a victim from the first step of making a complaint to the police, through to giving evidence in a trial.