Teenager jailed for shooting a man and a girl standing at a nearby bus stop
A teenager who fired a gun at a man in a Liverpool street and shot a girl standing at a nearby bus stop has been jailed for life.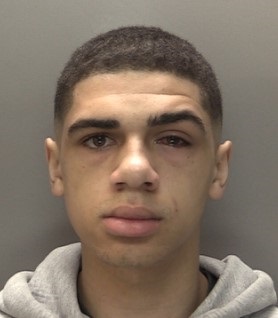 The Crown Prosecution Service (CPS) said that Rio Gavin Jones, 19, of Jermyn Street in Toxteth, fired six bullets from a gun in Upper Warwick Street in Toxteth, just after 5pm on 1 March 2022.
He was riding an electric bike and in pursuit, at speed, of Shakur Watson, who was also on an electric bike. Jones fired six bullets at Watson. The CPS said he intended to kill him.
One bullet struck Mr Watson. Luckily, his injuries were serious but not fatal. Another struck a 15-year-old girl who happened to be waiting at a bus stop just behind the target. She sustained very serious injuries.  
During the trial Rio Jones accepted that he was the gunman but said, when he fired the gun at Mr Watson six times, he didn't intend to kill him. He said he just wanted to scare him.
CCTV from cameras in the area helped detectives track down Jones. At the time of the shooting, he was wearing distinctive clothing and Jones was also wearing an electronic tag on his ankle, imposed by the courts following an earlier offence. It showed him in Upper Warwick Street at the time of the shooting.
By complete chance, the shooting was also captured on dashcam footage from a car parked nearby at the time of the incident. It showed Jones giving chase to Watson and then stretching his right arm out, pointing his gun directly at him and firing six times before riding off quickly along Upper Warwick Street. 
The teenage schoolgirl victim at the bus stop can be seen to drop to the floor as her friend tries to help her. The girl, who can't be named, was taken to Alder Hey Children's Hospital.
The bullet had entered the back of her neck and exited from her chest. She had lung damage and fractures to her spine and remained in hospital for ten days.  Mr Watson was taken to Liverpool Royal Hospital where he had surgery for a  gunshot wound to his arm.
After the shooting, Jones disposed of the gun, the bike and the clothing he had worn. None of those items has ever been found. 
Jones was arrested on 3 March 2022 at his home in Toxteth. He made no comment in interview. He was charged with attempted murder, causing grievous bodily harm with intent and possession of a firearm with intent to endanger life but he denied them.
He was found guilty after a trial at Liverpool Crown Court. He was sentenced today (10 January 2023) to life imprisonment and must serve a minimum of 16 and a half years before he can be considered for release.
Rachael Barber, a Senior Crown Prosecutor with CPS Mersey Cheshire's Complex Casework Unit, said: "Rio Jones took a deadly firearm onto a public street with every intention of using it to kill. He fired six bullets at close proximity towards Shakur Watson, with one of those bullets also hitting an innocent young girl standing nearby who had nothing to do with either of the men. 

"It is a miracle that either of them survived. Mr Watson felt unable to help the police with their investigation but the teenage girl supported the prosecution throughout. The CPS would like to thank her for her bravery in the face of the terror she was subjected to that evening.  

"People like Jones bring deadly violence and mayhem to our streets without any thought for the results.

"The illegal use of guns has no place in a civilised society and criminals who use them will face the full force of the law, which is what has happened to Rio Jones. He has been given a life sentence for his actions on that night. We hope that is of some comfort to the victims."