Man jailed for racist and disability hate crime
A man who kicked away the crutches from a disabled teenager on his way to school and later racially abused staff in a mobile phone store has been jailed.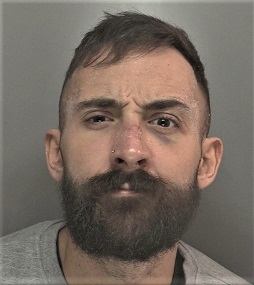 The Crown Prosecution Service (CPS) said that Michael Cain, 32, assaulted the 15-year-old boy near Liverpool city centre on 20 April around 10am. The boy was walking to a revision session at his school and was using crutches due to a lifelong, diagnosed medical condition.
He noticed that Cain was staring at him but didn't want to engage with him in conversation. Cain then went up to him, shouted, "You don't need crutches…you're faking it." 
He then kicked one of the boy's crutches away and continued to threaten him with violence. The boy stumbled and then fell to the floor. Luckily a passer-by intervened, and Cain made off.
The incident has left him badly shaken up and fearful of travelling to school alone. He couldn't understand why someone had targeted him because of his disability. The police issued CCTV of Cain that they'd discovered following the victim's description and issued a press appeal. 
On 24 May 2022 around 2.40pm, Cain entered the O2 store on Church Street in Liverpool city centre, with an issue with his mobile phone.
The issue was dealt with, but Cain seemed agitated and aggressive. He was asked to leave the store but started to hurl racist abuse at the staff member who fixed his phone.
He then threw more racist insults at another staff member who came to see what was happening. He lunged at the second woman and tried to assault her. He left the store but then came back and threw a drink at a display of electrical items, causing a lot of damage.
Staff at the O2 store had the details from Cain's phone and traced him. He had posted a video of himself throwing the drink into the store.
Cain was identified and arrested. He was charged with two counts of criminal damage, two counts of racially aggravated intentional harassment and one count of assault.
He pleaded guilty at his first appearance at Liverpool Magistrates' Court. On 22 November 2022, he was jailed for 28 weeks and must pay £100 in compensation. He is also banned from the O2 store in Church Street for 12 months.
District Crown Prosecutor Mike Lloyd, Hate Crime lead for CPS Mersey-Cheshire, said: "Michael Cain is a violent, racist thug who attacked a vulnerable boy and then went on to insult two people who were just doing their job.
"The boy was left badly shaken up by the incident and his ability to maintain his independence has been jeopardised by what happened.
"Despite this, he has supported the prosecution throughout. The Crown Prosecution Service would like to thank him and his family for their support. 
"Staff at the 02 store have also played their part in bringing this case. They had tried to help him, but he was intent on ridiculing them and causing damage. He is now in jail responsible for what we describe as Hate Crime.
"The CPS successfully applied for the sentences for these crimes to be uplifted because the motivation was hate…hate because of the victims' skin colour and because of another's disability. This type of offending is particularly insidious, and the CPS works hard with the police to tackle it."