Thames and Chiltern
The Crown Prosecution Service (CPS) prosecutes cases that have been investigated by the police and other investigative organisations in England and Wales.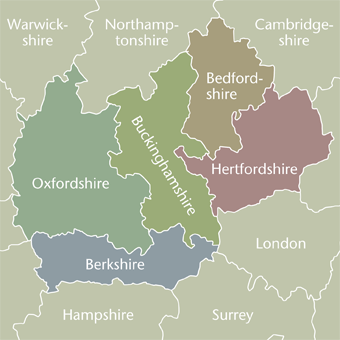 CPS Thames and Chiltern is one of 14 CPS areas across the country and we are responsible for prosecuting cases in Bedfordshire, Hertfordshire, Berkshire, Buckinghamshire and Oxfordshire.
We work in partnership with our three regional police forces - Hertfordshire Constabulary, Bedfordshire Police and Thames Valley Police - the courts, the judiciary and other partners to deliver justice. However, we are independent, and make our decisions independently of the police and other agencies.
Chief Crown Prosecutor Jaswant Narwal is the head of CPS Thames and Chiltern, and she is supported on the legal side by Deputy Chief Crown Prosecutor Chris Derrick, who has responsibility for Crown Court cases, and Olivia Pearson, who has responsibility for magistrates' court cases. Rachel Mort is our Area Business Manager, who is responsible for business and operational delivery functions across our Area.
We have around 300 members of staff who are based in St Albans, Reading and Liverpool. Our workforce is made up of legal and operational delivery staff who all play a part in bringing criminal prosecutions to court. And we have an area business centre which includes specialist business support and administrative functions such as human resources, finance, communications and performance, all of which help to support the rest of the business.
Executive Team
Toggle accordion
Jaswant Kaur Narwal - Chief Crown Prosecutor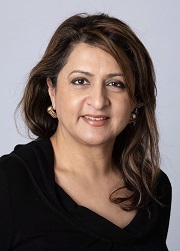 Jaswant became our Chief Crown Prosecutor in CPS Thames and Chiltern in October 2018 and has overall responsibility for all our criminal prosecutions in Hertfordshire, Bedfordshire, Oxfordshire, Buckinghamshire and Berkshire.
Jaswant is also the CPS national lead for honour based abuse, female genital mutilation and forced marriage, and she works with partners to raise awareness about these crimes and to increase prosecutions.
Jaswant has over 30 years' service with the Crown Prosecution Service, joining the organisation in 1989. She qualified as a barrister in 1993 and spent much of her early career prosecuting in London. She then became head of the Old Bailey Trials Unit, handling homicide cases pan-London. She has also managed specialist police complaints, led a review of convictions in cases involving corrupt police officers, and handled large-scale public disorder cases.
In 2007, Jaswant was appointed Chief Crown Prosecutor for Lincolnshire and subsequently Chief Crown Prosecutor for Sussex in 2010. She then became Deputy Chief Crown Prosecutor for the South East Area, with responsibility for operational delivery and the digital working programme. Jaswant took up the national position of Deputy Head of the Central Fraud Division in 2013 and later Deputy Head of Welfare, Rural and Health Division. Prior to joining CPS Thames and Chiltern, she was the Chief Crown Prosecutor for CPS South East.
Chris Derrick - Deputy Chief Crown Prosecutor (Crown Court)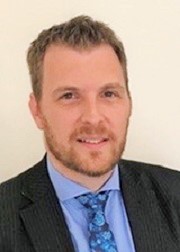 Chris is our Deputy Chief Crown Prosecutor for CPS Thames and Chiltern with responsibility for Crown Court performance.
In his role, Chris oversees the work of the Crown Court Team, the Rape and Serious Sexual Offences Unit, and the Complex Casework Unit. He is also our local lead for disclosure, unduly lenient sentences and is our point of contact for coroners.
Chris graduated from studying Law at the University of Bristol in 2001 and went on to pass his Bar exams at the University of Northumbria. He initially worked in the Bank of Scotland's Business Banking division providing legal advice, before joining Her Majesty's Courts Service in Dyfed-Powys as a legal advisor in 2004, where he was involved in with both criminal and family law.
Chris cross qualified as a solicitor and joined the CPS in 2008 as one of our senior crown prosecutors. In 2012, he became a district crown prosecutor leading the Magistrates' Court Team then the Crown Court Team. After a short time as our digital project manager, he returned to a casework role as a district crown prosecutor in the Crown Court Team. In 2016, Chris became the head of the Complex Casework Unit, and subsequently led both this team and the Rape and Serious Sexual Offences Unit. He was appointed to his current role in 2019.
Olivia Rose - Deputy Chief Crown Prosecutor (Magistrates' Court)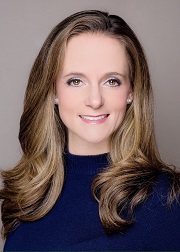 As Deputy Chief Crown Prosecutor for CPS Thames and Chiltern, Olivia is responsible for the Magistrates' Court performance across our Area.
She is also our local lead for domestic abuse, stalking and harassment, prisons, hate crime, football offences and youth justice.
Before joining us in 2019, Olivia worked for the Department of Work and Pensions as a senior advisory lawyer in the Data-sharing, Fraud and Decision-making team. Whilst at the Government Legal Department, she also spent time working on Brexit no deal planning at the Cabinet Office.
Olivia was previously a senior legal advisor with the Attorney General's Office working in the Public Law and Litigation team, and prior to this she worked for the Crown Prosecution Service for nine years - three years as a senior crown prosecutor and then six years as a district crown prosecutor.
Rachel Mort - Area Business Manager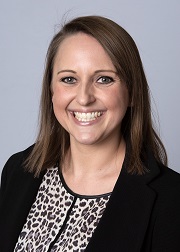 Rachel is our Area Business Manager and has responsibility for delivering the operational business across our Area.
As well as having oversight of all our business functions, Rachel is responsible for staff and financial management, performance monitoring and the implementation of all our operational business systems. Working alongside our chief crown prosecutor, Rachel's role is to ensure the appropriate resources are in place for our Area team to operate effectively and efficiently.
Rachel began her career with the CPS in 2002; she joined us as an administrator and has held a variety of roles since then including case progression manager, branch manager, head of the Area operations centre, and business change and delivery manager. She took on her current role in 2016.
Magistrates' Court Team
Toggle accordion
Our Magistrates' Court Team prosecutes offences including assaults, domestic abuse, criminal damage, possession of drugs, minor public disorder, minor traffic offences (excluding those dealt with by the police as police-led prosecutions), and commercial burglary.
This is not an exhaustive list, but the team is generally responsible for offences where the maximum permitted sentence for each offence does not exceed six months' imprisonment, or one year if two or more relevant offences are to be considered.
Crown Court Team
Toggle accordion
The Crown Court Team deals with cases such as murder, robberies, serious assaults, dwelling house burglaries, complex fraud, the supply and trafficking of drugs, and the most serious road traffic offences.
The serious nature of these offences mean they have to be tried before a jury or heard at the Crown Court because the magistrates' court do not have sufficient sentencing powers for these crimes.
Complex Casework Unit
Toggle accordion
Our Complex Casework Unit (CCU) deals with the most complex cases in our area. The team of experienced specialist lawyers, paralegal officers and operational delivery staff work in collaboration with our three police forces to tackle serious, organised and cross-border crime across Bedfordshire, Hertfordshire, Berkshire, Buckinghamshire, and Oxfordshire.
Offences dealt with by the CCU include human trafficking, large-scale drugs importation, cold case murders, serious fraud and money laundering.
Rape and Serious Sexual Offences (RASSO) Team
Toggle accordion
Our dedicated Rape and Serious Sexual Offences (RASSO) Team deals with rape cases (including attempted rape), child sexual abuse cases, serious sexual offences and allegations of perverting the course of justice or wasting police time which arise from false accusations of rape and domestic violence.
All our lawyers who work on rape and serious sexual offences prosecutions are specialists who are highly trained in the complexities of these cases, and they will prosecute them whenever our legal test is met.