Firearms fanatic who built a personal armoury of weapons and explosives convicted
A gun-obsessed extremist who planned to replicate infamous mass shootings and built his own personal armoury of homemade weapons and explosives to carry out an attack has been convicted.
Reed Wischhusen, 32, of Wick St Lawrence, Weston-super-Mare, took inspiration from Raoul Moat, the Dunblane Massacre and the 1999 Columbine Massacre and built up a collection of firearms, ammunition, disguises and bombs that he intended to use.
He downloaded manuals detailing how to make guns and explosives and drew up multiple plans, including a 'hitman-style attack' that would have seen him kill multiple victims including police staff and work colleagues.
Other schemes drawn up included shooting teachers and planting pipe bombs at his former school and targeting Avon and Somerset Police headquarters with homemade explosives.
Wischhusen idolised those behind mass shootings and had a thirst for the media attention such an attack would bring. 
He outlined his aims on a digital document titled 'Revenge' and even paid for reports on at least one potential target to ensure he had their correct address.
On November 28, 2022, specialist officers arrived at Wischhusen's address. As they went to arrest Wischhusen on suspicion of firearms offences, he hid in a bathroom and fired his weapon.
Even after being shot and detained by armed officers, Wischhusen attempted to turn his gun to fire at them. 
He would later claim that he moved towards armed officers in the hope that they would shoot him dead.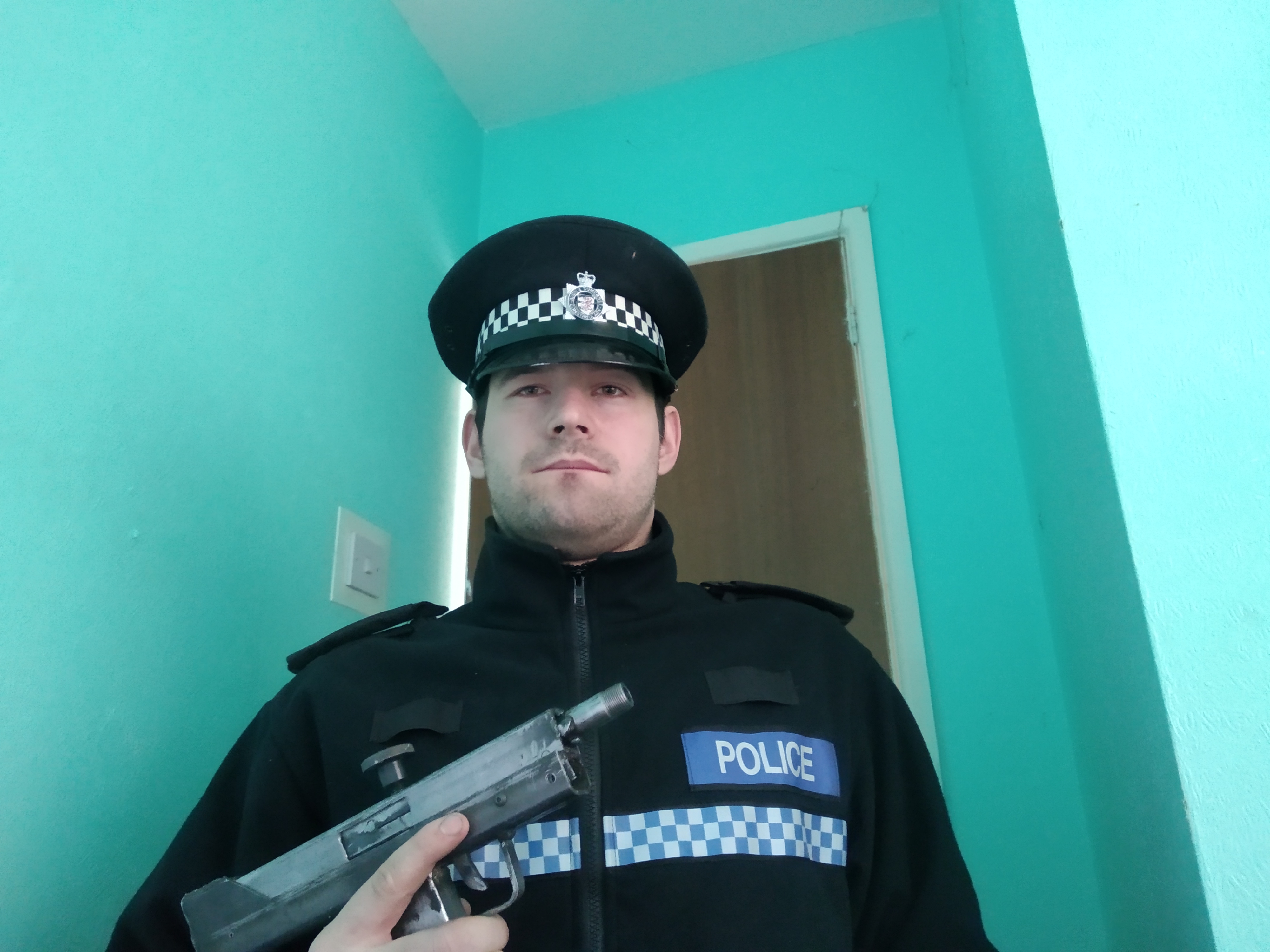 Officers and explosive ordnance experts returned to the property and discovered more homemade weapons, knives, chemicals, body armour and police uniforms and badges.
Crafting components for bullets, design plans for firearms, ammunition magazines and shrapnel for explosives were also recovered. 
A search of Wischhusen's computer also found a catalogue of digital manuals used for the design and construction of self-loading pistols.
Andrew Pritchard, Specialist Prosecutor for CPS South West, said: "It is clear Wischhusen took a macabre interest in mass shootings and, had he not been stopped, had the means to enact a deadly plan with terrible consequences.
"His intention was to send a brutal and violent message to those he felt had wronged him throughout his life; from school bullies, to police officers who had refused him firearms licences, to his bosses at work. 
"Throughout this trial, he attempted to paint the picture that he was a tinkerer with a vague interest in weapons and explosives. This picture was rejected by the jury and I would like to take the opportunity to thank the prosecution team for their efforts in unpicking Wischhusen's account." 
The prosecution's case made clear that in addition to an armoury of firearms and ammunition, objects and materials that would normally be used for innocuous means, including assorted chemicals, delay timers, metal tubes and pressure cookers, were being stored by Wischhusen for use in the construction of homemade bombs.
He tried to describe himself as passionate about guns and a hobbyist who liked experimenting with home-made rockets and insisted he would never harm anyone, and his plans were mere fantasy.
Prior to the trial, Wischussen pleaded guilty to possessing a firearms with intent to cause fear of violence, possessing a prohibited weapon and possessing ammunition without a certificate. Midway through proceedings he admitted possessing explosives under suspicious circumstances.
The overwhelming evidence presented by the prosecution team helped the jury convict Wischhusen on all counts.
Detective Chief Inspector Simon Dewfall, of Avon and Somerset Police's MCIT, said: "Reed Wischhusen's plans are terrifying. Had he not been caught when he was, the consequences simply do not bear thinking about.
"He claimed his plans were merely fantasy but it's clear he was actively working towards acting on them, with many of the items he identified as needing for his attacks recovered from his address.
"He had explosive substances and firearms capable of causing lethal harm while chillingly, he also had Avon and Somerset Police uniform. 
"While the weapons he built were crudely constructed, they were extremely dangerous. Among those he admitted handing into during a firearms amnesty was a fully operational sub machine gun.
"Incidents of this nature are thankfully few and far between, but when they do happen our officers are ready to respond to them. They are also a stark reminder of the dangers officers face every day. They put themselves on the line to keep the public and their colleagues safe.
"This was a challenging incident and has been a complex investigation and I'd like to thank all of my colleagues for the commitment they have demonstrated – it is because of their courage and dedication that a dangerous man has been brought to justice.
"I'd also like to thank the community of Wick St Lawrence and our partners. The support they have shown us both immediately after the incident and in the months since has been truly appreciated.
"Wischhusen can expect to serve a considerable amount of time in prison following today's verdicts and I hope this provides reassurance to anyone concerned about his actions and plans." 
Notes to editors
Reed Wischhusen (20/03/1991) was charged with: Having an explosive substance with intent and having an explosive, possessing a firearm with intent to endanger life and possessing ammunition with intent to endanger, possession of a prohibited firearm, possession of a firearm without a firearms certification and possessing a firearm with intent to cause fear of violence.