Man who raped a stranger after sneaking into her home is jailed
A man who entered the house of a woman he didn't know at night and raped her has been jailed for 14 years and 8 months.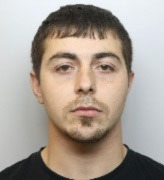 The Crown Prosecution Service (CPS) said that Petrus Ionut Apostoae, 25, of Gorsey Lane Warrington, raped the woman in her own bed after getting into her house through an unlocked door, around 5am on 2 October 2022.
The victim was asleep and awoke to find Apostoae with his hands over her mouth and nose. They were complete strangers. She said she could not breathe and tried to push him away. He moved his hand from her nose. He then raped her.
Afterwards, he threw a quilt over her head and told her not to call the police. When she heard her front door close, she immediately called the police.
The victim was medically examined and swabs were taken but there was no match on the police DNA database. The victim installed CCTV at her home so that she could feel safer.
CCTV from elsewhere showed, at the relevant time, a man walking away from the victim's address carrying a small suitcase and a dark briefcase. 
On 12 November 2022, CCTV captured Apostoae returning to the victim's address and trying the door handle. He failed to gain entry. CCTV captured him trying the door handles of other addresses in the area. Again he failed to gain entry. 
Cheshire Police launched an extensive operation involving house-to-house enquiries and intelligence led voluntary DNA screening from men in the relevant area.
Apostoae gave a sample and on 5 December 2022 a match was made with a sample from the victim of the rape. Apostoae was arrested the same day. He gave no comment to all questions.
He was charged with 2 counts of rape, one count of burglary, three counts of attempted burglary and one count of trespass with intent to commit a sexual offence. He entered guilty pleas to all counts. On 3 February 2023 at Liverpool Crown Court he was jailed for 14 years and eight months.
Senior Crown Prosecutor Chris Fontaine, a specialist rape prosecutor with CPS Mersey Cheshire's Rape and Serious Sexual Offences (RASSO) unit, said: "Petrus Apostoae is a predatory sexual offender. He was a stranger to the victim. Cheshire Constabulary's Major Investigation Team immediately launched an investigation which involved reviewing huge amounts of CCTV footage, and DNA enquiries which extended to making house-to-house enquires to obtain voluntary DNA samples. 
"The Crown Prosecution Service would like to thank the victims and the members of the public who helped with the CCTV and DNA investigation. This assistance provided crucial evidence which ensured that Apostoae was apprehended at the earliest opportunity. 
"We particularly thank the victim of the rape. In her Victim Personal Statement, she explained the devastating impact these offences have had on her and her family. Her actions in making an immediate report and her ongoing assistance with the investigation resulted in major breakthroughs in this investigation. Her strength and courage stopped this offending behaviour escalating any further and prevented other members of the public from becoming victims."