Man who claimed a "Master" told him to abuse children is jailed
A man who sexually abused children while they slept and implied he was directed to do it by a higher power has been given a ten-year sentence.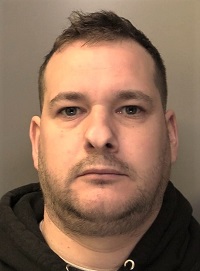 The Crown Prosecution Service (CPS) said that Christopher Smith, 42, from the Wirral, took pictures of himself abusing children and then shared these with others.
His offending came to light when police from Devon and Cornwall were investigating a man in that area and took electronic devices from him.
It was found that this man had been in communication with Smith and had been sent sexual images of children by him.
Smith told the man that he was a paedophile who sexually abused children while they were asleep. He sent a video of himself confessing to the abuse and talked of surrendering himself to a "Master" who wanted him to do these things.
He said he was a paedophile and added "there is no way to get out of this."
Smith was arrested at his home on 18 November 2022 and images matching those found on the other man's devices were discovered.
On 21 December 2022 at Liverpool Crown Court, Smith pleaded guilty to a number of counts of making, taking, distributing and possessing indecent images of children and sexual activity with children.
Today, 17 February 2023, at Liverpool Crown Court, he was sentenced to six years in prison and four years on extended licence. The Crown Prosecution Service also successfully applied for a Sexual Harm Prevention order which was granted by the court. It prohibits Smith from using a computer and having any unsupervised contact with children.
Senior Crown Prosecutor Pauline Newrick, a specialist prosecutor with CPS Mersey-Cheshire's Rape and Serious Sexual Offences (RASSO) unit, said: "This is a case of someone pursuing their own sexual gratification at the expense of children who either knew nothing of what was happening to them or understood nothing.
"In a video to the person he was sharing these indecent images with Smith refers to a person he is involved with on line as Master. He was in a voluntary relationship with this person and was subservient to him. He tried to minimise his criminal activity by blaming the 'Master' in this relationship and saying he was only doing what he was told. He claimed to have no sexual interest in children, but his interest lay in being subservient and doing what he was told.
"To claim there was no way out of the abuse because he had to do it, is another way of avoiding responsibility for his criminal activity. These were innocent children who were dragged into an adult world that they knew nothing of.
"Christopher Smith is a predatory paedophile who is now facing the consequences of the offending that he tried to explain away. The consequences of the actions of people like Smith on the victims can be devastating. The Crown Prosecution Service works hard with the Police to bring them to justice and help the victims find their voice."