London South
The Crown Prosecution Service (CPS) is the main prosecuting authority in England and Wales. In our daily operations we work in partnership with all agencies in the criminal justice system. We work especially closely with the police, although we are independent of them.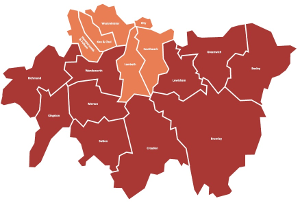 The CPS has 14 Areas across England and Wales and CPS London South Area is one of two Areas in the Greater London Area (CPS London North being the other). It covers the London boroughs south of the River Thames and also includes Hammersmith & Fulham, Kensington & Chelsea and Westminster. We prosecute cases investigated by the Metropolitan Police in these boroughs.
Chief Crown Prosecutor Claire Lindley is the head of CPS London South and is supported by Deputy Chief Crown Prosecutor Kris Venkatasami, who has responsibility for Magistrates' and Domestic Abuse teams, Deputy Chief Crown Prosecutor Jonathan Storer, who has responsibility for Crown Court unit, and Malcolm McHaffie, who has responsibility for the Rape and Serious Sexual Offences (RASSO) unit and a pan-London Complex Casework Unit. Angela Walsh is the Area Business Manager and has responsibility for Business and Operational Delivery functions across the region.
We currently employ approximately 470 members of staff which consists of lawyers, paralegals and administrators. Our Crown Court teams are based in offices near Victoria and our magistrates' and domestic abuse teams are based in Southwark. We also have a small number of remote staff based in CPS offices in Leicester.
The Area is supported by a Business Centre which houses a team of specialists in the fields of performance, finance, human resources, communications and inclusion.
Executive Team
Toggle accordion
Claire Lindley, Chief Crown Prosecutor
Claire joined the CPS in 1987. Previously she was the CCP of the North West and Mersey-Cheshire Areas. She is a barrister and was called to the Bar in 1986, having studied Law at both Nottingham University (LLB) and London School of Economics (LLM). Claire is a Crown Advocate and Bencher of Gray's Inn.
She is committed to the prosecution of violence against women and represented the CPS in a subcommittee of the UN in the Far East which was considering how countries can work together in eliminating crimes against women in society. In her personal life, Claire is married to a solicitor and has two children.
Kris Venkatasami, Deputy Chief Crown Prosecutor
Kris is the Deputy Chief Crown Prosecutor with responsibility for all magistrates' court and domestic abuse prosecutions in London South. He took on the position in June 2017 after having spent three years as DCCP in CPS South East.
Kris has spent much of his career working in London, progressing to become Senior District Crown Prosecutor, responsible for Crown Court and magistrates' court work across North West London. He then moved to head up the Special Casework Unit in the capital, dealing with a number of high profile cases, including the Lord McAlpine Twitter case.
In 2013, he was appointed a temporary Deputy Chief Crown Prosecutor in London, looking after magistrates' court work, before joining South East.
Jonathan Storer, Deputy Chief Crown Prosecutor
Jonathan is responsible for the Crown Court Unit which prosecutes in the following Crown Court centres: Croydon, Kingston, Inner London, Isleworth, Southwark and Woolwich. Jonathan qualified as a solicitor in 1996 and joined the CPS in 2001.
Gaining a wide range of experience in various roles in Greater Manchester he was appointed Senior District Crown Prosecutor in 2010. Since then Jonathan has led a range of Magistrates and Crown Court teams in Lancashire and Cumbria before stepping up to temporary DCCP in CPS North West in April 2015. 
Malcolm McHaffie, Deputy Chief Crown Prosecutor
Malcolm McHaffie is the Deputy Chief Crown Prosecutor with responsibility for the London Complex Casework Unit and RASSO prosecutions. He is also the London South lead for tackling Violence against Women and Girls. Malcolm has 22 years' prosecution experience specialising in serious and complex crime.
Starting his career with CPS London, he later worked as a Managing Lawyer both at the Inland Revenue prosecuting serious tax fraud and in Organised Crime Division at RCPO. In 2008 he was appointed as Divisional Head of Direct Tax and Arms Brokering at RCPO and as part of the CPS/RCPO merger in 2010 he was asked to run the London office of the Fraud Prosecution Service (now part of Specialist Fraud Division).  In 2011 Malcolm was promoted to Deputy Head in Special Crime and Counter Terrorism Division.
Angela Walsh, Area Business Manager
Angela started her career in Merseyside County Council's Planning department in 1978 and transferred to the County Prosecuting Solicitors Department in 1981. In April 1986 she joined Merseyside CPS working as a Paralegal Business Manager in both the Magistrates' and Crown Court Units.
In 1998 she transferred to Merseyside CPS Area HQ as Area Finance Manager. In April 1999, she became Area Business Manager for the CPS in North Wales. In 2004 she was promoted to Area Business Manager for the CPS in Lancashire. In October 2007 Angela returned to Merseyside as Area Business Manager for CPS Mersey-Cheshire. She joined London as Area Business Manager in September 2014.
Magistrates' Court Unit
Toggle accordion
Our Magistrates' Court Unit prosecutes offences of domestic abuse, assaults, criminal damage, minor public disorder incidents, all but the most serious traffic offences, possession of drugs, dangerous dog offences, offences of dishonesty and commercial burglaries. The list is not exhaustive but generally comprises of any offence where the maximum permitted sentence for each offence does not exceed six months imprisonment or one year if two or more relevant offences are to be considered.
Crown Court Unit
Toggle accordion
The Crown Court Unit deals with cases such as attempted murder, robberies, serious assaults, dwelling house burglaries, complex fraud and the supply and trafficking of drugs.
Complex Casework Unit
Toggle accordion
The Complex Casework Unit works across London and in collaboration with the police to tackle serious and organised crime, particularly drugs importation and distribution, money laundering. A separate Homicide unit, which covers the whole of London, is aligned to CPS London North and deals with murders and the most serious road traffic offences, especially those that result in a fatality.
Rape and Serious Sexual Offences (RASSO) Unit
Toggle accordion
The RASSO Unit is a dedicated and specialised team which prosecutes cases such as rape, serious sexual offences, child abuse, child sexual exploitation, honour based violence and Female Genital Mutilation. The staff on the unit all have a great deal of understanding of the sensitivities of prosecuting cases of this nature and how difficult and harrowing it can be for a victim from the first step of making a complaint to the police, through to giving evidence in a trial.