Positive verdict for student sexual offences learning day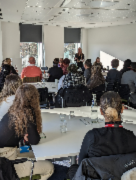 CPS East Midlands was delighted to welcome 35 law students from the University of Northampton for an in-depth exploration of the way sexual offences are prosecuted.
The students were given a grounding in the CPS and how we bring offenders to justice.
Chief Crown Prosecutor, Janine McKinney, started the day with a detailed explanation about how we prosecute, from charging to advocacy in court. Janine outlined every step in detail, not just what we do, but how and why, using examples from her own CPS career.
Charlotte Caulton-Scott spoke in depth about prosecuting rape and sexual offences. She spoke about the unique challenges these cases present and how as prosecutors we have learned to overcome these challenges and improve our service to survivors of these offences.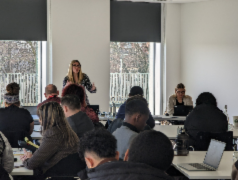 Charlotte and the group discussed at length the myths and stereotypes surrounding rape and how we as prosecutors can play our part in ensuring they do not influence a trial. They discussed consent and capacity to consent and how the CPS focuses on the behaviour of the suspect when charging cases.
Charlotte said: "It was really important for this event to give the participants a safe space to ask any questions they want and challenge their own experiences and preconceptions. I was particularly pleased with the way our delegates took the opportunity to get involved. We had a very informed, engaging and lively discussion which was a pleasure to be a part of."
Once the theory was covered, the group worked through a fictitious case example involving capacity to consent.
The students went through the case study in groups, applying the code for crown prosecutors and coming up with their own rationale for their charging decisions.
As well as the learning and legal work, the students were also encouraged to share their experiences through social media. The CPS posted a story on our @crownprosecutors Instagram account and encouraged the students to share their experiences. Several of them commented on how much they had learned and enjoyed the day.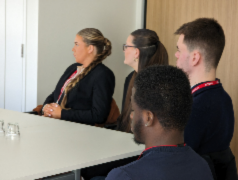 Comments included:
"Very insightful. Finding out different aspects the CPS consider in these cases"
"I learned about how vast the public interest test can be and how many factors there are"
"Very interesting and engaging conversations so far. Excellent conversations to dispel myths"
"Amazing day"
"Learned a good amount on consent today"
"So informative about dissolving myths and stereotypes surrounding sexual violence"
Janine McKinney, Chief Crown Prosecutor said: "It was really good to welcome the group to the CPS. It is very important for us to invest in and encourage law students as this means we are inspiring the next generation of prosecutors. I am delighted to hear that the students got a huge amount from the day. I would like to thank the students, the University of Northampton and our own colleagues for helping the day run smoothly."
Dominic Carrington, senior lecturer in law at the University of Northampton said: "Our law students had an insightful look into the life of a CPS lawyer and gained excellent practical experience. They were extremely grateful for this opportunity, and we thank CPS East Midlands for putting on this wonderful real-life experience"