Reality TV star guilty of posting 'revenge porn'
A reality TV star has been convicted of posting so-called "revenge porn" on the OnlyFans content-sharing site.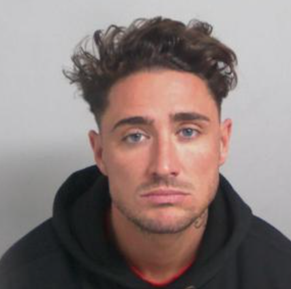 Stephen Bear, 32, posted a three-minute video of himself having consensual sex with a woman in the back garden of his home in Loughton, North London, on 2 August 2020. Unknown to the victim, the footage was caught on a CCTV camera he had installed for security reasons.
Later that evening, Bear told her about the camera and played the footage on his TV. She told him never to send it or show it to anyone and made it clear how upset she would be if he did otherwise.
However, later that night, contrary to her wishes, she saw him send the footage via WhatsApp.
In early December 2020, four months after the incident, the victim discovered the video was on Bear's OnlyFans account and subscribers had to pay a further $9.99 to view it. Of his 1,061 subscribers, 273 people did so, and it is estimated he made $2,181.82.
The victim had OnlyFans take down the video and reported Bear to the police. Around this time, Bear posted a video on Instagram suggesting the woman in the video was not the victim but another person.
The video also found its way onto a porn site, although there was no evidence that Bear was responsible for this.
Andrew Young, Senior Crown Prosecutor from CPS East of England, said: "Stephen Bear exploited his relationship for his own gratification by sharing a private video without the victim's consent.
"Bear understood his actions were wrong and showed an utter disregard for the victim, going on to gaslight and mock her.
"Sharing private sexual images without consent is illegal and has a profoundly damaging impact on victims. I commend the victim's bravery in reporting this abuse, and I hope today's result brings her some sense of justice."
Later, when interviewed by detectives, Bear accused the victim of knowing about the video and sharing it with her friends, before offering no comment. Bear claimed his Instagram, Twitter and emails had been hacked but offered no comment when asked if that included his OnlyFans.
He also answered no comment when asked whether he had edited and uploaded the video to OnlyFans.
The prosecution told the court that, if Bear's version was correct, it meant an unidentified person had gone to the trouble of editing the video, hacked into his OnlyFans account to upload it, and all for the sole financial benefit of one person - Stephen Bear.
Today, at Chelmsford Crown Court, a jury found him guilty of one count of voyeurism and two counts of disclosing private sexual images.
Andrew Young added: "I encourage anyone who is a victim or has been threatened with revenge porn or harassment to report it to the police.
"The CPS works closely with the police to prosecute cases wherever the legal test is met and can pursue evidence-led prosecutions where victims may not want to testify."
Bear will be sentenced at a later date.
Notes to editors
Stephen Bear (D.o.B. 15/01/1990) was charged with the following:

Voyeurism, contrary to section 67(3) of the Sexual Offences Act 2003. (02/08/2020). This relates to CCTV filming.
Disclosing a private sexual photograph or film, contrary to Section 33(1) Criminal Justice and Courts Act 2015 (02/08/2020). This relates to sending the video via WhatsApp.
Disclosing a private sexual photograph or film, contrary to Section 33(1) Criminal Justice and Courts Act 2015 (08/11/2020). This relates to the video being posted on OnlyFans.
The act of disclosing private sexual photographs and films with intent to cause distress - referred to as 'revenge porn' - has been illegal in England and Wales since 2015. The Domestic Abuse Act 2021 amended legislation in June 2021 to extend the existing offence to include the specific act of threatening to disclose this type of material.
The CPS charged 1,048 'revenge porn' offences across 825 cases between April 2020 and June 2022.
Even when the victim is unable to support a prosecution and if it is in the public interest to do so, our prosecutors will draw on all other available evidence, such as 999 calls, CCTV, police body-worn camera footage, and mobile phone data to build a robust case against the perpetrators of domestic abuse.
The CPS has published guidance for prosecutors on prosecuting rape and serious sexual offences and on Revenge Pornography.