East of England
CPS East of England is currently maintaining core business functions, while doing all we can to minimise in-person contact.
Please communicate with us by email, telephone and secure digital media wherever possible. Royal Mail and other post delivered to our offices will be checked periodically, but normal mail response times cannot be guaranteed. All hand deliveries must be made by appointment only.
Our main telephone numbers are;
Chelmsford Office:  01245 455800 with options for the various units.
Norwich Office:  01603 693000 with options for the various units.
Email addresses:
If you are a member of public, you can use the following email addresses without including .cjsm.net, which will work only for members of the Criminal Justice Secure Mail system. DO NOT use these addresses to send sensitive information unless via .cjsm.net.
Crown Court work:
Magistrates' Court work:
Rape and Serious Sexual Offences (RASSO) work:
Complex Casework Unit (CCU) work:
---
The Crown Prosecution Service (CPS) is the main prosecuting authority in England and Wales. In our daily operations we work in partnership with all agencies in the criminal justice system. We work especially closely with the police, although we are independent of them.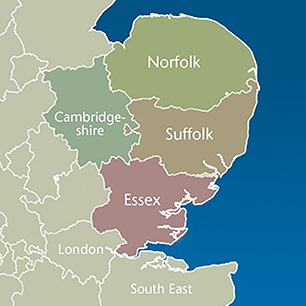 The CPS has 14 Areas across England and Wales. CPS East of England consists of the counties of Cambridgeshire, Essex, Norfolk and Suffolk.
Chief Crown Prosecutor Chris Long is the head of the CPS East of England and he is supported by Deputy Chief Crown Prosecutor Douglas Mackay, who has responsibility for the Crown Court and Rape and Serious Sexual Offences Units and Deputy Chief Crown Prosecutor Robin Weyell, who has responsibility for the Magistrates' Court and Complex Casework Units. Susan Stovell is the Area Business Manager who has responsibility for Business and Operational Delivery functions across the region..
We currently employ 290 members of staff which consists of lawyers, paralegals and administrators. The majority of our staff are based in our headquarters in Chelmsford; we also have staff based in Norwich at Carmelite House and in Ipswich at the Crown Court.
The Area is supported by a Business Centre which houses a team of specialists in the fields of performance, finance, human resources, communications and inclusion.
Executive Team
Toggle accordion
Chris Long, Chief Crown Prosecutor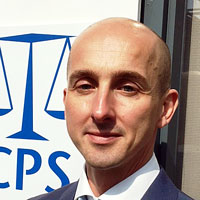 Chris Long is a Chief Crown Prosecutor in the East of England Area, with ultimate responsibility for all criminal prosecutions in Cambridgeshire, Essex, Suffolk and Norfolk. Chris started his career as a lawyer in a general law firm in Kirklees and joined the CPS in West Yorkshire in 2002. He became a District Crown Prosecutor in 2005, responsible for the North East Leeds Area, and in the same year he was awarded the Young Achiever of the year in the Yorkshire Lawyer awards.
Chris moved to South Yorkshire in 2007 when he was promoted to Senior District Crown Prosecutor with responsibility for the Magistrates' Courts unit. Chris became a Senior Legal Manager as Head of the CPS for Cumbria in 2009 before becoming one of two Deputy Chief Crown Prosecutors in the larger North West Area in April 2011. Chris has also spent time on secondment as Deputy Chief Crown Prosecutor for London. In June 2017 Chris was appointed to the post of Chief Crown Prosecutor, CPS South West and in November 2018 became the Chief Crown Prosecutor in the East of England Area.
As well as personally overseeing cases of the most serious and sensitive nature, Chris has a background of taking significant roles in a number of national projects including leading an internal review into the way CPS handles historic sexual abuse leading to improvements to the service CPS delivers to the public. Chris is also the CPS National Lead for Hate Crime and actively works with the policy team, Area Hate Crime Coordinators, Inclusion Managers and our partners in criminal justice to raise awareness and drive improvements in this type of offending.
Deputy Chief Crown Prosecutors: Jonathan Wettreich and Robin Weyell
DCCP Jonathan Wettreich has responsibility for the Crown Court and Rape and Serious Sexual Offences Units and DCCP Robin Weyell has responsibility for the Magistrates' Court and Complex Casework Units.
Jonathan Wettreich started his career as a Police Officer within the Metropolitan Police Service. He qualified as a Solicitor in 2009 after securing a training contract with Her Majesty's Court and Tribunal Service. He provided advice on questions of law practice, procedure and sentencing to District Judges, lay Justices and other court users in the areas of family, criminal, civil litigation, youth and magisterial law. He joined the Crown Prosecution Service in May 2014 as a District Crown Prosecutor and was promoted in 2017 to a Senior District Crown Prosecutor. He currently looks after our Crown Court and RASSO teams and sits as a Chair of the Independent Review Panel and School Admissions Appeal Panel in Hertfordshire.
Robin Weyell has been a lawyer within government for over 20 years working primarily in investigatory and covert law within the fields of counter narcotics, organised crime and police complaints/corruption. Prior to joining the CPS he was the first legal adviser to the Investigatory Powers Commissioner and helped establish the oversight and approvals regime created by the Investigatory Powers Act 2016. He currently has responsibility for our Magistrates' Court Team and Complex Casework Unit.  
Area Business Manager: Susan Stovell
Susan joined the CPS in 1986 and worked across a range of roles including finance, personnel and accommodation within the London North Area. In 1992 Susan moved to the HQ Directorate in CPS Headquarters working within specialist fields including pay strategy and negotiations, appraisal, policy and operations.
In 2003, Susan joined the East of England Area and is now the Area Business Manager with responsibilities for both strategic and operational performance.
Magistrates' Court Unit
Toggle accordion
Our Magistrates' Court Unit prosecutes offences of domestic violence, assaults, criminal damage, minor public disorder incidents, some traffic offences, possession of drugs, dangerous dog offences, offences of dishonesty and commercial burglaries.
The list is not exhaustive but generally comprises of any offence where the maximum permitted sentence for each offence does not exceed six months imprisonment or one year if two or more relevant offences are to be considered. 
Crown Court Unit
Toggle accordion
The Crown Court Unit deals with cases such as murder, robbery, serious assaults, dwelling house burglaries, complex fraud, the supply and trafficking of drugs, and the most serious road traffic offences - especially those that result in a fatality.
Complex Casework Unit (CCU)
Toggle accordion
The Complex Casework Unit (CCU) is responsible for the largest and most complex cases in the Area. Its casework typically arises from serious and organised crime which is often cross border, particularly drugs importation and distribution, money laundering and modern slavery. The CCU also undertakes large scale child abuse cases, complex homicide and fraud.
Rape and Serious Sexual Offences (RASSO) Unit
Toggle accordion
The Rape and Serious Sexual Offences Unit is a dedicated and specialised team which prosecutes cases such as rape, serious sexual offences, child abuse and child sexual exploitation. The staff on the unit all have a great deal of understanding of the sensitivities of prosecuting cases of this nature and how difficult and harrowing it can be for a complainant from the first step of making a complaint to the police, through to giving evidence in a trial.