CPS cracks down on football tragedy abuse
Fans are being warned they face being banned from football matches – and next year's Men's European Championships – if they commit tragedy-related abuse as prosecutors publish additional guidance today.
The CPS has updated its prosecution guidance on football related offences which reconfirms today (7 August 2023) that tragedy-related abuse can be prosecuted as a public order offence. The guidance, which assists prosecutors when making legal decisions on cases, set out how lawyers can apply for Football Banning Orders which not only stop fans attending matches, but also can impose other restrictions, such as not being able to travel to certain areas, or be allowed in pubs at game time and travel during tournament times.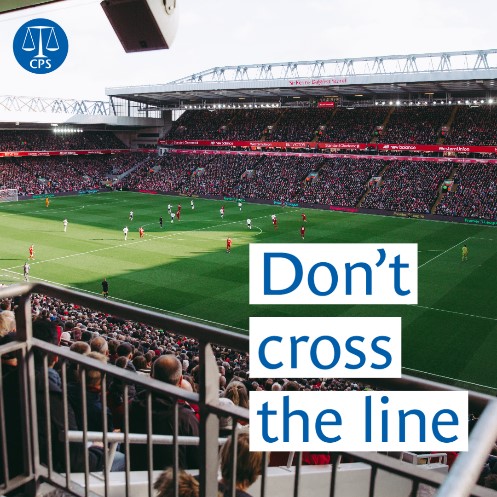 Tragedy-related abuse is when fans sing, chant or gesture offensive messages about disasters or accidents involving players or fans – including references to the Hillsborough Disaster, Munich Air Crash, Bradford Fire, Leeds fans killed in Istanbul, or the death of Emiliano Sala in a plane crash.
This can have a devastating impact on the bereaved and their communities. Sport is for everyone to enjoy, and this type of behaviour jeopardises that.
The guidance also includes reference to other hate crimes, such as homophobic or racist chanting or gestures, and pitch incursion.
Recent CPS prosecutions of tragedy related abuse includes:
Douglas Mackay of the CPS said: "A small minority of so-called fans are both damaging the reputation of the sport and more importantly this offending has a devastating impact on the families of victims of tragedies and the communities connected closely to these events.
"This updated guidance sends the clear message that this vile behaviour will not be tolerated.
"We want supporters to passionately enjoy our national sport without crossing the line into criminality.
Chief Constable Mark Roberts, NPCC (National Police Chiefs' Council) Lead for Football Policing, said: "We work closely with the CPS and support these efforts to tackle the mindless and vicious chanting that unfortunately a minority of supporters engage in.
"This behaviour can cause significant distress to those who have lost loved ones or friends, as well as those who were present at these tragedies. Whatever the rivalries, it is never acceptable."
Football Association Chief Executive, Mark Bullingham, said: "Tragedy related abuse is completely unacceptable and has no place in our game. This behaviour is highly offensive and can have a lasting effect on the families, friends and communities who have been devastatingly impacted by these events. We welcome the new guidance from the Crown Prosecution Service to tackle incidents of this nature – which could lead to football bans and potential criminal proceedings."
Premier League Chief Executive Richard Masters said: "We strongly believe there is no room for abhorrent tragedy abuse in football. Along with our clubs and the authorities, we are committed to sanctioning those found guilty and will also focus on educating fans of all ages, so they understand why this abuse is so hurtful and unacceptable."
Trevor Birch, English Football League Chief Executive said: "There is absolutely no place for football tragedy abuse in any walk of life, so that is why the game and authorities, including the CPS, are introducing strong new measures to combat this behaviour."
The CPS is currently working with the police, clubs, player bodies and the Premier League, English Football League, Women's Super League, Women's Championship, National Football League and the national referee organisation to help explain to football fans the impact of this abhorrent behaviour and the consequences they could face if they commit criminal actions.
Last Monday (July 31), the football authorities launched a charter which aims to improve fans and players' behaviour at games.