South East
The Crown Prosecution Service (CPS) is the main prosecuting authority in England and Wales.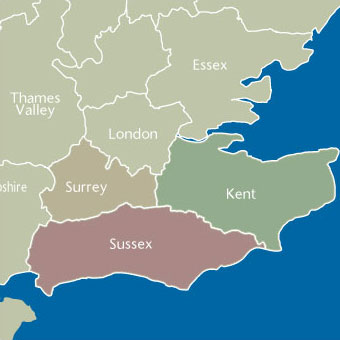 The CPS has 14 Areas across the country, each headed by a Chief Crown Prosecutor and the South East Area is responsible for prosecuting cases in Kent, Surrey and Sussex.
We serve 4.5 million people and the area we cover is spread over 3,700 square miles, including major entry ports to the UK, such as London Gatwick Airport, the Channel Tunnel and the Port of Dover. 
CPS South East is headed up by Chief Crown Prosecutor Jaswant Kaur Narwal, who is supported by Deputy Chief Crown Prosecutors Paul Stimson and Nigel Pilkington and Area Business Manager Jennifer Offord.
We have over 250 members of staff, consisting of lawyers, paralegal officers and administrators. Our staff work in one of three different teams out of offices in Canterbury, Brighton, Guildford, Newcastle and Middlesbrough.
We also have an Area Business Centre, which includes specialist administrative functions such as human resources, finance, communications and performance, all of which help to support the rest of the business.
Executive Team
Toggle accordion
Jaswant Kaur Narwal, Chief Crown Prosecutor
Jaswant Kaur Narwal took up the post of Chief Crown Prosecutor in CPS South East, covering the counties of Kent, Surrey and Sussex, in January 2014.
Jaswant has been with the Crown Prosecution Service since 1989 and, following a successful scholarship, qualified as a barrister in 1993.
Much of her earlier prosecuting career was been spent in London on the frontline prosecuting the full range of offences, later Jaswant became the Head of the Old Bailey Trials Unit handling all homicide cases pan-London. She also handled specialist police complaints and led a team of lawyers reviewing past convictions in cases involving corrupt police officers and handled cases arising out of large scale public disorder.
In 2007, Jaswant was appointed Chief Crown Prosecutor for Lincolnshire and was subsequently promoted to Chief Crown Prosecutor for Sussex in 2010. Following a CPS reorganisation, she went on to become Deputy Chief Crown Prosecutor for the South East Area, with responsibility for operational delivery and the digital working programme. She moved to CPS headquarters in 2013 to take up the national position of Deputy Head of the Central Fraud Division and then later also additionally took on the national role of Deputy Head of Welfare, Rural and Health Division.
Jaswant was the CPS national lead on victims and witnesses and piloted the original victim advocacy scheme at The Old Bailey, which led to the use of victim personal statements nationally in criminal cases. She is now the national lead on youth justice for the CPS. She is the Vice-Chair of the Surrey Criminal Justice Partnership and Vice Chair of the Sussex Criminal Justice Board. Jaswant has also recently been appointed as a Commissioner on a national commission chaired by Baroness Hilary Armstrong, focusing on domestic and sexual abuse against the most marginalised women and girls.
Her special interests include the prosecution of domestic violence, hate crime and honour based violence. Jaswant was named Public Service Lawyer of the Year in the Society of Asian Lawyers Awards in May 2010, shortlisted as a finalist at The Asian Achievers awards in 2015 and appeared in the BBC programme The Prosecutors in 2016.
Paul Stimson, Deputy Chief Crown Prosecutor 
Paul Stimson joined the CPS as a Senior Crown Prosecutor in the East Midlands, first working on the advocacy team in the Magistrates' Court. He became a Crown Advocate, before being promoted to the position of District Crown Prosecutor for the Crown Advocacy team in 2013.
He became a Senior District Crown Prosecutor in 2015, before taking up his current role as Deputy Chief Crown Prosecutor in the South East in May 2017.
Adele Kelly, Deputy Chief Crown Prosecutor
Adele joined the CPS in 2004 from private practice in the City, where she specialised in commercial and insurance litigation matters. She was initially a casual prosecutor in the Thames and Chiltern area, before becoming a substantive Crown Prosecutor and then Senior Crown Prosecutor.
She moved across to the Crown Court Team, before deputising as District Crown Prosecutor (DCP) and then taking up the role on a substantive basis in 2014, moving to CPS London to lead the Rape and Serious Sexual Offences (RASSO) Team.
She returned to CPS Thames and Chiltern in June 2017, as Deputy Chief Crown Prosecutor (DCCP) with responsibility for Magistrates' Court work before taking up her current role as DCCP in the South East in May 2018.
Kirsty Hipwood, Area Business Manager
Kirsty Hipwood joined the CPS in November 2001 as an administrative officer based in CPS Headquarters.
Kirsty has undertaken a number of business operational roles across, including Resource Deployment Manager, Senior Finance Manager and Senior Business Manager.
Kirsty was seconded to the South East Area in January 2015 and became the Temporary Area Business Manager in April 2016, before the post was made permanent in December 2016.
Jennifer Offord, Area Business Manager
Jennifer joined the CPS in 2006 as a witness care officer, progressing to manage the witness care unit. Since then, she has worked in a variety of roles, including Paralegal Business Manager and as a project manager in our Headquarters team, responsible for a series of national projects.
She then became the Business Manager for the Operations Directorate and Private Office, before taking up her current post in the South East in February 2017. 
Magistrates' Court Team
Toggle accordion
The Magistrates' Court Team is made up of prosecutors, supported by a team of administrators, who help to ensure cases are prepared digitally and ready for court. Our prosecutors either work as advocates in the Magistrates' Courts across Kent, Surrey and Sussex or in one of our offices preparing cases where we anticipate people will plead not guilty and the case will go to trial. 
Crown Court team
Toggle accordion
The Crown Court team has prosecutors and a team of paralegal and administrative staff, who help to prepare cases. The majority of prosecutors in this team review cases and ensure they are ready for court, but we have a team of Crown Advocates, who prosecute cases in the Crown Court. 
Complex Casework Unit (CCU)
Toggle accordion
Our Complex Casework Unit (CCU) deals with the most complex cases in the South East and handles one of the largest volumes of complex cases in the country. Their work includes dealing with human trafficking, cross border crimes, "cold case" murders, fatal road collisions, sudden infant death, substantial fraud, money laundering and major public disorder offences. 
Rape and Serious Sexual Offences (RASSO) Team
Toggle accordion
Our Rape and Serious Sexual Offences team (RASSO) is staffed by specially trained lawyers and paralegal officers and they handle rape cases, including attempted rape, along with child sexual abuse cases, including historic cases and all other serious sexual offences. 
Working with you
CPS South East is committed to providing the best possible service we can to victims and witnesses in our cases, as they are vital in helping us to bring people to justice.
In recognition of this, we are currently developing a Victims' Scrutiny Panel, which will include victims from cases that have already concluded. They will look at randomly chosen cases to see how victims were treated and what lessons can be learnt to improve our service in the future. 
We also work with the members of our Local Scrutiny Involvement Panel to improve the prosecution process as a whole. The panel is made up of community representatives and invited members from other agencies in the criminal justice system, such as the police. They look at our performance and also review randomly selected cases of hate crime and violence against women and girls to see where improvements can be made. 
For more information about either of these panels, please contact our Inclusion and Community Engagement Manager, Ann-Marie Tierney: ann-marie.tierney@cps.gov.uk