North West
The Crown Prosecution Service (CPS) is the main prosecuting authority in England and Wales. In our daily operations we work in partnership with all agencies in the criminal justice system. We work especially closely with the police, although we are independent of them.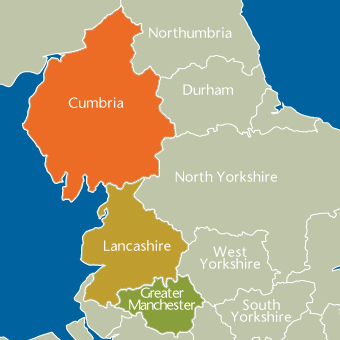 The CPS has 14 Areas across England and Wales - the CPS North West Area covers the counties of Cumbria, Greater Manchester and Lancashire and serves a population of 4.8 million people.
Chief Crown Prosecutor Martin Goldman is the head of CPS North West.  He has overall responsibility for the prosecution of cases in the region.  The Deputy Chief Crown Prosecutors are Ian Rushton and Steve Hoolohan.  Wray Ferguson is the Area Business Manager with responsibility for Business and Operational Delivery functions.
We employ approximately 500 members of staff – lawyers, paralegal officers, witness care officers, administrators and business support staff – who are based in our offices in Barrow-in-Furness, Carlisle, Manchester and Preston.  A small team of CPS Witness Care Officers are based in Kendal Police Station.
The Area Business Centre and Business Support Units are responsible for the management of specialist business functions of performance, finance, human resources, facilities management, communications, change delivery and community engagement.
Executive Team
Toggle accordion
Chief Crown Prosecutor, Martin Goldman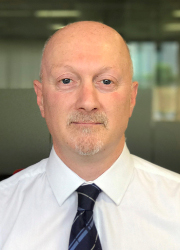 Martin Goldman studied for his law degree at Dundee University before going on to complete his Solicitors' finals at the Chester College of Law in 1987.
He completed his articles in his native Liverpool, qualifying as a solicitor in 1989. Martin then joined CPS West Yorkshire as a trainee Crown Prosecutor, becoming a Crown Prosecutor in 1991. Following a promotion in 1998, Martin became the Head of the Leeds and Wakefield Criminal Justice Units in 2000.
In 2004 he became Chief Crown Prosecutor (CCP) for Cleveland, in 2007 moved to CPS Direct, the CPS' national out of hours service providing advice and charging decisions to police.  In April 2011, Martin became CCP for CPS Yorkshire and Humberside and in February 2017 he was appointed Chief Crown Prosecutor for CPS North West.  Martin is the national lead CCP for victims and witnesses issues. 
Deputy Chief Crown Prosecutor, Ian Rushton
Ian has worked for the Crown Prosecution Service since it began in April 1986, having been in private practice in Manchester prior to joining the former Prosecuting Solicitor's Department with Greater Manchester Police.
A Senior Crown Prosecutor in the City of Manchester until January 1993, Ian was then promoted to Assistant Branch Crown Prosecutor for Sheffield in South Yorkshire. He progressed to Branch Crown Prosecutor, and held similar posts in Preston and East Lancashire before moving to Cheshire in November 2005 as the Chief Crown Prosecutor. He was appointed to the post of CCP for Lancashire in March 2010 and in April 2011 became one of two Deputy Chief Crown Prosecutors (DCCPs) of the larger North West Area.
Ian has been heavily involved in the recruitment of legal trainees and the development of the CPS Proactive Prosecutor courses, a key element of all Crown Prosecutors' training. He has a national responsibility for Violence Against Women issues.  Ian was educated at The Manchester Grammar School and is a graduate in Law from the University of Nottingham.
Deputy Chief Crown Prosecutor, Steve Hoolohan
Steve Hoolohan qualified as a solicitor in 1984. He immediately joined the Greater Manchester County Prosecuting Solicitors department. This was intended as a short term post to allow him to gain advocacy experience before returning to private practice. Thirty years later Steve remains with the CPS, still enjoying the job.
After three years with the Rochdale team Steve moved to Bolton and then as a Team Leader to Warrington in Cheshire.  Whilst in Cheshire Steve had a variety of roles managing combined teams, Magistrates teams or Crown Court units. He qualified as a Crown Advocate in 1998.  After 15 years in Cheshire Steve moved to CPS North West as Head of the Preston and South West Lancashire Combined Unit, later becoming Head of the Greater Manchester Crown Court Unit.
Steve became the Deputy Chief Crown Prosecutor for Wessex in July 2014 and returned to the North West Area as Deputy Chief Crown Prosecutor in June 2017.  
Area Business Manager, Wray Ferguson
Wray started her career in the Department of Employment in 1975, transferring to Her Majesty's Courts and Tribunals Service (HMCTS) in 1976.  During her time in HMCTS, she had a number of roles. These included casework, listing, management, training and HR. In 1994 she became the Group Chief Clerk for the North Wales and Chester County Court Group, transferring in 1997 to the role of Court Manager for the North Wales and Chester Crown Court Group.
Wray joined the CPS in 2004, as the Area Business Manager for North Wales. Following the 2011 Area restructure, Wray took on the role of Business Change and Delivery Manager in CPS Cymru Wales. In January 2014 she became a member of the project team responsible for development and delivery of the new national CPS Proceeds of Crime service.
In January 2015 she was promoted to ABM for CPS Mersey-Cheshire and in August 2015, she was appointed as Area Business Manager for CPS North West with overall responsibility for the Operational Delivery and Business Operations for the North West Area.
Magistrates' Court Unit
Toggle accordion
The Magistrates' Court Unit prosecutes offences where the maximum permitted sentence for each offence does not exceed six months imprisonment or one year if two or more relevant offences are to be considered.  Most criminal cases are heard in magistrates' courts.
Crown Court Unit
Toggle accordion
The Crown Court Unit deals with cases involving serious offences, which have to be tried before a jury or where the magistrates' courts do not have sufficient sentencing powers for the seriousness of the crime. 
Complex Casework Unit
Toggle accordion
The Complex Casework Unit prosecutes the most complex and sensitive cases in the area, including organised crime cases and cross-border crime.
Rape and Serious Sexual Offences (RASSO) Unit
Toggle accordion
The Rape and Serious Sexual Offences Unit is a specialist team who prosecute cases of rape and serious sexual offences from across the North West. 
Working with You
Toggle accordion
We aim provide the best possible service to victims and witnesses in the North West. We work with our local communities so that we have a better understanding of how crime affects them and so that we can explain the role of the CPS and the work we do.
We have set up Local Scrutiny Involvement Panels (LSIPs), which include members of the public and members of voluntary organisations who support victims of certain kinds of crime, such as hate crime, sexual violence or domestic violence. Their input into our work is vital to help us improve the service we give to victims and witnesses.
We welcome invitations to meet with groups and organisations in the North West and we attend events, give presentations and answer questions about the work of the CPS.