North West
Please communicate with us by email, telephone and secure digital media wherever possible. Royal Mail and other post delivered to our offices will be checked periodically, but normal mail response times cannot be guaranteed. All hand deliveries must be made by appointment only.
Our main contact numbers are: 0161 827 4700 (Manchester), 01772 208100 (Preston), 01228 882900 (Carlisle) with options for the various units.
Email addresses
If you are a member of public, you can use the following email addresses without including .cjsm.net, which will work only for members of the Criminal Justice Secure Mail system. DO NOT use these addresses to send sensitive information unless via .cjsm.net.
Crown Court work:
Magistrates' Court Unit work:
Rape and Serious Sexual Offences (RASSO) work:
Complex Casework Unit work:NorthWest.ComplexCaseUnit@cps.gov.uk.cjsm.net
---
The Crown Prosecution Service (CPS) is the main prosecuting authority in England and Wales. In our daily operations we work in partnership with all agencies in the criminal justice system. We work especially closely with the police, although we are independent of them.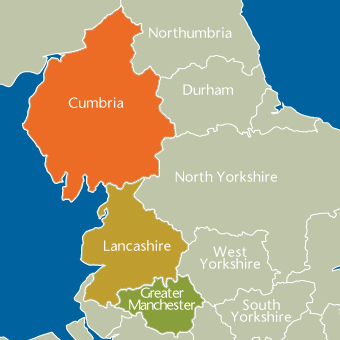 The CPS has 14 Areas across England and Wales - the CPS North West Area covers the counties of Cumbria, Greater Manchester and Lancashire and serves a population of 4.8 million people.
CPS North West is led by Chief Crown Prosecutor Martin Goldman. He has overall responsibility for the prosecution of cases in the region. He is supported by Deputy Chief Crown Prosecutor (DCCP) Janet Potter, who leads the Rape and Serious Sexual Offences (RASSO) Unit and the Complex Casework Unit (CCU), DCCP Joanne Cunliffe, who has responsibility for Crown Court cases and DCCP Katie Nicholson, who has responsibility for magistrates' court cases. Caroline Staveley is our Area Business Manager and has responsibility for business and operational delivery functions across the region.
We employ approximately 450 members of staff - lawyers, paralegal officers, witness care officers, administrators and business support staff - who are based in our offices in Barrow-in-Furness, Carlisle, Manchester and Preston.  A small team of CPS Witness Care Officers are based in Kendal Police Station.
The Area Business Centre and Business Support Units are responsible for the management of specialist business functions of performance, finance, human resources, facilities management, communications, change delivery and community engagement.
Executive Team
Toggle accordion
Chief Crown Prosecutor, Martin Goldman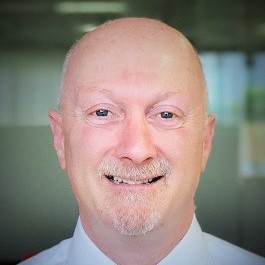 Martin Goldman studied for his law degree at Dundee University before going on to complete his Solicitors' finals at the Chester College of Law in 1987.
He completed his articles in his native Liverpool, qualifying as a solicitor in 1989 and then joining CPS West Yorkshire as a Crown Prosecutor. After being promoted into a Legal Manager role in 1998, Martin worked his way through the ranks before becoming the Chief Crown Prosecutor (CCP) for Cleveland in 2004. In 2007 he took up the role of CCP for CPS Direct (the CPS' national charging out of hours service), in 2011 he transferred to CPS Yorkshire and Humberside, before taking up his current role as CCP for CPS North West in 2017.
During his time as national CPS lead for Victims, Martin led the implementation of the following initiatives: The Victims Right to Review Scheme, Speaking to Witnesses at Court, CPS Area Victim Liaison Units and the CPS national Victim and Witness Survey. He also chaired the cross-Criminal Justice Service (CJS) Victim and Witness Group who developed the Domestic Abuse Best Practice Framework which was later adopted across the whole CJS. Martin is now National CPS Lead for Advocacy.
Martin remains a loyal supporter of Liverpool FC and is a keen golfer. He met his wife in Leeds and has three grown up children.
Deputy Chief Crown Prosecutor, Joanne Cunliffe
Joanne joined CPS in 2001 as a Senior Crown Prosecutor, after working as a Legal Adviser in the Courts Service.
As a Senior Crown Prosecutor Joanne gained experience in both the Magistrates and Crown Court teams, dealing with a wide range of cases and qualified as a Crown Advocate. In 2008 she joined the CPS North West Complex Casework Unit (NW CCU) and subsequently took up the role of Deputy Head of the Unit in 2013. In 2015 Joanne set up the North West Rape and Serious Sexual Offence Unit and was promoted to Unit Head.
Joanne became a temporary Deputy Chief Crown Prosecutor in 2018 and in 2019 was successful in becoming a Deputy Chief Crown Prosecutor for CPS North West on a permanent basis. Joanne is responsible for Crown Court casework for the North West Area.
Deputy Chief Crown Prosecutor, Katie Nicholson
Katie joined the Crown Prosecution Service in 2008 as a Senior Crown Prosecutor, after working in private practice undertaking criminal defence work. As a Senior Crown Prosecutor Katie gained experience in the Magistrates' Court, Crown Court and Rape and Serious Sexual Offences Units. In 2016 she joined CPS North East as a District Crown Prosecutor, responsible for the Rape and Serious Offence Unit in Newcastle.
In 2018 Katie returned to CPS North West and was promoted to Senior District Crown Prosecutor with responsibility for the Lancashire and Cumbria Crown Unit, moving over to Greater Manchester Crown Court Unit in the same role in 2020.
Katie became a temporary Deputy Chief Crown Prosecutor in 2022 and is responsible for all Magistrates' Court cases.
Deputy Chief Crown Prosecutor, Janet Potter
Janet was admitted as a solicitor in 1988. After four years in private practice undertaking criminal defence work she joined the Merseyside Crown Prosecution Service and spent nine years as a Senior Crown Prosecutor. In 2001 she was promoted to Prosecution Team Leader on the Mersey North Branch and managed a number of teams between 2001 and 2008, becoming temporary Senior District Crown Prosecutor for Mersey North in 2008.
Janet became the District Crown Prosecutor for the newly formed co-located rape and serious sexual assault unit in Liverpool in 2010, later setting up a similar unit in Cheshire. As the Area Rape Coordinator she worked closely with partner agencies and the police to bring about improvements in witness care and the quality of prosecutions.
In 2012 Janet became District Crown Prosecutor for the Mersey/Cheshire Crown Court Team as well as retaining the management of the RASSO teams. In 2013 she was promoted to Head of the Mersey/Cheshire Complex Casework Unit (CCU) and was also the Area Lead for Disclosure. Janet was seconded to the Special Crime and Counter Terrorism Division of the CPS in 2015 as Unit Head of the Hillsborough Team, which had responsibility for charging and prosecuting a number of defendants with criminal offences arising from the Hillsborough disaster and its aftermath.
In 2017 she was appointed as Deputy Head of Specialist Fraud Division, responsible for prosecuting serious economic crime and in June 2020 she moved to North West Area as Deputy Chief Crown Prosecutor with responsibility for the RASSO team and the Complex Casework Unit.
Area Business Manager, Caroline Staveley
Caroline Staveley has worked for the CPS since January 1999 when she began her career as an administrator at the CPS Oldham office.  Over the next few years she achieved a number of promotions to Caseworker, Branch Business Support Manager, Branch Business Manager and she also completed a period of temporary promotion as Senior Area Business Manager for Greater Manchester in 2009.
In 2010 Caroline was appointed as Head of North West Area Operations Centre and then as Business Change and Delivery Manager from February 2013. In April 2018 she was promoted to Area Business Manager for CPS North West with overall responsibility for the Operational Delivery and Business Operations for the North West Area.
Caroline is a qualified ILM Level 7 Executive Coach and a Chartered Member of CIPD.
Magistrates' Court Unit
Toggle accordion
The Magistrates' Court Unit prosecutes offences where the maximum permitted sentence for each offence does not exceed six months imprisonment or one year if two or more relevant offences are to be considered. Most criminal cases are heard in magistrates' courts.
Crown Court Unit
Toggle accordion
The Crown Court Unit deals with cases involving serious offences, which have to be tried before a jury or where the magistrates' courts do not have sufficient sentencing powers for the seriousness of the crime. 
Complex Casework Unit
Toggle accordion
The Complex Casework Unit prosecutes the most complex and sensitive cases in the area, including organised crime cases and cross-border crime.
Rape and Serious Sexual Offences (RASSO) Unit
Toggle accordion
The Rape and Serious Sexual Offences Unit is a specialist team who prosecute cases of rape and serious sexual offences from across the North West. 
Working with You
Toggle accordion
We aim provide the best possible service to victims and witnesses in the North West. We work with our local communities so that we have a better understanding of how crime affects them and so that we can explain the role of the CPS and the work we do.
We have set up Local Scrutiny Involvement Panels (LSIPs), which include members of the public and members of voluntary organisations who support victims of certain kinds of crime, such as hate crime, sexual violence or domestic violence. Their input into our work is vital to help us improve the service we give to victims and witnesses.
We welcome invitations to meet with groups and organisations in the North West and we attend events, give presentations and answer questions about the work of the CPS.