Man jailed after "senseless pursuit" killed one man and seriously injured two others.
A man has been jailed for ten years for killing a teenager and seriously injuring two others in a "senseless and misjudged pursuit" after his brother's motorbike was stolen.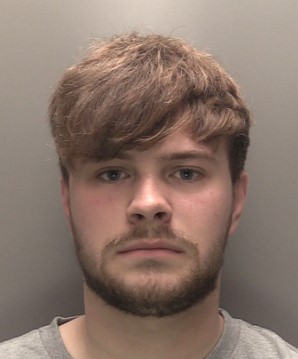 Brandon Glover, 25, of King Street, Newton-le-Willows, killed Harley Lea, 17, and seriously injured Jordan Carter, 21, and Louis Coleman, 24, just after midnight on 4 October 2022 on Park Road in St Helens.
The victims were seen by Glover who became convinced that they were riding his brother's motorbike which had been reported stolen from outside his mother's house a few hours earlier. Glover's brother and mother told him, and he then made the decision to go in search of the bike and the people who had stolen it.
He saw the victims on the Honda bike and two others with them on a Bellini bike and began to follow them. He followed them onto Park Road as they left the Fingerpost estate. Glover's vehicle reached speeds of up to 77 mph immediately before the collision.
He failed to negotiate a left-hand turn in the road and crashed into the Bellini bike first and then the Honda. Harvey Lea was thrown from the bike and died instantly from head injuries. Jordan Carter suffered a double leg fracture, cuts to his head and abrasions. Louis Coleman suffered pelvic fractures, spinal fracture, and fractures to his legs and arms.
Glover called the emergency services and waited for them to arrive. He was breathalysed but was not found to be under the influence of alcohol or drugs. He was charged with murder, two counts of grievous bodily harm with intent and two counts of unlawfully and maliciously causing grievous bodily harm. 
He pleaded not guilty and was acquitted after a trial at Liverpool Crown Court. However, he pleaded guilty to one count of causing death by dangerous driving and two counts of causing serious injury by dangerous driving.
On 20 September 2023 at Liverpool Crown Court, he was jailed for 10 years and has been banned from driving for six years. The Judge described Glover's dangerous driving on that night as "prolonged, persistent and deliberate".
He said Harley Lea's mother described her son as central to their busy family, a close support to his brothers and his grandmother. She spoke of the pain and torture of day-to-day life since his death.
Senior Crown Prosecutor Caroline Ross, of CPS Mersey-Cheshire, said: "Glover was driving his car at more than twice the speed limit when he hit the bikes – there was no way he could manoeuvre his vehicle or stop at that speed.
"This followed the incredibly rash decision to go in pursuit of whoever had stolen his brother's motor bike. The theft had already been reported to the police and it should have been left to them to deal with. The group of teenagers Glover chose to go after had nothing to do with the theft at all.
"As a result of his impulsive actions, one young person is dead, and two others have been left with life changing injuries. Brandon Glover has expressed his remorse about his actions on that night and the far-reaching consequences of them. He is now a convicted criminal and must spend up to ten years in jail.
"Our thoughts are with the family of Harvey Lea and the other victims of this dreadful incident."