London North
CPS London North is currently maintaining core business functions, while doing all we can to minimise in-person contact.
Please communicate with us by email, telephone and secure digital media wherever possible. Royal Mail and other post delivered to our offices will be checked periodically, but normal mail response times cannot be guaranteed. All hand deliveries must be made by appointment only.
Our main contact number is 020 3357 7000 with options for the various units.
Email addresses
If you are a member of public, you can use the following email addresses without including .cjsm.net, which will work only for members of the Criminal Justice Secure Mail system. DO NOT use these addresses to send sensitive information unless via .cjsm.net.
Digital IDPC:
Crown Court work (including RASSO and Homicide):
Magistrates' Court work:
---
The Crown Prosecution Service (CPS) is the main prosecuting authority in England and Wales. In our daily operations we work in partnership with all agencies in the criminal justice system. We work especially closely with the police, although we are independent of them.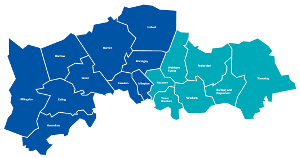 The CPS has 14 Areas across England and Wales and CPS London North Area is one of two Areas in the Greater London Area (CPS London South being the other). It covers most of the London boroughs north of the River Thames (excluding Hammersmith & Fulham, Kensington & Chelsea and Westminster). We prosecute cases investigated by the Metropolitan Police in these boroughs.
Chief Crown Prosecutor Barry Hughes is the head of CPS London North and is supported by Deputy Chief Crown Prosecutor Lisa Ramsarran, who has responsibility for Magistrates' and Domestic Abuse teams, temporary Deputy Chief Crown Prosecutor Richard Heatley, who has responsibility for the Crown Court unit, and Ruth Bowskill, who has responsibility for the Rape and Serious Sexual Offences (RASSO) unit and a pan-London Homicide team. Keith Milburn is the Area Business Manager and has responsibility for Business and Operational Delivery functions across the region.
We currently employ approximately 450 members of staff which consists of lawyers, paralegals and administrators. Our teams are based in offices near Victoria. We also have a small number of remote staff based in CPS offices in Cardiff.
The Area is supported by a Business Centre which houses a team of specialists in the fields of performance, finance, human resources, communications and inclusion.
Executive Team
Toggle accordion
Barry Hughes, Chief Crown Prosecutor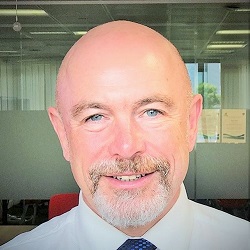 Ruth Bowskill, Deputy Chief Crown Prosecutor
Ruth is the Deputy Chief Crown Prosecutor responsible for the London Homicide Team, which operates across the capital, and for all Rape and Serious Sexual Offence (RASSO) prosecutions in London North.
She joined London in June 2017 from CPS Thames and Chiltern, where she has been DCCP since 2012, for the past three years covering the Crown Court side of the business, with a particular interest in the Violence against Women and Girls (VAWG) agenda. She joined the CPS in 2002 as a Crown Prosecutor in Hampshire and the Isle of Wight, moving through various management positions.
She became a Higher Crown Advocate working in both Crown and magistrates' courts units before becoming a level E prior to her move into the DCCP role.
Lisa Ramsarran, Deputy Chief Crown Prosecutor
Lisa joined the CPS South East Area as a legal trainee in 1996, and was appointed as a Crown Prosecutor in 1998 and Senior Crown Prosecutor in 2000. She held a variety of prosecutor roles within the South East and held appointments as the Domestic Abuse and Hate Crime Area champion. In 2005, Lisa was appointed as the temporary Unit Head for the Brighton Criminal Justice Unit. Shortly after in 2006, she was appointed as the Borough Crown Prosecutor for Croydon, South London.
Following a period of maternity leave, Lisa returned to CPS South East and held District Crown Prosecutor roles for the Early Guilty Plea team and the Rape and Serious Sexual Offences (RASSO) Unit. Following promotion to Senior District Crown Prosecutor in 2016 she was appointed to the Magistrates' Court then the Crown Court before taking up her role as Head of Complex Casework and RASSO in 2017.
In July 2019, Lisa started her current role as Deputy Chief Crown Prosecutor for the CPS London North Magistrates' Court Team.
Richard Heatley, Deputy Chief Crown Prosecutor (temporary)
Richard is responsible for Crown Court cases in London North.
Keith Milburn OBE, Area Business Manager
Keith is the Area Business Manager for CPS London with lead responsibility for Crown Court and advocacy matters. Keith has 30 years' experience in CPS since joining the Service in August 1986, when the Service was first established. He joined from the Department for Constitutional Affairs having had a number of roles supporting the Courts Administrator for the South Eastern Circuit.
When he joined the CPS Keith was assigned to London South and Surrey, working on Kingston, Isleworth and Croydon Crown Court Units. He later moved to Surrey and led the Crown Court Unit for Guildford Crown Court. In 1998 Keith transferred to Headquarters and helped develop and implement the first major IT infrastructure project in CPS - Connect 42. From there he became Head of External Resources and Performance Branch and latterly the Court Business Delivery Unit.
During his time at Headquarters Keith undertook significant roles in relation to advocacy matters, the implementation of Better Case Management and the development and implementation of the Advocate Panel.
Magistrates' Court Unit
Toggle accordion
Our Magistrates' Court Unit prosecutes offences of domestic abuse, assaults, criminal damage, minor public disorder incidents, all but the most serious traffic offences, possession of drugs, dangerous dog offences, offences of dishonesty and commercial burglaries. The list is not exhaustive but generally comprises of any offence where the maximum permitted sentence for each offence does not exceed six months imprisonment or one year if two or more relevant offences are to be considered. 
Crown Court Unit
Toggle accordion
The Crown Court Unit deals with cases such as attempted murder, robberies, serious assaults, dwelling house burglaries, complex fraud and the supply and trafficking of drugs.
Homicide unit
Toggle accordion
The Homicide unit, which covers the whole of London, deals with murders and the most serious road traffic offences, especially those that result in a fatality. A separate Complex Casework Unit which covers the whole of London is aligned to the CPS London South Area.
Rape and Serious Sexual Offences (RASSO) Unit
Toggle accordion
The RASSO Unit is a dedicated and specialised team which prosecutes cases such as rape, serious sexual offences, child abuse, child sexual exploitation, honour based violence and Female Genital Mutilation. The staff on the unit all have a great deal of understanding of the sensitivities of prosecuting cases of this nature and how difficult and harrowing it can be for a victim from the first step of making a complaint to the police, through to giving evidence in a trial. 
Working with You
CPS London North continues to engage with the diverse communities that we serve in order to ensure that we make this region a safer place to live, work and visit.
We acknowledge that public trust is measured against our ability to work with members of our local communities in key areas. To this end we have two community panels that work on a pan-London basis – one that focusses specifically on Violence Against Women and Girls (VAWG) and one that has a wider remit and will for instance look at cases involving hate crime.
Our aim is to inform, listen, work with and in turn, be informed by those living and working across north London.