New minimum standards for rape and sexual assault victim support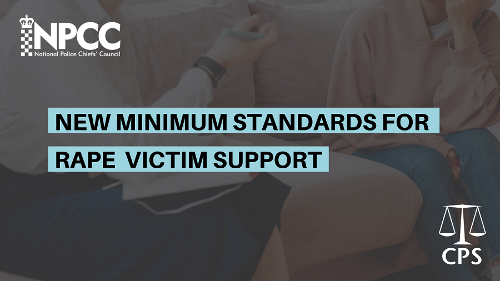 We know that when victims have good emotional and practical support from our excellent ISVA partners, and close liaison with police and prosecutors, the criminal justice process becomes more manageable for them and justice outcomes improve. Currently there is a gap on setting out what best practice looks like - this framework aims to close that gap.
New minimum standards for the support of rape and sexual violence victims have today (Friday 18 June) been published by the Crown Prosecution Service (CPS) and the National Police Chiefs' Council (NPCC).
The new framework will enhance the way we work with Independent Sexual Violence Advisors (ISVAs) – a vital support system for survivors of rape and sexual violence – and other support services who work across the criminal justice system.
These new minimum standards include:
Single points of contact across the police, CPS and ISVA agencies to forge even stronger working relationships and seamless communication between partners 
Local Multi-Agency Rape Strategic and Scrutiny Groups which will bring together single points of contacts from across the criminal justice system to oversee the delivery of the framework
Improved communication with complainants, considering their individual needs and preferences 
This marks the latest step in an ambitious programme of work, set out within the Joint National Action Plan, to reduce the disparity between the number of rape and serious sexual offence (RASSO) cases being reported and those going to court. Too few victims are seeing justice and we are working hard to change that.
This new framework is a key deliverable within the Government's Action Plan following an end to end review of the way reports of rape are handled. The Action Plan pledges to reverse the falling rape prosecutions that we have seen over the last five years, with commitments to increase the volume in cases referred to the CPS by the police, cases charged and cases reaching court.
National Rape Lead at the CPS, Siobhan Blake, said:
"ISVAs do an incredible job supporting victims through the immensely challenging and traumatic experience of going through the criminal justice system.
"Closer working between ISVAs and the CPS and a greater understanding each others' roles and responsibilities can only improve victims' experience.
"Over the last few months we have started to build strong working relationships and it is very clear to me that we share the same desire to see these important cases thoroughly investigated, carefully and sensitively prosecuted and justice delivered for victims of serious sexual offending."
National Police Chiefs' Council lead for Rape, Deputy Chief Constable Sarah Crew:
"Making sure victims get the best possible service, feel listened to and have access to support and advice is a key part of our work to improve the criminal justice system's response to rape.
"This latest stage of our joint action plan with the CPS will see us work even more closely than before with Independent Sexual Violence Advisors to make sure officers can support victims in the best way possible.
"Work continues at pace with the CPS to implement the other areas of our plan to improve training for officers and staff on dealing with trauma, keeping victims as informed as possible and making sure we gather strong evidence from the outset."
ISVAs and support services across England and Wales provide a range of professional support, advice and help for victims of sexual violence – whether they report to the police or not.
This framework will be used by the police and CPS across England and Wales to build and maintain high quality liaison and communication. It can also be tailored to fit the specific needs of each local area to ensure survivors across the country get the level of the support they deserve when going through the criminal justice system process.
In January, the CPS and NPCC launched the Joint National Action Plan which sets out a wide-ranging plan for greater collaboration to improve response to RASSO cases. It is designed to ensure victims have confidence in the criminal justice system and receive the best possible support and care whilst investigations and prosecutions take place.
Fay Maxted, of The Survivors Trust said:
''The Survivors Trust has been providing accredited training for ISVAs for over a decade. Survivors tell us that they would not have been able to go through with a court appearance without the constant and empowering support of their ISVA, so we really welcome the new minimum standards for support for victims/survivors of rape and sexual assault.
''The impact of rape and sexual assault can be devastating and the process of reporting the offence overwhelming. Victims/survivors who report rape or sexual assault deserve and need the best care and support both during the investigation and later when the case gets to court. ISVAs are independent professionals who are able to provide a crucial link between the police and CPS and the victim/survivor.
''ISVAs also provide a link for victims/survivors to other essential support services including pre-trial therapy and specialist sexual violence counselling. Closer working between ISVAs, police and CPS will ensure the victim/survivor's needs and rights are prioritised throughout the investigation and trial. Importantly, the ISVA continues to work with the victim/survivor after an investigation or trial has ended. This is often the time when a victim/survivor needs more support to access other specialist support services to continue their recovery journey.''
ISVAs work alongside people from soon after their initial contact with a Sexual Assault Referral Centre or other emergency service provider. They provide practical advice and information that can range from, how the criminal justice system works to, how to access housing benefit. Where an allegation has been reported to the police, ISVAs or other support services will work with the complainant throughout the criminal justice system process and beyond.
In addition to the police and CPS, they can receive referrals from other agencies and also link in with essential services such as counselling and health services as part of a virtual multi-agency team, ensuring that the safety of the victim is coordinated across all the different agencies.
Case Study – CPS East Midlands
In the East Midlands, a working group for specialist lawyers, local ISVAs and child sexual violence advocates (CHISVA) meets regularly. This direct contact between the lawyers and advocates is hugely beneficial in terms of increased communication and helping both to understand more about their respective roles in a victim's experience.
This group was vital in the creation of the National ISVA framework and offered invaluable insight into how to best support victims of sexual violence. CPS East Midlands has been recognised for the work that has gone in to improving the experience for young and vulnerable victims of crime going through the criminal justice system.
CHISVA Lead for Nottingham, Stephanie Atkinson: ''The ISVA CHISVA CPS working group has made a real difference to our service delivery. The CPS have been 'demystified' and are now approachable and available to talk through queries or questions we have, which has empowered and enabled CHISVA's to support and advocate for the young people we work with more effectively.
"This positive and ever-growing relationship affects all our work and is affording positive outcomes for the young people we work with. In my experience, this has allowed young people to feel heard in a system where traditionally they have not been, which in turn helps enable recovery. We share feedback from our young people and the CPS really listen to this, which they, and we, find so valuable.''
ISVA Lead for Nottingham, Gemma Malfesi: ''I am not exaggerating when I say the partnership work between the ISVA service and East Midlands CPS has made the difference between a survivor feeling so misunderstood and frightened that they couldn't see a way forward, to a survivor feeling heard, understood and empowered. It has saved lives.
''The partnership working between the ISVA service and CPS has proven invaluable, it enables the survivor to better understand the criminal justice process and some of the reasons behind the decision making, it has given the ISVA service the confidence to liaise with the CPS and for the views of the ISVA and survivor to be taken seriously, this has made a huge difference to not only the process but also the survivors journey.''