Yorkshire and Humberside
The Crown Prosecution Service (CPS) is the main prosecuting authority in England and Wales. We work with all agencies in the criminal justice system, and liaise closely with the police, although we are independent from them.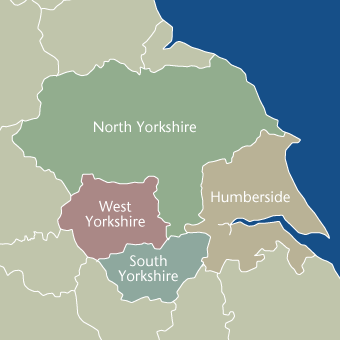 The CPS has 14 operating Areas across England and Wales. CPS Yorkshire and Humberside is one of the largest CPS Areas outside London, serving a population of over five million. The Area covers West Yorkshire, North Yorkshire, South Yorkshire, East Yorkshire, the Humber, and North East Lincolnshire.
CPS Yorkshire and Humberside is led by Chief Crown Prosecutor Gerry Wareham. He is supported by Deputy Chief Crown Prosecutor Gale Gilchrist, who has responsibility for Crown Court cases, Deputy Chief Crown Prosecutor Jonathan Storer, who has responsibility for Magistrates' Court cases, and Chris Hartley, who leads the Complex Casework Unit, the Rape and Serious Sexual Offences (RASSO) Unit and our team of Crown Advocates. Ian Brown is our Area Business Manager and has responsibility for business and operational delivery functions across the region.
We currently employ over 450 people including lawyers, paralegals, administrators and specialist staff.  We have offices in Leeds, Hull and Sheffield and every year we prosecute thousands of criminal cases in Magistrates' Courts and Crown Courts across the region. 
The legal work of our Area is supported by a dedicated team of administrators whose job it is to ensure that all our correspondence is dealt with promptly and the digital  preparation of casework for court is dealt with efficiently.
Our Area Business Centre houses a team of specialists in the fields of performance, finance, human resources, health, safety and facilities, communications and inclusion.
CPS Yorkshire and Humberside Work Experience Programme 2020 - aged 17 and over
The Crown Prosecution Service (CPS) prosecutes criminal cases that have been investigated by the police and other investigative organisations in England and Wales. The CPS is independent, and we make our decisions independently of the police and government.
The CPS in Yorkshire and Humberside is offering a legal work experience placement in 2020 to those aged 17 years and over who are interested in a career in law. There is a choice of one of three office locations - Leeds, Sheffield and Hull.
The placement
The four-day placement (three days in Hull) will include spending time with the Magistrates' Court Team and the Crown Court Team as well as our specialist casework teams. There will also be the opportunity to observe in both a Magistrates' and a Crown Court. The placements will be undertaken in pairs.
The dates of the placement are fixed and are as follows:
| Leeds office | Sheffield office | Hull office |
| --- | --- | --- |
| 23-26 March 2020 | 23-26 March 2020 | 20-22 April 2020 |
| 15-18 June 2020 | 22-25 June 2020 | 15-17 June 2020 |
| 6-9 July 2020 | 13-16 July 2020 | 29 June-1 July 2020 |
Security clearance
Due to the sensitive nature of our work, successful applicants must undertake a security check before they will be allowed to complete their placement. This will involve attending the CPS office in advance of the placement.
The application process
To apply for the placement, please complete the application form and return it by email to YH.Workexperience@cps.gov.uk.
The application window opens on Monday 6 January 2020 and closes on Sunday 19 January 2020. Any applications received before or after these dates will not be considered.
You must potentially be available on all of the dates specified above for your chosen office as you will be allocated one of these weeks by the CPS administrators. No alternative dates can be offered.
You must be 17 years of age or over at the time of submitting your application.
We particularly welcome applications from people from low socio-economic backgrounds, people with disabilities and people from Black, Asian and Minority Ethnic backgrounds.
If you have any questions about the application process, please contact YH.Workexperience@cps.gov.uk.
Executive Team
Toggle accordion
Gerry Wareham, Chief Crown Prosecutor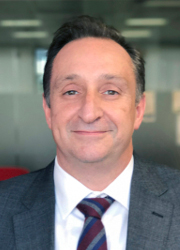 Gerry joined the CPS in London as a caseworker in 1986 and was called to the Bar in 1988. 
In November 2000 Gerry became head of one of the northern branches of the Casework Directorate in York, and managed a team responsible for the preparation of some of the most complex and sensitive cases within the CPS.
He became Deputy Chief Crown Prosecutor for CPS Yorkshire and Humberside before being appointed Chief Crown Prosecutor for CPS North East and the CPS out of hours charging service, CPSD.
Gerry returned to CPS Yorkshire and Humberside as Chief Crown Prosecutor in February 2017.
Chris Hartley, Deputy Chief Crown Prosecutor (Rape and Serious Sexual Offences, Complex Casework and Crown Advocacy)
Chris was called to the bar in 1987, joining a London Chambers which primarily undertook criminal work across the North East. Having found the role of a prosecuting advocate a rewarding experience, Chris joined the CPS in September 1991 as a Senior Crown Prosecutor to widen his experience to include review and preparation of casework.
In 2014, Chris took up a new role in Leeds managing the North and West Yorkshire Magistrates' Courts Unit and in May 2017 became Deputy Chief Crown Prosecutor for Yorkshire and Humberside, responsible for Magistrates' courts work across the Area.
Gale Gilchrist, Deputy Chief Crown Prosecutor (Crown Court team)
Gale worked in private practice for ten years before joining CPS Cleveland in January 2002 as a Senior Crown Prosecutor and then Crown Advocate. Gale became Head of the North East Complex Casework Unit in 2013.
She later completed a 12-month secondment in CPS Headquarters where she worked closely with the Attorney General's Office, Home Office, Ministry of Justice and Cabinet Office on a number of portfolios such as immigration, labour market exploitation, Europe and Department for Education prosecutions.
Gale then returned to the North East and continued in her role as Head of the CCU before becoming Deputy Head of the Specialist Fraud Division in October 2017. She became DCCP for the Crown Court team in July 2019.
Jonathan Storer, Deputy Chief Crown Prosecutor (Magistrates' Court team)
Jonathan began his career as a Legal Advisor in North Yorkshire and qualified as a solicitor in 1996, before joining the CPS in 2001. Gaining a wide range of experience in various roles in Greater Manchester, he was appointed Senior District Crown Prosecutor in 2010.
Jonathan led a range of Magistrates' and Crown Court teams in Lancashire and Cumbria before moving to CPS London South in 2015 as Deputy Chief Crown Prosecutor leading the Crown Court team. He joined CPS Yorkshire and Humberside in September 2019 as Deputy Chief Crown Prosecutor for the Magistrates' Court team.
Ian Brown, Area Business Manager
Ian joined the CPS in 2008 as Senior Area Business Manager for Northumbria. He has a background in engineering and brings with him many years' experience in senior leadership roles in the private sector.
Ian is responsible for the business functions of the Area, monitoring performance and overseeing staff management. Working alongside our Chief Crown Prosecutor Gerry Wareham, his role is to ensure the appropriate resources are in place for the CPS to operate effectively and efficiently.
Magistrates' Court Unit
Toggle accordion
Our Magistrates' Court Unit prosecutes a very wide range of offences. Generally they are those for which the maximum sentence does not exceed six months' imprisonment (or 12 months if two or more offences are to be considered). The casework  includes crimes of  domestic violence, hate crime, assaults, criminal damage, minor public disorder incidents, all but the most serious traffic offences, possession of drugs, dangerous dog offences, offences of dishonesty and commercial burglaries.
Crown Court Unit
Toggle accordion
The Crown Court Unit deals with very serious offences such as murder and manslaughter, robberies, serious assaults, fraud, the supply and trafficking of drugs, and the most serious road traffic offences, especially those that result in a death.
Complex Casework Unit
Toggle accordion
The Complex Casework Unit houses a team of highly experienced lawyers and caseworkers who handle our most serious and high profile cases. The bulk of their casework arises from serious and organised crime - particularly drugs importation and distribution; money laundering, organised crime, multi-defendant homicide, child sexual exploitation and serious fraud.
Rape and Serious Sexual Offences (RASSO) Unit
Toggle accordion
The Rape and Serious Sexual Offences Unit is a dedicated and specialist team which prosecutes cases such as rape, serious sexual offences and child abuse. The lawyers in this unit are all specially trained prosecutors who fully understand the sensitivities of prosecuting cases of this nature, and how difficult it can be for victims to come forward and if necessary, give evidence in court.
Regional Community Panels
We have three regional, thematic scrutiny panels, who inform our work on hate crime, domestic abuse and rape.  
Panel members are drawn from a wide cross-section of community groups including charities, inter-agency partnerships and local authorities.
The overall remit of each panel is to scrutinise CPS casework and decision-making to improve performance and ensure the delivery of our Core Quality Standards. Panel members will undertake the following activities in relation to their specialist area of casework:
Review and scrutinise non-active CPS case files;
Identify issues, common themes and trends in the decision-making process, looking in particular at the impact of CPS decision-making on diverse communities;
Make recommendations to the CPS to improve CPS performance and support to victims and witnesses;
Provide feedback to colleagues and communities on the results of the panel and actions taken by the CPS in response to the panels observations and recommendations.
The panels meet between two and three times a year.
Hate Crime Scrutiny Panel
Toggle accordion
Stop Hate UK - Support for people affected by hate crime. www.stophateuk.org 
Calderdale Council - Works in partnership to build safer, stronger and connected communities. www.calderdale.gov.uk 
Kirklees Council - Works in partnership with West Yorkshire Police to provide support and guidance to victims of hate crime and take positive action against perpetrators. www.kirklees.gov.uk/hatereporting
a:gender - The support network for staff in government departments / agencies who have changed or need to change permanently their perceived gender, or who identify as intersex. www.agender.org.uk 
Barnsley Community Safety Service - Responsible for addressing crime, anti-social behaviour and improving perceptions of public safety. www.barnsley.gov.uk/community-safety 
Bradford Hate Crime Alliance - Works jointly with strategic and operational partners to eliminate hate crime within Bradford Metropolitan District Council area. www.bradfordhatecrimealliance.org.uk
North East Lincolnshire Communities Together – A charity working with communities and schools in raising awareness of different traditions, beliefs, practices and customs, with a particular focus on engaging groups of diverse ethnic backgrounds.
North Lincolnshire Council - www.northlincs.gov.uk
Communication Specialist College - Specialises in meeting the needs of students who are deaf or hearing impaired and those with communication difficulties including Autism and Aspergers. www.deaf-trust.co.uk/college
Doncaster Council Community Safety Team – Works with the Safer Doncaster Partnership to improve communities across Doncaster, reduce crime and improve the quality of life for residents. www.doncaster.gov.uk
Rotherham Metropolitan Borough Council - www.rotherham.gov.uk
Humber All Nations Alliance (HANA) – A charity promoting the wellbeing of black and minority ethnic communities throughout Hull and the Humber. www.hanaonline.co.uk
Changing Lives - Supports individuals and families in Doncaster to achieve their full potential and change their lives for the better. www.changing-lives.org.uk
Safer Leeds – Works in partnership to keep communities safe. www.leeds.gov.uk
Cloverleaf Advocacy Service - Provides high quality advocacy services to people with mental health needs, learning disabilities, older people, people with physical and sensory impairment, and carers. www.cloverleaf-advocacy.co.uk
Victim Support - The national charity for victims of crime in England and Wales. www.victimsupport.org
Bradford Equity Partnership - A charity set up and delivered by LGBT people in Bradford and the surrounding areas. www.equitypartnership.org.uk
Domestic Abuse Scrutiny Panel
Toggle accordion
Leeds City Council Domestic Violence Team - A project aimed at improving services for women who are experiencing domestic violence. www.leeds.gov.uk
Victim Support - The national charity for victims of crime in England and Wales. www.victimsupport.org
Women's Aid North East Lincolnshire - a registered charity that provides many services to victims and survivors of domestic abuse. www.womensaidnel.org
Domestic Violence and Abuse Partnership East Riding - Provides information or advice and support in a confidential setting. www.eastriding.gov.uk
Kirklees Council Domestic Abuse and Safeguarding Partnerships – Multi-agency partnerships promoting the safeguarding agenda. www.kirklees.gov.uk
Pennine Domestic Violence Group - A key provider of domestic abuse support services in Kirklees. www.pdvg.org
Wakefield Council - Provides information on local services. www.wakefield.gov.uk
VIDA Sheffield - Delivers specialist domestic and sexual abuse services and training, and engages with partners to work towards an end to domestic abuse, and violence against women and girls. www.vidasheffield.org.uk
Apna Haq - Support for women facing domestic violence from Black, Minority Ethnic and Refugee backgrounds. www.apnahaq.org.uk
Doncaster Council Community Safety Team - Works with the Safer Doncaster Partnership to improve communities across Doncaster, reduce crime and improve the quality of life for residents. www.doncaster.gov.uk
Calderdale Council - Works in partnership to build safer, stronger and connected communities. www.calderdale.gov.uk
Independent Domestic Abuse Services (IDAS) – A specialist charity supporting anyone experiencing or affected by domestic abuse or sexual violence. www.idas.org.uk
Preston Road Women's Centre - Provides information, support and advice to women in Hull. www.purplehouse.co.uk
The Blue Door - A specialist service providing support to anyone that has experienced domestic abuse and sexual violence in North and North East Lincolnshire and those who have experienced rape and serious sexual offences in Hull and the East Riding of Yorkshire through a variety of advocacy, outreach workers, groups and programmes. www.thebluedoor.org
Rotherham RISE - Provides help and support for survivors of domestic abuse and sexual exploitation. www.rotherhamrise.org.uk
Staying Put - Offers gender sensitive services to increase the safety of people who experience domestic violence/abuse. www.stayingput.uk.net
Bradford Equity Partnership - A charity set up and delivered by LGBT people in Bradford and the surrounding areas. www.equitypartnership.org.uk
Calderdale Domestic Abuse Hub – A partnership engaging with victims of domestic abuse. www.calderdale.gov.uk
Rotherham Metropolitan Borough Council - www.rotherham.gov.uk
Rape Scrutiny Panel
Toggle accordion
Support After Rape & Sexual Violence Leeds (SARSVL) - A feminist organisation supporting women and girls who have been affected by sexual violence at any time in their lives. www.supportafterrapeleeds.org.uk
Victim Support - The national charity for victims of crime in England and Wales. www.victimsupport.org
Sheffield Rape and Sexual Abuse Centre - A specialist women only service offering free and confidential counselling and support to empower women and girls who have experienced rape or sexual abuse at any times in their lives. www.sheffieldrapecrisis.org.uk
Bradford Rape Crisis & Sexual Abuse Survivors Service - A registered charity and the national umbrella organisation for Rape Crisis Centres across the country. www.rapecrisis.org.uk 
Survive - Information and advice about rape. www.survive.org.uk
Barnsley Rape Crisis - a registered charity, which supports people whose lives have been affected by sexual violence. www.bsarch.org
Hull Rape Crisis & Sexual Abuse Service - provides crisis and long term specialised counselling, support and independent advocacy for all women and girls of all ages who have experienced any form of sexual violence both recently and/or in the past. www.rapecrisis.org.uk
Access Committee for Leeds – Provides information and support for the disabled community of Leeds. www.accesscommitteeforleeds.org
Independent Domestic Abuse Services (IDAS) - A specialist charity supporting anyone experiencing or affected by domestic abuse or sexual violence. www.idas.org.uk
The Hazlehurst Centre - Offers free support and practical help to anyone in West Yorkshire who has experienced sexual abuse. www.hazlehurstcentre.org
The Blue Door - A specialist service providing support to anyone that has experienced domestic abuse and sexual violence in North and North East Lincolnshire and those who have experienced rape and serious sexual offences in Hull and the East Riding of Yorkshire through a variety of advocacy, outreach workers, groups and programmes. www.thebluedoor.org
Child Sexual Abuse Assessment Centre - Provides a service for children and young people from 0-16 years of age who have disclosed sexual abuse or assault or where it is suspected that it may have happened. www.yorkhospitals.nhs.uk
Basis Yorkshire – Empowers women and girls to be safe and make positive choices. www.basisyorkshire.org.uk
Doncaster Rape & Sexual Abuse Counselling Service - An independent charity helping victims of sexual violence. www.drasacs.org.uk
Rotherham RISE - Provides help and support for survivors of domestic abuse and sexual exploitation. www.rotherhamrise.org.uk
Doncaster Council Community Safety Team - Works with the Safer Doncaster Partnership to improve communities across Doncaster, reduce crime and improve the quality of life for residents. www.doncaster.gov.uk