Max Hill QC takes up post as Director of Public Prosecutions
Max Hill QC has today (Thu 1 Nov) taken up post as the Director of Public Prosecutions for the Crown Prosecution Service.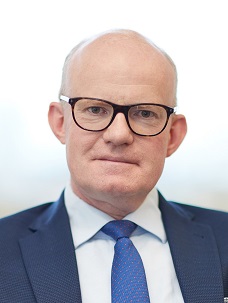 The leading barrister was called to the bar in 1987 and appointed Queen's Counsel in 2008.
The Attorney General announced Max Hill's appointment in July. He replaces Alison Saunders whose tenure ended on Wednesday 31 October 2018.
Max Hill said: "I am honoured and excited to begin my term as the Director of Public Prosecutions. I am grateful to Alison Saunders for her service and look forward to building on her legacy in the coming years.
"I am in no doubt this is a challenging time for the CPS. The crime landscape is changing, which is creating an increasingly complex caseload. At the same time, along with all of our partners in the criminal justice system, we must continue to make progress on the important work on how the disclosure of evidence is handled.
"I have seen first-hand the sterling work carried out by CPS staff and I am determined to build public trust in our work."
Max Hill QC brings a unique combination of legal expertise and public service at the highest levels. In March 2017, he took up post as Independent Reviewer of Terrorism Legislation as well as being head of Red Lion Chambers and chairman of the Kalisher Trust.
He has a strong record defending and prosecuting a number of complex cases including homicide, violence, corporate crime and high-value fraud. He has led some of the most significant and high-profile murder trials in recent years, including work on one of the Damilola Taylor murder trials and the 2005 London bombings.
He led the South Eastern Circuit between 2014-16 and was chairman of the Criminal Bar Association between 2011-12. He has worked extensively in an advisory capacity both nationally and internationally.
Notes to editors
Biography:
Max Hill QC was born in Hertfordshire in 1964. He attended state primary schools and, following a family move to Northumberland, the Royal Grammar School in Newcastle-upon-Tyne. He won a Scholarship to study Law at St Peter's College, Oxford, from 1983-6. He qualified as a barrister in 1987 and was appointed Queen's Counsel in 2008.