Domestic abuse prosecutions supported by new framework
Measures which have already helped to drive up prosecutions in domestic abuse cases are set to be rolled out across England and Wales.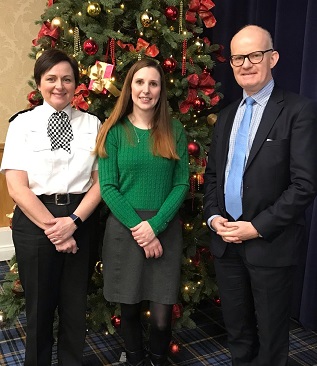 Figures show that a targeted approach to making sure victims of domestic abuse get better support through the criminal justice system is having a significant impact on conviction rates, guilty pleas and reducing the number of cases that fail due to victim and witness reasons.
At a pilot site in London, four measures which were put in place to increase support saw an almost eight per cent increase in guilty pleas and conviction rates.
These included simple steps such as making sure victims were given the chance to visit court before the trial, given the option of giving evidence behind a screen and being allocated an independent Domestic Abuse Advisor to support them.
They have proved so successful across three pilot sites that they are being rolled out across the country.
Max Hill, Director of Public Prosecutions, said: "The criminal justice system can be daunting and we must make sure people feel supported - especially if they have particular vulnerabilities such as being victims and witnesses of domestic abuse. We must always aim to provide fairness for all participants in criminal cases, and that means victims and witnesses as well as defendants.
"We know that often, by putting simple measures in place like ensuring people are familiar with court surroundings in advance, we can make a big difference. The work of Independent Domestic Abuse Advisors is also important.
"I want to see these measures extended to other parts of the country so everyone receives excellent support, regardless of where they live."
The measures – called the domestic abuse best practice framework – are to be introduced in domestic abuse courts across England and Wales from January.
The framework results from a joint project between the Crown Prosecution Service (CPS), the National Police Chiefs Council (NPCC) and Her Majesty's Courts and Tribunals Service (HMCTS). Teams carried out an analysis of high-performing local criminal justice areas, and the reasons why they were achieving positive results in domestic abuse cases.
The framework looked to identify and test ways of working to improve performance, particularly in relation to achieving earlier guilty pleas, preventing victim attrition, and improving the rate of convictions after trial.
A pilot to test the new support measures yielded significant improvements.
A test site in London achieved a 7.9% increase in the rate of early guilty pleas and an 8.2% rise in the overall conviction rate after the best practice components were tested. Another in the East Midlands achieved a 9.5% increase in the rate of convictions after trial, and a third site in the Yorkshire area achieved a 4.1% fall in the rate of victim attrition – meaning more victims supporting prosecutions to conclusion.
NPCC Deputy Chief Constable Louisa Rolfe said: "The review of domestic abuse and how it is handled through the justice system shows that we can do so much more to ensure justice is secured for victims and they are not additionally distressed by the system.
I wholeheartedly support this work with justice partners, the CPS and courts."
Justice Minister Edward Argar said:"Giving domestic abuse victims confidence they will be protected and listened to is fundamental to our ability to hold abusers to account.
"Alongside measures to help vulnerable individuals give evidence – such as protective screens or video links – we will also ban abusers from cross-examining their victims in the Family Court as soon as possible.
"We will outline further new measures to protect victims when we publish our draft Domestic Abuse Bill – a key part of the government's commitment to tackle this cowardly crime."
Notes to editors
Criminal justice areas encompass the local CPS area, the police force, and the domestic abuse courts.