Careers - staff stories
Our service employs almost 6,000 individuals who think objectively, act professionally, show the utmost respect for others and continually strive for excellence. The CPS operates across England and Wales and our roles give you the chance to experience challenging and varied work.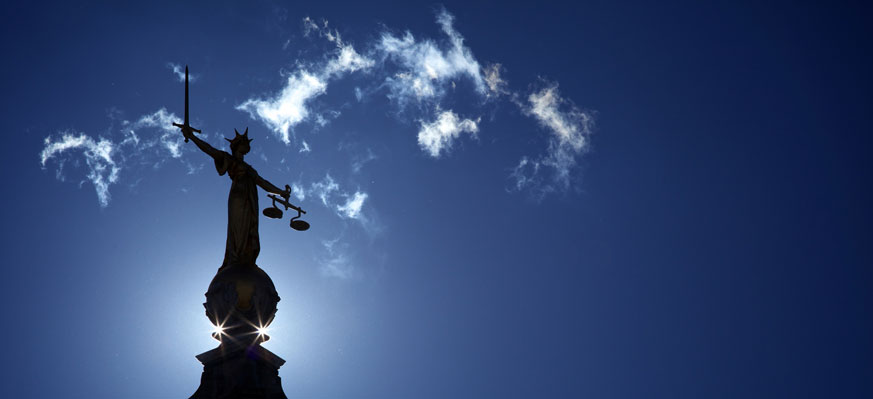 If you are interested in joining the CPS, there's just one question we ask you to consider:
Can you deliver justice?
Find out more about our staff and their stories below:
Christopher Trotter - District Crown Prosecutor
Toggle accordion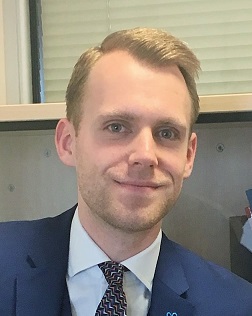 I joined West Midlands CPS in 2012 to start pupillage after completing my Bar Professional Training Course at Nottingham Law School.
I became a Crown Prosecutor in November 2013 and moved to CPS East Midlands. I joined the Leicester magistrates' court with little magistrates' experience, but I soon enjoyed the advocacy trials in particular.
In August 2014 I became a Senior Crown Prosecutor on the Magistrates Unit. I was due to join the RASSO team when my current role cropped up.
I am now a District Crown Prosecutor and have been since January 2017. I manage a team of fourteen prosecutors on the Leicestershire magistrates' team. As a barrister with a passion for advocacy my aspirations had always centred on Crown Court advocacy. I never had management ambitions, but I was in need of a new challenge. A deputising opportunity cropped up suddenly and I threw my hat into the ring with very little management experience. I was really lucky to get an opportunity and I haven't looked back since.
I thoroughly enjoy the job and I don't miss advocacy as much as I thought I would. I still get involved, just in a different capacity. I'm the advocacy lead for East Midlands and I've developed an advocacy support programme for new prosecutors and delivered bespoke advocacy training to refresh the Transforming Summary Justice initiative. I've also been lucky to participate in two projects on advocacy training and advocacy IQA. It was hard for me at first to manage a team that included friends who knew me as a colleague. The support I received from my manager really helped. I'm about to start the New Managers Programme which will help me further.
The CPS is full of fantastic opportunities and my philosophy is to volunteer for everything. I think a positive attitude opens more doors and I have been supported with every development opportunity I have taken. I recently applied to be a member of the CPS Shadow Board and it's one of the best things I have done. It's opened my eyes to what the CPS as a national organisation does.
I am really proud of the work we do at CPS and I particularly enjoy promoting our organisation to university students at career events, work experience placements and through mentoring. I honestly feel like I can make a difference to our local CJS and I really enjoy working with the police in particular. The job is stressful and each day brings different challenges, but we are a real team in Leicester and tackling those challenges to make a difference motivates me to get up in the morning.
The strategic input I have as a manager is something that also really interests me. I really do like discussing problems and formulating innovative solutions with the other agencies. I hope to translate my experience into a policy role. Who knows what the future holds?
Iain Jordan - Senior Crown Prosecutor
Toggle accordion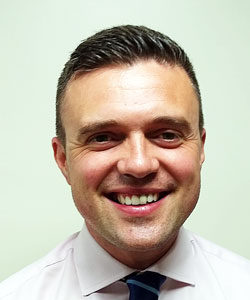 After completing the Legal Practice Course in 2006 I completed training to become an accredited police station representative, in order to add a string to my bow and increase my chances of securing a training contract. I joined a high street firm as a paralegal in 2007 and was offered a training contract within a few months, qualifying in December 2009.
I have practiced criminal litigation exclusively since qualification, and appeared on a near daily basis defending in magistrates' courts in the Durham and Northumbria area until I joined the CPS in October 2017.
Although I enjoyed the challenges of defending and the varied tasks in any given day (eg court hearing in the morning, police station attendance in the afternoon, billing, prison visits, conferences etc), there was little opportunity to further my career in private practice.  The majority of criminal legal aid providers are small firms of three or four solicitors, so opportunities to progress into management, policy, training etc were limited.
I was recruited into the CPS magistrates court' advocacy unit, and continue to attend court every day. 'Switching sides' has not been difficult to adapt to - the law remains the same, and the advocacy skills are equally applicable. Although I joined as a Crown Prosecutor, I have recently been promoted to a Senior Crown Prosecutor which has been an endorsement of confidence in my ability and has justified my decision to leave private practice.
In the eight months that I have been with the CPS, I have already had higher highs and lower lows than I had in over eight years of defending. My highest point was securing a conviction after trial of a defendant who had seriously assaulted her former partner. The victim had a history of disengaging with the police and the court process, and would resume the relationship with the defendant only to be assaulted again. Through the support of the police and other agencies, the victim had the courage and strength to continue with the complaint and gave evidence against the defendant. When I informed the victim that magistrates had found the defendant guilty, the victim cried. The relief was palpable and the emotion was very powerful. I remember leaving court feeling proud that I had made a difference.
I am pleased to have made the move from defence to prosecution, and I really cannot see myself ever moving back.
Andrew Haughey - Human Resources Manager, Strategy & Engagement team
Toggle accordion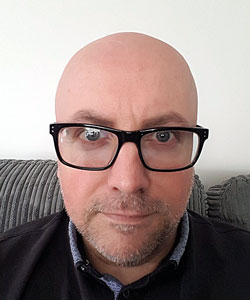 I live in Kirkby, Merseyside, and married to Stephanie, who I care for as she has spina bifida. I have had many and varied jobs including personal tax advisor and tax debt collector. I then moved into HMRC Human Resources as a data analyst before being moving on promotion to the CPS in July 2017.
I am a Human Resources manager within the Strategy & Engagement team, based in Liverpool. I analyse various types of data in relation to CPS employees and feed in to strategies that the wider HR directorate develop and implement. I am also involved in an IT working group, and with other groups too, involving staff engagement and workplace adjustments.
Since I started in the CPS I have used my Individual Learning Account. I've never had the advantage of this before and think it is a brilliant idea! I have completed a number of courses - mainly in data visualisation. This is currently helping me to develop a number of Excel dashboards. I have also applied for sponsorship for Level 5 CIPD accreditation which I hope to be able to start soon. I completed the course to become a Mental Health Ally - I highly recommend doing this as it is such an insightful experience! In my spare time I am currently learning VBA and SQL which should see my Excel skills progress to the next level.
Why do I like my job? Well, I like to see people being treated fairly and with respect. We spend nearly a third of our day working, shouldn't we try and make that as enjoyable as possible? It is my job to create a story from some large datasets and generate a picture of what is or isn't working well in the business to enable strategies to be developed to assist in how we all do our jobs.
I enjoy seeing people doing well, enjoying their environment, being happy and feeling like they have made a worthwhile contribution to not only their colleagues but also the wider Civil Service and society - we all do a great job in providing a public service, we should be proud of that!
Why the CPS? I believe everyone has the right to a fair trial; that the criminal justice system appropriately sentences people for crimes committed and we have a part to play in that system.
On my very first day within the CPS I noticed being genuinely welcomed, not as a front or because it is someone's job to oversee it, but because people actually enjoy being open and approaching the new bloke to say hello and hope you enjoy the work. People go above and beyond to make sure you have everything in place to do your job. It's like an extended family - from the person who does the mail right up to the head of HR and beyond, you can see and feel mutual respect for one another.
Caroline Cook - HR Business Partner for CPS North East and Yorkshire & Humberside
Toggle accordion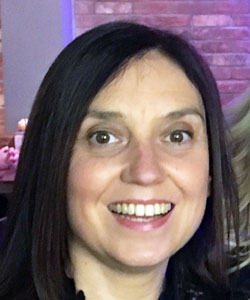 I joined the CPS in 1988 straight from school. I worked for CPS West Yorkshire (as it was then) as an Admin Assistant on the magistrates' team. Two years later I was promoted to Admin Officer in the same team and two years after that, I passed the Executive Officer promotion board. Luckily, I was successful in securing a Law Clerk (now known as paralegal officer) role in the Leeds Crown Court team. I absolutely loved this role and I often look back on those years as some of the best in my career.
After seven years as a Law Clerk in Leeds, Bradford and Wakefield Crown Court teams, I transferred to the West Yorkshire Area Secretariat to work as PA to the Chief Crown Prosecutor (CCP). That was certainly challenging and very different to my previous role! I had decided that I wanted promotion and to do so, I needed to broaden my experience. After 12 months, I took another lateral move to work as a Personnel Manager (now known as HR).
In 2001 I secured promotion to Crown Court Manager in Leeds co-managing a team of 20 paralegal officers. This was a very demanding role with the introduction of the Graduated Fees Scheme and Very High Cost Cases Scheme to implement and manage.
In 2003 I secured promotion to Head of Group Operations Centre for CPS West Yorkshire and remained in this role until 2008 when I took up a role with the PCS union managing their complex personal cases.
In 2013 I took a lateral move to CPS London as a Senior HR Manager, managing a team of HR Advisors.
In September 2016 I took another lateral move to HR Business Partner for the North East and Yorkshire & Humberside. We provide HR support on some of the more strategic issues such as managed moves, organisational change and workforce planning. This role has been another highlight for me in my career as I really enjoy engaging with our customers across the Areas and it's been lovely to work with some of my former colleagues.
I am now approaching 30 years' service with the CPS. I think that many of us have been tempted to view development only in terms of promotion opportunities. I have taken many lateral moves to enhance my skills and knowledge and better equip me for any promotion opportunities that may arise. I have been given many opportunities to develop and undertake formal qualifications such as Associate CIPD and a Diploma in Management Coaching and Development.
In 2012 I qualified as a mediator, having completed the Certificate in Workplace Mediation (CIWM). I particularly enjoy this work because I strongly believe in informal resolution as the best outcome for most workplace situations. I also manage the CPS Internal Mediation Service which involves allocating mediators to cases and working with ACAS to develop and deliver bi-annual mediator development events.
I think the fact that I have stayed here for 30 years speaks for itself! The people that I have worked with over those 30 years have been fantastic. I have made some very good friends while at the CPS.
I don't think anyone joins a government department for the fat salary or benefits that profit making organisations attract their staff with. I think we are here because we care about the work that we do and the fact that it matters to society.
Andrea Marshall - Business Compliance Manager
Toggle accordion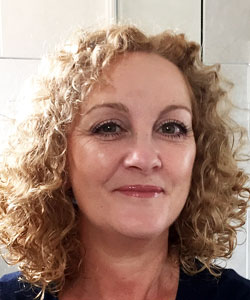 I joined the CPS in April 1988, on promotion from an admin role in a Jobcentre. I had always wanted to be a Civil Servant, and was keen to progress. The role I moved to was that of Law Clerk in a Crown Court section (i.e. a Paralegal Officer role), where I leaned to prepare and manage serious criminal cases, working with CPS lawyers and Criminal Justice partners, briefing barristers and ensuring that our cases were handled efficiently and effectively. One essential and very rewarding part of this role was to support victims and witnesses and their families through the court process, helping to make their experience as manageable as possible, so that they were able to cope during what could often be a challenging time. After many years, I moved on, but I still fondly recall my time in the Paralegal role.
My current role is that of Business Compliance Manager for the service, meaning that I'm responsible for leading delivery of compliance activities that are focused on casework processes, chiefly with my team, but also via the Change and Assurance Manager network.
My team also manage the analysis and data presentation systems for monitoring compliance with business and legal decision making. We use our previous front-line experience to identify good practice, and to spot where we might need to improve. We get out and about a lot, and ensure that we remain in touch with Area staff and try to understand the challenges they face, sometimes working alongside them to support business improvement activities. We're rarely in one place all week, so it's meant that we've become familiar with living out of suitcases, sometimes having early starts and long journeys, but we love visiting Area offices and meeting staff all over the country.
Most recently, I have been asked to cover the Head of Change role for a short period, which is another new challenge - it's hard work but a great opportunity!
After 11 years in a Paralegal role, I had worked on all types of cases, including many of the most serious. When I was ready for a new challenge, I applied for a sideways move into Personnel, where I headed up the team providing support for all HR functions across three CPS Areas.
This experience resulted in promotion to an Area Management role in support of the local Chief Crown Prosecutor and Area Business Manager, where I led the Area Operations team.  This exposed me to more strategic work including external communications and engagement activities, facilities management, and multi-agency projects representing the Area. With this experience, I secured a promotion to Senior Executive Officer as a Business Manager for the Crown Court Unit - so I had moved sideways and upwards, with the result that I progressed several grades within a few years. I then had the chance to take a lead in numerous multi-agency projects for my unit and the wider Area, gaining experience in many new Criminal Justice initiatives. My last Area post was as Head of the Group Operations Centre, where I led the team providing Corporate Services (Finance, Performance, Estates, Communications, Equality/Diversity, Change, and HR) for South Yorkshire and Humberside CPS Areas. I also personally led the Assurance Programme, established local community panels, and also spent several months as Acting Area Business Manager for CPS North Yorkshire, covering the period when they had a major office relocation on the go.
These varied roles provided useful skills and experiences which culminated in my successful application to Headquarters for a G7 role in business improvement, which I took up in December 2008. I've since been in various teams in HQ, and my work continues within Operations Directorate today, where I have the chance to work with HQ and Area colleagues, some of whom I've worked with on and off for 30 years.
I have enjoyed every role I have held in CPS. I've had the benefit of doing different and varied things, both as part of my job and alongside it, such as being part of the Women in the Workplace Working Group. I've worked alongside many committed and able colleagues, all of whom strive to deliver their best, sometimes in challenging circumstances. Knowing that my team colleagues will be there when I start work, and knowing that they will be working with me to achieve our goals is really motivating. Being a Civil Servant, for me, is about putting something back for the benefit of the wider community, and it goes without saying that everyone I have met in CPS, whether administrators or the most senior, knows that the needs of Victims and Witnesses are at the forefront of what we do. Everyone works hard to make a difference, and they really care; I simply can't imagine working anywhere else!
James Hart - Her Majesty's Crown Prosecution Service Inspectorate business inspector
Toggle accordion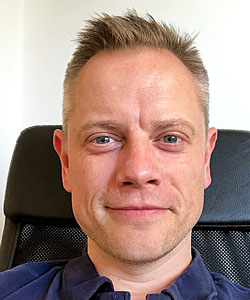 After graduating in 2000, I completed a graduate manager programme with HMV and was a store manager with them until 2004. I then left and moved to France for six months to work on a renovation project before I returned to the UK. I always had an interest in law so when I saw the advert for an A2 casework assistant I went for it despite me knowing that I was essentially starting my career again.
I started as an A2 in the Doncaster Magistrates Unit. I then transferred to the Trials Unit in Sheffield in 2007 and I was lucky enough to have the opportunity to progress quite quickly. I volunteered for the case progression officer role, which then gave me the experience I needed to apply for a temporary promotion to Paralegal Officer.
In 2010 I joined HQ as a B3 delivery and implementation manager which focused on delivering the Crown Court OBM programme. Since then I have been in a number of roles within the Operations Directorate at Headquarters including being part of rolling out a digital working programme, Case Management System change work, the Transforming Summary Justice roll-out and training of the National digital training teams.
My latest role was with the Compliance, Assurance & Support Team until I got my secondment with HMCPSI (Her Majesty's Crown Prosecution Service Inspectorate) in November 2017.
I am a business inspector and started in this role in November 2017. HMCPSI inspects the CPS on behalf of the public, inspecting the work carried out by the Crown Prosecution Service (CPS) and other prosecuting agencies.  
I'm still learning the ropes with my new role but I inspect all aspects of the business side of the CPS to analyse how effectively CPS areas manage their business. We ensure the CPS is providing value for money, we share best practice and highlight any issues which require improvement.
I have always volunteered for roles which have involved me learning new skills and developing my skill set. The CPS offers great opportunities to learn new skills if you're keen and willing to look out for when those opportunities arise.
Roles can differ between units within an area so I always looked at opportunities in other units before I finally moved to CPS Headquarters. This gave me a really good understanding of the CPS's core business. I have always taken advantage of in house and external training courses when they have been provided.
The ILA (Individual Learning Account) that we are provided with is a fantastic opportunity to identify courses, books and even equipment that can help with your personal and professional development. I have completed a number of courses including Prince 2 Project Management, competency based interview training and public speaking training.
I have always been proud of the job that I do. My focus has always been on providing a world class service to victims and witnesses but also on the progression of cases quickly to ensure defendants receive justice. My focus now is ensuring the CPS and wider CJS (criminal justice system) provides both of those to increase public confidence.
Throughout my CPS career I have been very lucky to work with lots of great colleagues and I have had hugely supportive managers. This has meant that I have always enjoyed coming into work, it also means the last 13 years have flown by!
The CPS also allows huge flexibility in terms of working patterns and arrangements. I have the opportunity to work from home and this provides a fantastic work/life balance, which is great for me as I have two young children.