Working with our communities this Hate Crime Awareness Week
This month (9-16 October), marked National Hate Crime Awareness Week (NHCAW). Over the last year we prosecuted more than 10,000 cases of hate crime, but we know that more than half of all hate crime incidents aren't reported to the police. This is why it's so important that we continue to talk to our communities and build public confidence in how the criminal justice system takes action on hate crime.
Kicking out hate crime in football
In the North East, Senior Crown Prosecutor, Ansab Shan and Inclusion and Community Engagement Manager, Becky Croser, met with a local football club to talk about the processes they have in place to report hate crime and the ways they support players, staff and fans.
"It was a great opportunity for us to meet with the stewards at Middlesbrough Football Club during Hate Crime Awareness Week and see how committed the club are to stamping out hate crime in football.
"We spoke about our work to prosecute hate crime, barriers to reporting and the experiences they've had whilst working in football in relation to hate crime. We look forward to hosting further hate crime awareness sessions with them." - Becky Croser, Inclusion and Community Engagement Manager for the North East.
Young people take the lead in mock trial
In Wessex, we worked with Hampshire's Police and Crime Commissioner to put on a mock hate crime trial for young people aged between 14 and 24. The interactive event, which ran over two days, gave young people the chance to be involved from the start of the case, where the crime was reported and investigated, right through to the trial and verdict.
"On the first day the young people helped the police to investigate an example a hate crime incident – a case of racially aggravated criminal damage. They visited the crime scene and gathered evidence, including victim and witness statements, CCTV, and suspect interviews. They then put together a file to be submitted to the CPS for pre-charge advice.
"On the second day, we held a mock trial at Portsmouth University's simulation courtroom and the young participants acted as the jury. They witnessed the full trial for the case they'd investigated. They then reviewed the evidence and discussed the case, before finding the defendant guilty. It was a great opportunity for young people in Hampshire to learn about the criminal justice system and to see how we prosecute hate crime." – Beth Sparks, Inclusion and Community Engagement Manager for Wessex.
Holly, one of the young people to take part in the event, said: "This was a very insightful experience and I've learned so much about how the police and CPS deal with Hate Crime. I liked seeing the investigation centre and really enjoyed the interactive trial. It made me realise how seriously hate crime is being taken by the police and the CPS."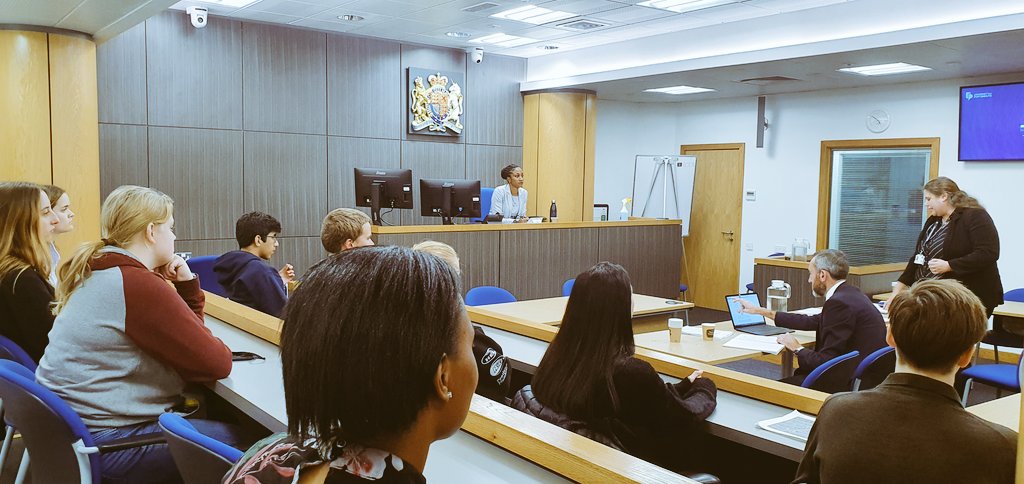 Teaching the next generation
In Liverpool, our Hate Crime Coordinator, Mike Lloyd and Inclusion and Community Engagement Manager, Jennifer Friday, delivered a session for law students on hate crime. They spoke about how we prosecute hate crimes and ran through recent hate crime prosecutions with the students, opening them up for discussion and debate to better understand our processes.
Listening to our communities
Back in April, CPS South East met with a local Gypsy-Traveller community group called Friends, Families and Travellers. The group was concerned because they felt that none of the cases they'd reported had so far reached the CPS, and their trust in the criminal justice system was decreasing as a result.
As a result, we set up a Local Scrutiny and Involvement Panel meeting with representatives of the Gypsy-Traveller community, as well as representatives from Surrey, Sussex, and Kent police forces.
"Our first meeting took place during Hate Crime Awareness Week. It gave community members an opportunity to review case files with us and the police – to ask questions about how we made decisions, and to see what went well and what can be improved.
"The meeting allowed everyone to speak openly and have a discussion on where we can make improvements. We were also able to give community members a greater insight into the process of bringing hate crimes to court.
"We've already seen an increase in trust with the community, and I was really pleased that we've been invited to speak to their youth group. We hope to restore trust - and for that trust to be extend to the next generation." – Emily Zinkin, Inclusion and Community Engagement Manager for the South East.
Engaging with the communities we serve is a hugely important part of our work. We can't beat hate crime alone – that's why we work with community representatives from across the country who help us review and improve our work on these cases.
Thank you to our community members and partners who give up their time to take part in our community engagement work and to share their experiences with us.