UPDATED WITH SENTENCE: Mother found guilty of death of Hakeem Hussain
UPDATE: Laura Heath has been sentenced to 20 years in prison today (28 April 2022) at Coventry Crown Court.
A mother has been found guilty of the manslaughter of her seven-year-old son.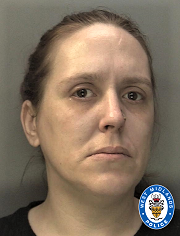 Laura Heath, 40, of no fixed address, was convicted today (22 April 2022) of manslaughter at Coventry Crown Court. She had previously pleaded guilty to four counts of child cruelty.
On 26 November 2017, Hakeem Hussain was found dead in the morning in a garden in Nechells, Birmingham after suffering an asthma attack several hours earlier.
The court heard that Hakeem was discovered in near-freezing conditions on Cook Street after he went outside to get some air for his breathing difficulties.
The autopsy report found that Hakeem died of uncontrolled asthma and the prosecution case was that his asthma was uncontrolled because his mother did not attempt to control it.
Working with West Midlands Police, the CPS proved that Laura Heath's conduct amounted to gross negligence manslaughter as she failed in her duty to ensure the welfare of her son, deliberately prioritised her addiction to heroin and crack cocaine and flouted the medical advice that would have kept her son's asthma under control.
Jurors heard that Heath and Hakeem shuffled between two properties in Long Acre and Cook Street at the time of his death. Evidence found at both properties proved that Heath wilfully neglected Hakeem by failing to provide him with proper medical supervision despite being aware of the risks her conduct posed to his health and she ill-treated him by exposing him to heroin and crack cocaine. She also used Hakeem's inhalers to smoke drugs, prioritising her own needs over his safety.
The evidence further showed that Heath had been told by several medical professionals about the importance of managing Hakeem's asthma better with the preventer Seretide inhaler as it would keep Hakeem's airways open, provided he used it twice a day as prescribed with the spacer device. However the pharmacy records revealed that in the last two months of his life, Hakeem had been given only one third of the prescribed amount of preventer medication by his mother.
Furthermore, both properties were also extremely untidy and unclean with rubbish, old food and mouldy plates and cups. The evidence showed that the defendant had exposed Hakeem to known asthma triggers, such as smoke, dust, and low air temperatures. Toxicology evidence proved that Hakeem had inhaled tobacco smoke in the hours before his death and scientific analysis of a sample of his hair showed that he had also ingested heroin, crack cocaine and cannabis, most likely through inhalation of second-hand smoke.
Georgina Davies of the CPS said: "This was a tragic case of a young boy who was let down by his mother who should have protected him. The terrible choices that Laura Heath repeatedly made led to the loss of Hakeem Hussain and I welcome the jury's decision. 
"My heartfelt condolences go out to Hakeem's family. I hope today's verdict brings them a small measure of comfort that Heath has been held accountable for Hakeem's death."
Laura Heath will be sentenced on 28 April 2022.
Notes to editors
Georgina Davies is a Senior Crown Prosecutor for CPS West Midlands.