Train passenger jailed for a frenzied attack that killed a father
A train passenger who confronted a father and then stabbed him to death in front of his son was found guilty of murder today, Friday 12 July 2019.
Darren Pencille, 35, had an argument with a father, Lee Pomeroy, 51, after they boarded a train at the same time on Friday, 4 January 2019.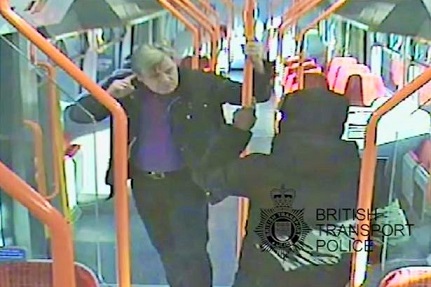 Pencille then got out a knife and stabbed Pomeroy 18 times in an assault that lasting around 25 seconds. Mr Pomeroy's murder occurred when he was a trip to London with his 14-year-old son and due to celebrate his 52nd birthday next day. Pencille was also found guilty of possession of an offensive weapon.
Chelsea Mitchell, 28, was found guilty of assisting Darren Pencille by helping him escape from the scene of the crime and helping him change his appearance.
Jason Corden-Bowen, from the CPS, said: "Darren Pencille murdered Lee Pomeroy by savagely inflicting 18 wounds.
"Although he claimed innocence Pencille did not give evidence in court. His claims to be acting in self-defence were proved to be false with evidence built up by the CPS and police from witnesses, phone recordings and CCTV footage.
"This was a brutal and senseless killing of an innocent father who has been taken away from his family. Our thoughts are with the Pomeroy family."
Darren Pencille was sentenced on 12 July 2019 to life in prison, to serve a minimum of 28 years.
Building the case                 
The events surrounding the death of Mr Pomeroy have been captured in a number of strands of mutually supportive evidence of CCTV, eye-witnesses, telephone usage, traffic cameras and financial records. Taken together, they chart the events of Friday 4 and Saturday 5 January.
Telephone calls were made by Pencille to Mitchell on Friday 4 January saying he was going to kill someone. The CPS was also able to use calls he made after he had murdered Pomeroy that prompted Mitchell to pick him up from the middle of the Surrey countryside covered in the blood of the man he had murdered and having injured himself with his own knife in the course of that killing. Mitchell then bought items to help Pencille change his appearance.
Notes to editors
Jason Corden-Bowen is a District Crown Prosecutor for CPS West Midlands
Darren Pencille [DOB: 15/09/1983] was found guilty of murder and having an offensive weapon
Chelsea Mitchell [DOB: 08/02/1991] was found guilty of assisting an offender