Teacher, 49, jailed after sexual chats with undercover officer who posed as child
A primary school teacher has been jailed for 20 months today (Friday 10 January) for sending sexual communication to a 12-year-old girl who was in fact an undercover police officer.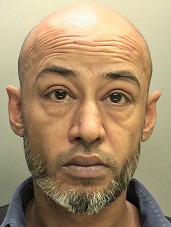 In November 2019, Nasser Khalil, 49, a supply teacher at a Birmingham Primary School, started a chat with the undercover officer who was posing as a 12-year-old girl on Chat Avenue, a free online chat room.
A transcript of the online chat revealed that the officer informed him that she was 'nearly 13' but this didn't deter him from telling her he wanted to have sex with her and asking for selfies of her. Despite acknowledging how young she was by stating, 'omg, ur so young' , Khalil then proceeded to describe various vile things he wanted to do to her.
Khalil, who told the girl that he was a teacher, also asked if she was a virgin and suggested they wait till she turned 16 before meeting up.
He was arrested on 14 November 2019 at his home address in Birmingham.
At the first hearing on 15 November at Birmingham Magistrates Court, he pleaded guilty to sexual communication with a child and attempting to cause/incite a female child aged under 13 to engage in sexual activity.
Today, he was sentenced to 20 months' imprisonment at Birmingham Crown Court. He was also placed on the Sex Offenders Register for 10 years and also given a Sexual Harm Prevention Order (SHPO) for 10 years.
Virinder Bains, of the CPS, said: "Nasser Khalil has committed very serious crimes which have been met with the appropriate punishment.
"We will seek to prosecute and protect all children from those who pose a risk to them and who seek to engage in such criminal behaviour."
Notes to editors
Sentencing details:

Count 1: adult attempt to engage in sexual communication with a child - 20 months' imprisonment
Count 2: attempt to cause a female under 13 into sexual activity - 12 months' imprisonment concurrent
Total: 20 months' imprisonment

Nasser Khalil (DOB: 27 May 1970 ) is from Stechford, Birmingham
Virinder Bains is a Senior Crown Prosecutor for CPS West Midlands.