Man jailed for causing death after a dangerous 15-minute pursuit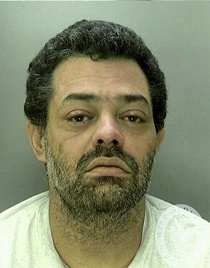 Darren Jason Ogom (42) has today (21 February) been sentenced to 12 years' imprisonment after he pleaded guilty at Birmingham Crown Court to causing death by dangerous driving.
On the 22 January 2019, Ogom was being pursued by the police as he was driving at high speeds on the Aston Express Way, at one stage reaching 105 mph. He was also driving without a licence or insurance and pleaded guilty to these offences.
During the pursuit Ogom drove through red lights, on the wrong side of the road and hit the central reservation. The police deployed a stinger device in an attempt to stop him but Ogom continued over and collided with the victim's vehicle at the Hagley Road junction. The 28-year-old victim Holly Burke, who was an off-duty PCSO, was declared deceased at the scene as a result.
Nicola Heath from the CPS said: "This is a shocking case where the offender failed to stop for 15 minutes and continued to drive dangerously by putting road users at risk.
"The offender also admitted to having smoked crack cocaine earlier in the evening which increased the seriousness of the offence. In addition to this, CCTV footage of the incident was also presented by the CPS to reflect the seriousness and assist the court in considering a higher sentence.
"As a result, the offender will now face the consequences of his actions. My sympathies are with the family and friends of the victim."
Notes to editors
Nicola Heath is a Senior Crown Prosecutor with the CPS West Midlands.
Darren Jason Ogom (19/07/1976) pleaded guilty to causing death by dangerous driving, driving a motor vehicle without a licence and using a motor vehicle without third party insurance. He pleaded guilty to these offences on the 21 February 2019 and was sentenced the same day to 12 years' imprisonment which was uplifted from 9 years. Ogom has also been disqualified from driving for 10 years.