Lengthy jail terms for scammers who tried to bribe bank staff
Two accomplices who offered bribes to bank staff in an attempt to swindle hundreds of thousands of pounds were jailed today (January 17).
Using his inside knowledge, former RBS employee Dilbaagh Singh-Derewal and associate Gurpal Singh asked two ex-colleagues who still worked at the bank to make a number of illegal transfers of £200,000 each time. The money would go from RBS's 'suspense' accounts – where more than £3billion of invalid payments were held – into accounts under their control, with the men claiming they had bank contacts in India to assist in the crime.
In exchange, the two employees were offered bribes of between £10,000 and £25,000. The attempted fraud in February 2017 failed when the men raised the alarm with their managers and police were called.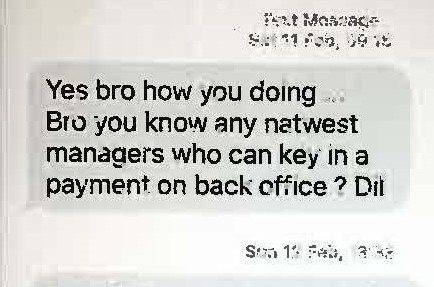 Singh-Derewal admitted his part in the offence but Singh denied involvement. However, the CPS provided extensive phone and text message evidence at trial at Birmingham Crown Court, proving his role in this potentially very lucrative fraud.
Singh, 37, was sentenced to three years and two months in prison, while Singh-Derewal, 24, was jailed for 30 months.
Martin Lindop, of the CPS Specialist Fraud Division, said: "These two men used criminal means in an attempt to induce illegal acts from bank staff, in whom trust is essential if the public is to have any faith in the security of the banking system.  It is only because those employees refused to carry out these dishonest acts that the bank was not defrauded on a large scale.
"The CPS was able to provide irrefutable evidence proving their involvement in this crime and we hope the sentence passed deters others from engaging in similar actions."
Notes to editors
Dilbaagh Singh-Derewal (30/10/1994) was convicted of two counts of bribery
Gurpal Singh (17/02/1981) was convicted of one count of bribery
Martin Lindop is a Unit Head of the CPS Specialist Fraud Division in Birmingham