Academic who tormented victims online jailed for 32 years
A scientist and former university lecturer who used the internet to seek out and blackmail dozens of people into providing him with sexually explicit images has been jailed for 32 years. He was also made the subject of a Sexual Harm Prevention Order and will be registered on the sex offender register.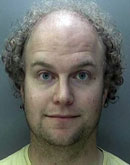 Dr Matthew Falder, 29, pleaded guilty to 137 separate charges at Birmingham Crown Court last year and was sentenced at the court today (19 February).
Among the offences Falder admitted were blackmail, causing or inciting the sexual exploitation of a child, making indecent images of children, possession of a paedophile manual, requiring a person to perform forced or compulsory labour and voyeurism.
Falder was arrested by officers from the National Crime Agency in June 2017.
The court heard how Falder would masquerade as a female artist to manipulate his victims into sending him naked or partially-clothed images of themselves before blackmailing them. He also sent grossly offensive and/or threatening electronic messages to some of his victims.
He was a member of online forums and so-called "hurt core" websites which were devoted to the violent physical and sexual abuse and blackmail of sex abuse victims (including individuals who were teenagers to adults in their 30s), and the distribution and publication of the abuse images. He and others would discuss sex abuse and blackmail, and degrade victims in these online forums. He distributed images to hundreds of thousands of users on such websites.
Ruona Iguyovwe, from the CPS, said: "Matthew Falder is a highly manipulative individual who clearly enjoyed humiliating his many victims and the impact of his offending in this case has been significant. He deliberately targeted young and vulnerable victims. At least three victims are known to have attempted suicide and some others have inflicted self-harm. There was a high degree of sophistication and significant planning by Falder due to his use of encryption software and technology in his electronic communication and the use of multiple fake online identities and encrypted email addresses.
"The court found that Falder is a highly dangerous individual and he must now face the consequences of his actions and serve a significant prison sentence.
"The CPS worked with the National Crime Agency and international partners from an early stage in order to gather compelling evidence against Falder, resulting in his guilty pleas."
For information about online safety, visit www.thinkuknow.co.uk or www.getsafeonline.org
Notes to editors
Matthew Falder was sentenced to 32 years in custody with an extended licence period of six years.
Ruona Iguyovwe OBE is a Senior Specialist Prosecutor with the CPS International Justice and Organised Crime Division.
The usual provisions under the Sexual Offences Amendment Act 1992 regarding mandatory reporting restrictions providing anonymity for victims of certain sexual offences apply in this case. There are also additional reporting restrictions under sections 45A and 46 of the Youth Justice and Criminal Evidence Act 1999 in respect of named victims and witnesses in the case.
All victims' identities are protected and they cannot be identified under reporting restrictions made under Sections 46 and 45a of the Youth Justice and Criminal Evidence Act 1999. Nothing can be published that leads to the identification of a victim's a) name, b) address, c) identity or place of work, d) identity of school or other educational establishment attended by the witness, e) any still or moving picture of him or her, f) social media information.