Ian Stewart: Killer of children's author guilty of murdering wife and sentenced to whole life order
A man who was jailed for killing children's author Helen Bailey has today been found guilty of murdering his wife six years earlier. He was sentenced to a whole life order, meaning that he will never be released.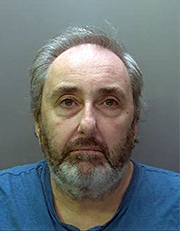 Diane Stewart died in 2010 from what was believed at the time to be an epileptic fit. Her husband Ian Stewart, 61, went on to have a relationship with Helen Bailey, but when Ms Bailey's body was found in a cesspit – a murder for which Stewart was convicted in 2017 – the circumstances surrounding Mrs Stewart's death were looked at again.
Diane Stewart was cremated after she died – a decision by Ian Stewart to ensure no further examination of her body could take place. However, Diane had signed a donor card leaving her organs to medical science. Ian Stewart had no option but to consent to her brain and other tissues being preserved, though coroner's office records show that he requested nobody be informed of this. 
As part of the investigation, medical experts examined Diane's brain, finding changes which indicated her breathing had been interfered with before she died. She had possibly been smothered or had her neck compressed and was likely to have been unconscious for at least an hour before her death. The surreptitious administration of a sedative could not be ruled out. 
This evidence disproved Ian Stewart's account of what happened on the day Diane died at the family home in Bassingbourn, Cambridgeshire. He claimed he had gone to the shops, returning just a little while later to find his wife collapsed in the garden. He said he attempted CPR and then called the emergency services, stating he thought she must have had an epileptic fit. However, the time between him supposedly leaving the house and returning to discover Diane unresponsive was such that it could not account for the changes in Diane's brain detected by medical experts.
The Crown Prosecution Service's case was that Ian Stewart killed his wife by restricting her breathing, and then covered up her death.
Having considered the evidence, a jury at Huntingdon Crown Court have today found Ian Stewart guilty of murdering Diane Stewart.
Lawyer Charles White for the Crown Prosecution Service said: "Ian Stewart fabricated a story to cover up his abhorrent crime, just as he did when he killed his fiancée Helen Bailey.
"He lived a lie for many years regarding his wife's death, but the truth has finally caught up with him. Through the medical evidence we presented during the trial, we were able to disprove his account of what happened to Diane on the day she died and as a result the jury have found him guilty of her murder. 
"Our thoughts are very much with Diane's family and friends, and we hope that today's guilty verdict provides some measure of justice for their terrible loss."
Notes to editors
Ian Stewart (DOB 16 November 1960) was convicted of murder at Huntingdon Crown Court on 9 February 2022. 
Charles White is a senior crown prosecutor for CPS Thames and Chiltern.