Robber jailed for over 20 years for attack that killed elderly woman
A violent burglar who terrorised an 84-year-old woman in her home has been jailed for more than 20 years for manslaughter.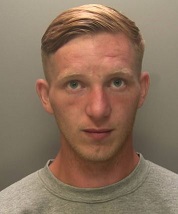 Johnny Joe Brazil, 27, had gone on a spree of domestic burglaries across Surrey in which he targeted elderly women living alone.
One robbery last year had fatal consequences for Joyce Burgess, 84. On the evening of 7 July, Brazil turned up at her home in Woking asking for a glass of water. He then snatched her handbag – but the pensioner struggled and tried to chase after him.
She was found by neighbours sitting in an armchair covered in blood, with wounds across her arms, after activating a panic alarm. Mrs Burgess died three days later in hospital from a heart attack brought on by the ordeal – although she was first able to describe the attack to police.
Just a day after assaulting Mrs Burgess, Brazil burgled another two victims, aged 96 and 89, in their homes.
Today at Guildford Crown Court he was sentenced to 20 years and three months in prison, with an additional three years on extended licence, after admitting manslaughter on 21 June.
Jill Beale, from the CPS, said: "Johnny Brazil made a point of targeting vulnerable elderly victims in their own homes, not hesitating to use violence where he met any resistance. 
"Tragically, this led to Joyce's death, with medical experts determining that her condition had worsened significantly as a result of the physical and emotional trauma she suffered in the attack. 
"We hope today's sentencing brings some comfort to Joyce's family and to Brazil's other victims, many of whom were left terrified after being robbed or burgled by him." 
 
Building the case
Brazil's DNA was found under Mrs Burgess's fingernails and he admitted to two people later that day that he had robbed an old lady of her handbag and that she had struggled with him until he got it from her. 
Following her death, reports were obtained from a series of medical experts to see whether her heart attack was connected to the robbery.
Forensic pathologists and a consultant physician and cardiologist all concluded that Mrs Burgess's health had worsened significantly after the attack. One expert said he did not believe the victim would have suffered the fatal heart attack when she did, had it not been for the assault. 
Brazil had also previously pleaded guilty to a number of other charges against him, including: 
•    A burglary early the next day after the attack on Mrs Burgess, in which a 96-year-old woman in Woking woke to find Brazil in her bedroom. He had stolen a jewellery box containing items of sentimental value. 
•    Another burglary, also discovered the morning after the attack on Joyce, at the home of an 89-year-old woman in Woking, where two handbags and jewellery were taken.  
Notes to editors
•    Johnny Joe Brazil (11/02/1992) had previously pleaded guilty to the following charges: 
o    One charge of manslaughter 
o    Two charges of robbery 
o    Three charges of burglary 
o    One charge of attempted burglary 
o    One charge of possession of a bladed article 
o    One charge of criminal damage 
•    Jill Beale is a Senior Crown Prosecutor with CPS South East