Raiders disguised as police convicted over attempted robbery on home
A gang of intruders who held up a family home masquerading as policemen have today been convicted of conspiracy to rob.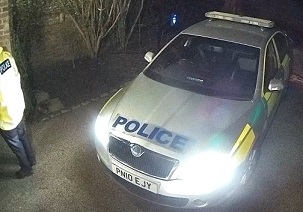 On the night of 1 May 2017, a rapid response ambulance disguised to look like a police car pulled up at a property in Sevenoaks, Kent, and a passenger wearing a police reflective jacket identified himself to the household as an officer investigating a disturbance.
Then four masked men, one armed with what appeared to be a sawn-off shotgun, stormed into the house after cutting a hole in the fence.
They forced the homeowner, whose three children live at the address, to the floor at gunpoint. But his wife was able to activate a panic alarm indoors alerting the police and the robbers were forced to flee empty-handed.
The Skoda Octavia ambulance was driven to Banbury, Oxfordshire, that night and found burnt out in Nottinghamshire two days later.
Nicholas Hamill, 31, and Joseph Meizen, 28, denied their involvement but were found guilty after a seven-week trial at Maidstone Crown Court. Two other men were convicted for their role in the conspiracy.
Richard Link, from the CPS, said: "It was clear that the gang targeted the family, as they thought they would be able to steal cash or high value property.
"They acquired a former ambulance, then converted it to look like a police car, complete with false number plates, and carried out reconnaissance missions to the neighbourhood beforehand, with their cars captured on cameras nearby.
"However, thanks to the family's quick thinking, the gang were forced to flee empty-handed, despite all the planning they put into their mission."
Building the case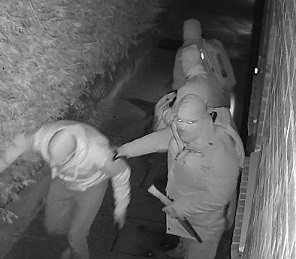 CCTV from the house captured the car arriving and the rest of the gang in the grounds, but no one could be identified from the footage.
This meant investigators had to focus on the intruders' whereabouts at the time of the attempted robbery and beforehand – with mobile phone data and automatic number plate recognition cameras used to track their cars. The CPS presented maps of this data to the jury as part of its case.
Mr Link said: "This has been a complex case to build, with more than 30,000 pages of evidence served. When combined together, we were able to prove to the jury the role gang members played in this carefully planned conspiracy."
Notes to editors
Nicholas Hamill (DOB: 24/07/1988) from Herne Bay, and Joseph Meizen (DOB: 05/04/1991) from Whitstable were convicted of conspiracy to rob and possession of an imitation firearm.
Ronnie Mead (DOB: 18/11/1983) from Seasalter pleaded guilty to assisting an offender in relation to the disposal of the vehicle used in the attempted robbery.
John Moys (DOB: 04/08/1973) from Hoath pleaded guilty to conspiracy to rob and possession of an imitation firearm
Richard Link is a Senior Crown Prosecutor with CPS South East