Pride in how hate crime is tackled in Surrey
The Crown Prosecution Service in the South East joined forces with Surrey Police to host a stand at the event, which aimed to raise awareness of the high conviction rates for those who are prosecuted for hate crime.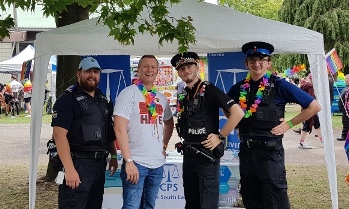 In 2017/18 in Surrey, the CPS prosecuted a total of 189 hate crimes and, of those, 160 cases (almost 85%) resulted in a conviction. Of those, 20 were homophobic or transphobic hate crimes and 17 resulted in a conviction. 
Gareth Morgan, from the CPS, said: "People were coming over to our stand all day to ask about the work the CPS does in prosecuting hate crime and what support can be offered to victims. 
"It was brilliant to see such a great response from the public to such an important issue that we know can blight people's lives. 
"We were able to talk to them about the work we do as the prosecuting authority when hate crime cases come to us and the excellent track record the CPS has in bringing perpetrators of hate crime to justice.   
"But more than that, those perpetrators are often given tougher sentences, because of the hatred they have shown to their victims. That sort of hatred because of someone's sexuality, race, religion or disability has no place in our society."
Notes to editors
Gareth Morgan is the Area Hate Crime Coordinator with CPS South East.
Hate crimes are when a victim or witness believes that an offence was motivated by hostility towards the victim's religion, race, sexual orientation or disability.
Defendants responsible for hate crimes can be given stiffer sentences by the courts.  These "uplifted" sentences can range from extended prison terms to longer community punishments, depending on the crime.