Man convicted of murdering woman in her home
A man has been convicted of murdering a woman at her home in Crawley, after she was attacked on her 29th birthday.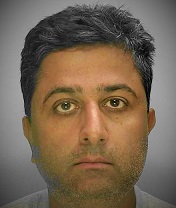 Lewes Crown Court heard that Zahid Naseem (48), from Amersham in Buckinghamshire (left), killed Christine Abbots at her flat in Highams Hill.
The alarm was raised by friends after she failed to arrive at a celebration she had planned in London on the evening of her birthday on Friday 25 May.
When police broke into the locked flat, Naseem was found lying motionless with self-harm type injuries to his wrist. A post mortem showed that Christine had been killed by a number of blows to her head during an attack a number of hours earlier.
Jayne Cioffi, from the CPS, said: "The defendant's story changed over time, with him first claiming that he could not remember what had happened and refusing to accept any responsibility for Christine's death.
"Faced with the sheer weight of forensic evidence against him, which clearly showed no-one else had been in the flat, Naseem then changed his story, claiming during his trial that he had killed Christine in self-defence.
"The CPS was able to present a compelling case to the jury that Naseem was guilty of murder and that self-defence had not played any part in his actions that day.
"Not only did Christine suffer multiple blows to the head, the defendant then failed to call 999 after the attack and for many hours afterwards, instead remaining in her flat until police broke in early the following morning.
"Naseem then feigned unconsciousness when discovered, believing that would help him to evade justice. He was wrong."
Notes to editors
Jayne Cioffi is a Senior Crown Prosecutor in CPS South East.
Zahid Naseem (DOB: 21/11/1970) was convicted of one charge of murder.