Learning from a Kent teenager's experience of hate crime
As part of National Hate Crime Awareness Week, anti-bullying ambassador James Okulaja spoke to staff at their office in Canterbury about how he had first seen his friends being bullied when they were aged 11, which led him to get involved with the Diana Award Anti-Bullying Campaign and a meeting with HRH the Duke of Cambridge.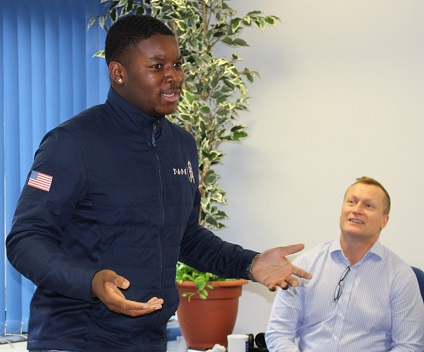 After experiencing online abuse himself, James decided that he wanted to put messages into his music to inspire people and to send a message to his cyber bullies.
"I was getting so much hate and at one point I was scared to go out anywhere in public. A lot of people making comments didn't even know me.
"My message now is that I don't care when people make comments like that about me, I'm still going to be successful and, if you ever get into a negative situation, then do everything you can to change it into a positive one. Make sure you surround yourself with positive people, as I'm blessed to have so many amazing individuals around me."
Gareth Morgan, from the CPS, said: "Hearing James' story was truly inspirational and he created a real buzz amongst our staff, which was our aim. We wanted to bring the stories of victims of hate crime to life, so that we can learn from their experiences.
"In the South East, the CPS has an excellent record on tackling hate crime. I'm really proud of our conviction rates. Nine out of ten defendants are convicted, meaning that people are acquitted in only 10% of the cases we prosecute. That sends a really strong message out to anyone who is suffering hate crime.
"Sadly, many people don't realise how successful the CPS is on this. When I go out to events, I often ask people how many convictions they think we get for hate crime and I hear figures of 15-20%, much lower than the 90% we actually achieve."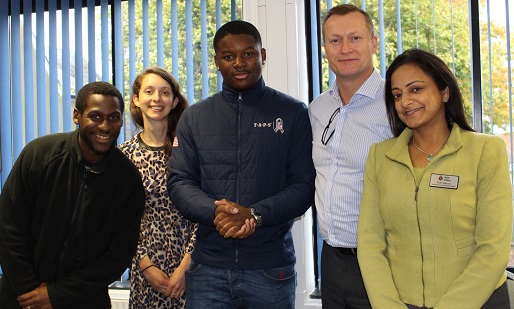 Kulbir Pasricha, Domestic Abuse and Hate Crime Manager from Kent Police, also spoke at the event, highlighting how "tackling hate crime is everyone's responsibility. We need to be Upstanders and not Bystanders".
Kulbir said: "Kent Police has been working in partnership with other agencies and the diverse individuals and communities across the county to address the under-reporting of hate crime. The increase in reports, which reflects a national trend, can be attributed to increased awareness of reporting mechanisms, such as third party reporting hubs and online reporting, improved recording and the additional support and safeguarding that can be provided to victims."
"Officers and staff receive training around hate crime with a number of our officers being recognised for their outstanding efforts in tackling the issue. For the past two years, two Kent Police officers have been nominated in the Law Upstander category at the National Hate Crime Awards.
"We have an independent hate crime advocate in Kent to ensure that the views and rights of every victim are represented throughout the criminal justice journey and that they are given the appropriate care and support.  We continue to focus on building victim confidence so people don't feel afraid to report crimes, and instead feel assured they will be listened to. Everyone has the right to live without harassment or the fear of crime, so we would encourage victims, family members, carers and the public to help us tackle the problem by reporting incidents to the police or our partners."
Guidance – where can victims get support?
People can report hate crime by visiting www.kent.police.uk/services/report-online or by calling 101, or 999 in an emergency. Text 60066 for deaf or hard of hearing. Alternatively, if people would prefer not to go directly to the police, they can report incidents online via the third party reporting scheme True Vision. This can be accessed via www.report-it.org.uk/.
Notes to editors
Gareth Morgan is the Area Hate Crime Coordinator for CPS South East.
James's music videos can be seen on his YouTube channel. His latest, TEAM, has been released in association with Hate Crime Awareness Week.