Pilot guilty of endangering life after crashing illegal commercial flight
A pilot has today been found guilty of breaching aviation laws after his overloaded plane crashed near the M62.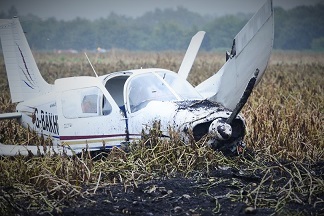 Robert Murgatroyd, who only holds a private licence, accepted £500 each to fly a group of birdwatchers from Barton aerodrome, Manchester, to the Isle of Barra.
He made no effort to weigh his three passengers - who were on a trip to see the American Redstart bird in the Outer Hebrides - or their luggage.
Moments after take-off, the Piper A-28 - known as a Piper Cherokee - clipped tree tops and crash-landed in a potato field 150 metres from the motorway. It had criss-crossed the road twice prior to the collision on 9 September 2017, Manchester Crown Court heard.
Murgatroyd's passengers, who could smell the leaking fuel, climbed out of the plane to safety but suffered severe bruising.
Nicola Wells for the CPS said: "Robert Murgatroyd's reckless actions could have had fatal consequences that day. Out of pure greed he put his passengers, road users and anyone else in the immediate area's lives at risk.
"Throughout the case he denied he was responsible in any way for the plane crash or that he had flown it for profit. In police interviews he described himself as a hero for the way he handled the forced landing and said that there should be a Hollywood film made about him.  
"However the CPS presented to the jury the overwhelming evidence against him proving he charged his passengers £500 each, filled the fuel tanks to the brim, made no checks on the weight of the full plane and had the wrong flight manual on board.
"An aviation expert witness described him as grossly negligent and said he had failed in his responsibilities as pilot in command. The jury after hearing all the evidence against him have found him guilty of all the charges he faced."
Notes to editors
Robert Murgatroyd (DOB: 19 May 1966) was convicted of the following charges:

Endangering the safety of an aircraft
Endangering the safety of a person
Illegal public Transport
Flying otherwise than in accordance with a licence
Flying otherwise than in accordance with any conditions/limitations contained in the aircraft flight manual
Failure to comply with the insurance regulation
Flying without the aircraft flight manual

Nicola Wells is a Senior Crown Prosecutor for the CPS North West region