UPDATED WITH SENTENCE: Former Army Sergeant who was hooked on cocaine jailed for murder
A former Army Sergeant who was broke and addicted to cocaine has been imprisoned for life for murder.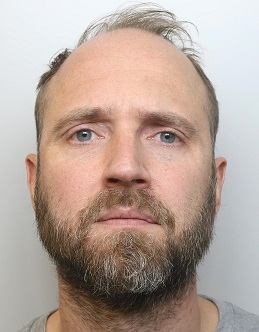 The Crown Prosecution Service (CPS) said that on 1 August 2019 Daniel Shovelton, 40, killed Mark Bradbury, 58, at his home in Station Road, Warrington.
He did it to steal money and drugs from Mr Bradbury, who was a small-time drug dealer. Shovelton was addicted to cocaine and had got into massive debt to feed his addiction.
At the time of his arrest for the murder of Mr Bradbury, Shovelton was said to owe around £53,000 to various people and organisations.
He had been sacked from his job as a courier, his home had been repossessed and he was living with his parents at Saffron Close in Warrington.
Shovelton killed Mr Bradbury by battering him over the head with a blunt object. There were also signs of strangulation. It is thought Shovelton killed Mr Bradbury sometime between 7.51pm and 9.52pm.
Shovelton's car was seen in the area for several hours around this time. Mr Bradbury's blood was found on Shovelton's car keys and a ring belonging to Mr Bradbury was also found on Shovelton.
In the days leading up to the murder Shovelton had been texting friends and relatives, trying to borrow money and get drugs "on tick".
At one point, he texted a relative trying to borrow £10. In the hours after the murder, he was suddenly apparently flush with money and was seen on CCTV buying various items in several shops.
Mark Bradbury was retired and lived alone in a small bedsit, designed for people with disabilities. He sold drugs to a small group of people to pay for his own cocaine.
Shovelton was one of his regular customers. Mark Bradbury shared ownership of a dog, Barny, with his brother, Lee.
In the days after his murder, his family had become concerned about him as they hadn't heard from him for a couple of days.
Lee had a key to his house and got in on Sunday 4 August 2019. A friend of Mr Bradbury, his wife, Mark's ex-wife and his daughter discovered Mark's battered and bloody body on the floor and contacted the police.
Shovelton was arrested on 5 August 2019. In interview he admitted he was addicted to cocaine. He said he had felt down since leaving the Army and had used drugs to cope.
He told officers: "It just gives you this false illusion - it's like escapism I guess, it made me forget how shit my life was. And then, as soon as it wears off, you feel crap again don't you? So it's a vicious circle."
Senior Crown Prosecutor Carolyn Viviani, of CPS Mersey-Cheshire said: "Daniel Shovelton had a desperate and expensive addiction to cocaine and on the day of the killing was in desperate need of money and drugs.
"Shovelton had been sacked from his job as a courier in May, he had borrowed from almost everyone around him, his house had been repossessed, he was living with his parents, the bailiffs were knocking at the door and he still had an expensive drug habit to feed.
"Mark Bradbury was the answer to his problems. A small-time cocaine dealer who was likely to have both cash and drugs at his property.
"An addiction to cocaine and the debts it had caused drove Daniel Shovelton to become a killer.
"Mark Bradbury's small-time drug-dealing made him a target. This case has been a dreadful insight into the appalling and dangerous world of drugs.
"It has been a difficult case for the Crown Prosecution Service to build as there were no witnesses to the killing and Mark Bradbury's body was found a few days after the murder.
"There were 8,500 items of used and unused material in this case - 585 statements and 1908 exhibits.
"The Crown Prosecution Service has worked hard with Cheshire Police to bring this prosecution and we hope Daniel Shovelton's conviction helps the family and friends of the victim in some way at this difficult time. Our thoughts remain with them."
Notes to editors
Carolyn Viviani is the Senior Crown Prosecutor for CPS Mersey Cheshire
Daniel Shovelton was convicted of murder on 17 September 2020 and was sentenced to life imprisonment (serve a minimum term of 24 years) on 21 September 2020 at Liverpool Crown Court