UPDATED: Man who became obsessed with child abuse allegations sentenced for stalking and arson
UPDATE: A Cheshire man whose obsession with false claims of child abuse led him to stalking and arson has been jailed for 15 years at Chester Crown Court.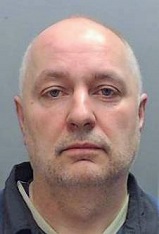 On 19 February 2019, a jury found Philip Day, 55, of Runcorn, guilty of two counts of stalking a teacher and a head teacher and two counts of arson. He was acquitted of a count of burglary.
He was sentenced today, 31 May 2019, to 15 years' imprisonment with an extended licence period of 5 years. He must serve at least two thirds of the term before he can be considered for release.
The court heard that Philip Day, 55, of Runcorn, became obsessed with an allegation that a pupil at the University of Chester Academy at Northwich (UCAN) school had been sexually abused by one of the teachers.
He also became convinced that the school, the police and the local safeguarding officer were involved in a conspiracy to cover up the abuse and that of other children.
The allegations were thoroughly investigated by the police on a number occasions over a number of years. No corroborating evidence was ever discovered and the alleged victim never made a formal complaint, despite being given several opportunities to do so.
Damion Lloyd, of Mersey-Cheshire Crown Prosecution Service, said: "Philip Day is a driven man, quoting from the Bible and using God as justification for his actions, but his campaign was misdirected and his methods unjustifiable and unlawful.
"He claimed that the school was a 'playground for paedophiles' yet, despite a thorough and extensive investigation by both the school and the police, no evidence was found to back this up.
"Despite his conviction for harassment, he continued to post videos on social media where he made the claims all over again."
On 19 February 2019, Day was found guilty of two counts of stalking a teacher and the head teacher of UCAN, and two counts of arson, one at UCAN and the other at a house in Essex. He was acquitted of a count of burglary.
Damion Lloyd said: "This has been a complex case. To bring this case, the Crown Prosecution Service has had to work with two constabularies, Essex and Cheshire, and both the Criminal and Family Courts.
"Day's offending had become more serious and dangerous as time went on. The effect of his allegations on the people he accused was devastating but they also had a dreadful impact on the pupils of the school that he claimed he was trying to protect.
"The jury have made their decision and Day can now expect a lengthy prison term. We hope this helps those affected by his reckless behaviour to move on with their lives."
Philip Day will be sentenced on 12 April 2019.