UPDATE: Two teenagers jailed for killing man who was stabbed at 18th birthday party
Two teenagers have been jailed for killing a man at an 18th birthday party in Cheshire.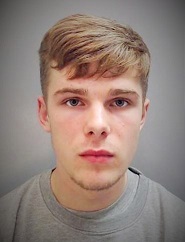 Joe Ward, 18, of Lockfield in Runcorn, was sentenced to life imprisonment, with a minimum period of detention of 16 years at Liverpool Crown Court today (24 May 2019) for murdering 18-year-old Eddie O'Rourke at the Royal British Legion Club in Runcorn on the evening of 7 September 2018.
A 15-year-old boy, who cannot be named because of his age, has been sentenced to seven years in a Young Offenders Institution, for manslaughter.
Joe Ward was found guilty of murder and possession of an offensive weapon on 5 April 2019 by a jury at Liverpool Crown Court.
Ward fatally stabbed Eddie O'Rourke, 18, at the Royal British Legion Club in Runcorn on the evening of 7 September 2018.
The 15-year-old, who handed Ward a knife, was found guilty of manslaughter and had earlier admitted possession of an offensive weapon.
Ward, of Lockfield in Runcorn, had a grudge against Mr O'Rourke because he was going out with his ex-girlfriend.
The two men exchanged words at the party and went outside but returned to the party.
CCTV showed how the 15-year-old defendant handed Ward a knife with a 12-inch blade which he took from the waistband of his trousers.
The two then went outside with Mr O'Rourke and got into a fight with him. Ward then stabbed Mr O'Rourke in the stomach. Mr O'Rourke was taken to hospital but died shortly afterwards.
The 15-year-old had been jointly accused of murder with Ward but was acquitted by the jury of that charge.
Damion Lloyd, of the CPS, said: "This was meant to be a party to mark a young person's coming of age.
"Instead, these two defendants used it as opportunity to kill another young person that they had a grudge against.
"The jury have found these teenagers guilty of some of the most serious offences in the criminal justice system and they can now expect substantial jail terms as a result.
"The Crown Prosecution Service would like to extend condolences to the family and friends of Eddie O'Rourke at this very difficult time."
They will be sentenced at a later date to be set by the court.
Notes to editors
Damion Lloyd is a District Crown Prosecutor for Mersey-Cheshire Crown Prosecution Service.