Two men jailed after unqualified driver kills pedestrian and drives off
A man has been jailed for eight years for causing death by dangerous driving after he hit and killed a pedestrian in Liverpool city centre and then drove off.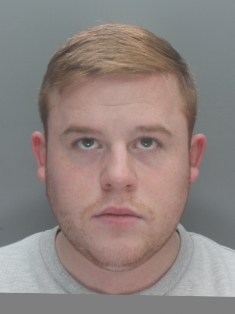 Liverpool Crown Court heard that Thomas Bimson, 23,  from Liverpool, was driving the high powered BMW 330X car along The Strand around 11.30pm on Friday 3 November.
He hadn't passed his driving test and had drunk around five or six cocktails. The car hit pedestrian Matthew Bradley, 24, from Northern Ireland, who was visiting the city with friends.
In a statement read to the court as Bimson was sentenced, Matthew's mother Margaret, said she was heartbroken, particularly as another of her sons had been killed in a car accident, aged five, in 1994.
Bimson was driving at around 48 mph in a 30 mph area, in the outside lane of the southbound carriageway of The Strand on the night of the tragedy. Mr Bradley was crossing the road at the time. Other cars in the nearside lanes had already slowed down to avoid him.
But Bimson didn't slow down and hit Mr Bradley head on. Witnesses said they heard a loud bang and saw Mr Bradley being thrown into the air by the impact.
Bimson would have known he had hit a pedestrian, yet he did not stop. He drove away and the vehicle was found abandoned about a mile away a few hours later. Mr Bradley was taken to hospital but was pronounced dead shortly afterwards.
Bimson handed himself in at St Anne's Street police station three days later on Monday 6 November.
The car had been hired by Ibrar Saddique, 35, who is from the Bradford area of Yorkshire and was a front seat passenger at the time of the collision. He had been drinking with Bimson at the Malmaison Hotel on Liverpool's waterfront in the run up to the incident.
Bimson told police in interview that Saddique had asked him to drive the car because Bimson had drunk less than him and Saddique wanted to go somewhere else to carry on drinking.
Bimson also admitted that he had never driven a car like the BMW 330X before or driven around the city centre at night.
Bimson was sentenced today (12 April 2019) to eight years in jail for causing death by dangerous driving and nine months for driving without insurance and without a licence. The sentences will run concurrently. He was also disqualified from driving for 12 years.
Saddique was sentenced to 18 months in jail for aiding and abetting him to drive without insurance. He has been disqualified from driving for three years and nine months.
A jury returned guilty verdicts on the two men on Friday 5 April 2019.
A Victim Personal Statement from the victim's mother Margaret Bradley was read out at the sentencing hearing. She said she felt "lost" and is finding it difficult to carry on.
She said: "It's hard to put into words how much hurt I carry. The rage, pain, sorrow and grief are more than anyone should have to bear. The burden we bear is felt so much more as we have lost another son, Matthew's brother David, to a Road Traffic Collision, aged five, in 1994. We are heartbroken and devastated all over again."
His fiancée Rhiannon Williams read out a Victim Personal Statement too, which ended: "He was my everything. My heart is beyond broken."
Brian Forshaw of Mersey-Cheshire Crown Prosecution Service, said: "Thomas Bimson was an uninsured, unqualified driver, driving a car at excessive speed at a time of night when that area of town would be packed with people enjoying a night out.
"He hit innocent pedestrian Matthew Bradley with catastrophic force and left him dying in the road as he drove off.
"Ibrar Saddique allowed an uninsured driver who had been drinking to drive his hire car with no thought for the consequences.
"Those consequences proved to be tragic and have devastated the family and friends of Mr Bradley. The effects will be felt by them for many years to come.
"This has been a complicated case for the Crown Prosecution Service. It was clear that the behaviour of both men had contributed to this tragedy and it was important that they were both charged with criminal offences to reflect that. A strong case was built against both men and the jury have agreed with that case. Both men are now in prison.
"Our thoughts remain with the family and friends of Matthew Bradley at this difficult time."