Two brothers sentenced for joint enterprise murder
Two brothers who shot dead a 20-year-old man in his own home in Liverpool have been sentenced for the joint enterprise murder.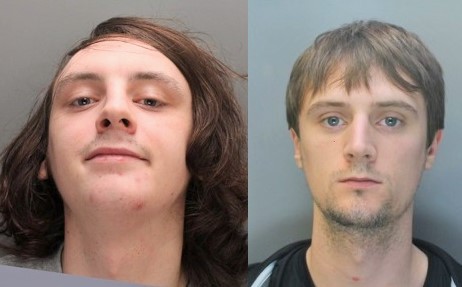 The Crown Prosecution Service (CPS) said that James Foy, 19, and his brother Michael, 22, shot Michael Rainsford dead at his home in Harrington Road, Litherland, at just after 11pm on 7 April 2020.
One of the brothers fired two shots at Michael through the rear kitchen window. They went there on an electric bike they had bought some weeks earlier.
The killing was in revenge after a brick had been thrown through the front window of their mother's home in Rossini Street in Seaforth at about 10.14pm - less than an hour before the killing.
Michael Rainsford had nothing to do with that incident but the Foy brothers killed him in retaliation for it.
The Bootle, Seaforth and Litherland areas have seen conflicts between two rival gangs - the Linacre Young Guns and the Kirkstone Riot Squad. James and Michael Foy are known to be associated with the Linacre Young Guns.
After the shooting, the CPS said that the brothers' mother Joyce Smith damaged her phone and SIM card in an attempt to thwart the police investigation.
Craig Johnson (the uncle of James and Michael Foy) stored the electric bike used in the shooting, again to thwart the investigation. Andrea Saunderson, Joyce Smith's neighbour in Rossini Street, stored clothing in her house after the killing, again as part of the cover-up.
The gun used in the killing was never found. James Foy's DNA was found on a different firearm recovered from a house in Bootle some five months earlier.
The brothers were arrested in the days after the shooting and denied any involvement.
On 16 February 2021, at Liverpool Crown Court, a jury found James and Michael Foy guilty of murder and possessing a prohibited firearm and ammunition. James Foy was also found guilty of possession of the gun traced to him from the house in Bootle in November 2019.
Joyce Smith, Craig Johnson and Andrea Saunderson were found guilty of perverting the course of justice.
Senior Crown Prosecutor Maria Corr of CPS Mersey Cheshire's Complex Casework Unit said: "The Foy brothers killed a young man in his own home as retribution for an event he had nothing to do with.
"They fired two shots directly at Michael Rainsford. His brother tried to revive him but Michael didn't stand a chance.
"After the killing the two brothers set about covering their tracks and involved their mother, their uncle and a neighbour. Calls between the brothers and their mother after the front window was smashed shows the course of events that followed this. Then calls after the killing to the others showed their attempt to thwart the police investigation."
"Our thoughts remain with the family of Michael Rainsford at this difficult time."
The defendants were sentenced today (12 March 2021) at Liverpool Crown Court. James Foy was sentenced to life imprisonment, to serve a minimum of 28 years. Michael Foy was sentenced to life imprisonment, to serve a minimum of 30 years.
Andrea Saunderson was sentenced to one year and six months' imprisonment, suspended for two years, with a 20-day rehabilitation order.
Joyce Smith was sentenced to two years and six months' imprisonment.
Craig Johnson was sentenced to three years' imprisonment.