Three teenagers found guilty after youth shot near retail park
Three teenagers, one as young as 15, have been found guilty of causing grievous bodily harm with intent following the shooting of a 17 year old boy in Prescot on Merseyside in January.
The Crown Prosecution Service (CPS) said that the gang, who can't be named because of their ages, shot the teenager at Cables Retail Park on 20 January 2020.
The victim had travelled by train from Wavertree to Prescot in the afternoon of that day and was walking through the retail park, passing the McDonalds restaurant to visit a friend.
CCTV showed five boys, aged 17, 14, 15 and two 16 year olds, outside McDonalds. Three were on bikes, one on a scooter and one foot.
As the victim passed through the cut through between Next and Outfit towards Station Road, the gang followed him.
In Station Road the victim became aware that he was being followed. He turned into the alleyway to escape but was shot in the hip.
The gang's pursuit of the victim was seen by witnesses who also heard a loud bang as he was shot. Some witnesses also said that one of the gang was carrying a knife on the handlebars of his bike.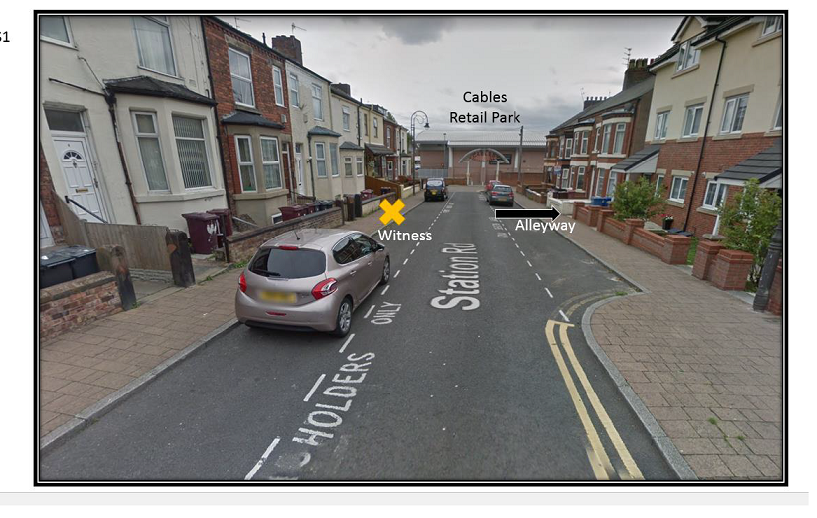 The gang ran out of the alleyway after the shooting and one of them was seen to put something into his jacket pocket quickly.
A spent bullet, an unspent bullet and casings were found at the scene. Blood was recovered in the alleyway.
One of the witnesses passed the victim as he was leaning on a wheelie bin and he said: "Help, I've been shot in the leg."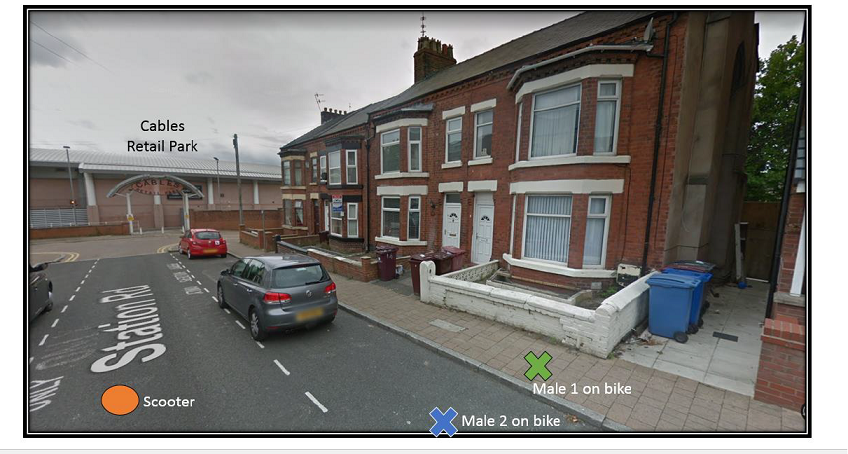 A man who lived in the area took the victim to hospital where he was treated for a gunshot wound to his right hip. He'd suffered a perforated bowel and a fracture to his spine.
The gang were identified from CCTV, telephone evidence and cell site evidence, were arrested and interviewed, but they all denied any involvement.
The Crown Prosecution Service authorised that all five be charged with joint enterprise attempted murder.
Today, 18 December 2020, at Liverpool Crown Court, a jury acquitted all five defendants on the charge of attempted murder.
However, they found three of them guilty of causing Grievous Bodily Harm with Intent. Two of the youths were acquitted of all charges. The three defendants will be sentenced at Liverpool Crown Court on 19 February 2020. They have been remanded in custody whilst they await their sentence.
Senior Crown prosecutor Angela Rowan of CPS Mersey Cheshire, said: "This young victim was shot in a busy, residential street in an apparently motiveless attack.
"The victim has been traumatised by what happened on that day and has been left with life-changing injuries.
"This is a case of joint enterprise. These three defendants acted together, with the joint intention of causing really serious harm to this young victim. The fact that two bullets were fired is clear evidence of that intention.
"Joint enterprise can be a difficult concept for a jury but they have agreed with the CPS and found three of them guilty.
"The fact that these defendants are so young and the crimes that they have been found guilty of are so serious is shocking. They will have to live with the consequences of what they chose to become involved in on that day.
"The Crown Prosecution Service would like to thank the victim and his family and the witnesses in this case for their help in bringing this prosecution."