Three men jailed after complex guns and ammunition prosecution
Three men have now all been jailed for possessing guns and ammunition at the end of a complicated and long-running case for the Crown Prosecution Service.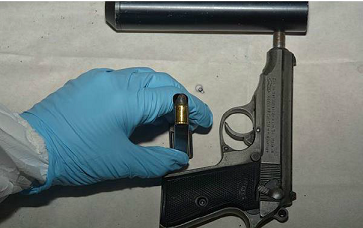 The CPS pursued a prosecution against Kieron Wakefield, 23, and said that he was the armourer of local criminal gangs and also stored weapons for them.
He was convicted in November last year of possessing a gun, a silencer and ammunition, but the jury failed to reach a verdict on three other counts of possessing guns and ammunition.
The CPS proceeded with a retrial and at the start of that hearing in May 2019, Wakefield pleaded guilty to the outstanding charges. He was sentenced this week (19 June 2019) to 13 years in jail for all of the offences.
His co-accused Ryan Sands, 25, was found guilty at the trial in November of two counts of possessing guns and two counts of possessing ammunition. He was sentenced this week on 19 June to six years in jail.
Ryan Dawson, 22, had earlier pleaded guilty to one count of possessing a gun and one count of possessing ammunition. He was jailed for five years.
Dawson was arrested when police officers on patrol in Altcross Road in Croxteth on 5 May 2017, found him carrying a loaded pistol in a bag.
DNA on the gun also pointed to Kieron Wakefield. Wakefield was then also arrested, charged and bailed in July 2017.
Wakefield was on bail when, on 8 November 2017, armed police executed a search warrant at his home address in Carsington Road in Liverpool.
Two weapons, a silencer and ammunition were found in the fence in the back garden of Wakefield's grandparent's home in Guilstead Road in Norris Green.
His DNA and that of Ryan Sands were found on this equipment.
Keith Drummond, for the CPS, said: "The Crown Prosecution Service was convinced that Wakefield was an armourer for local gangs and that he also stored guns.
"He was found guilty of some offences but continued to deny others. The CPS was determined to bring him to justice for all of the offences and we pursued a further prosecution against him when the jury failed to reach a verdict on his guilt in November.
"This was a difficult and complex prosecution involving disputed DNA on three guns and equipment. It took a lot of examination and evidence from experts in this field to bring this prosecution to a successful conclusion.
"Wakefield insisted on his innocence until the last minute but eventually owned up to his pivotal role in this operation at the start of the retrial, proving that the CPS was right to continue with this case. Wakefield, Sands and Dawson are now all behind bars for some time.
"Unlicensed guns have no place in a civilised society and bring fear and terror to a community. These men were involved in an illegal and dangerous business that the CPS and the Police will work together to stop."
Notes to editors
Keith Drummond is a District Crown Prosecutor for Crown Prosecution Service Mersey-Cheshire.