Sentence Update: 'Violent and manipulative bully' guilty of multiple rapes and coercive behaviour
A man described as "a violent and manipulative bully" has been given a 33-year sentence for multiple rapes, assaults and coercive and controlling behaviour against three women.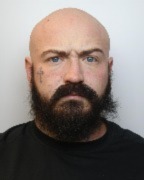 The Crown Prosecution Service (CPS) said that David Overton, aka David Fury-Walsh, 31 of Macclesfield, showed an engaging and wildly generous side to his character to the women at first.
But a darker side soon began to appear and he wasn't honest about his background – he claimed to be related to the well-known boxer called Tyson Fury, which wasn't true.
His behaviour quickly descended into criminality and was coercive and controlling, which had a serious effect on the women. His behaviour was violent, involving assaults and it descended into sexual offending.
All three women described sexual activity where they were not consenting and Overton could not reasonably believe they were consenting.
One of his victims said Overton threatened her and her children, assaulted her, controlled her contact with friends, took her money and monitored her movements and whereabouts. He raped her on several occasions.
The second victim also talked of Overton's control and coercion, assaults, and rape. He also made her take out loans, made her give him money and limited her contact with friends. The third victim suffered the same offences.
Overton was eventually arrested and was charged with 25 offences of rape, assault and coercive and controlling behaviour.
He denied all the charges but he was found guilty by a jury at Chester Crown Court on 14 December 2022. On 6 February 2023 at Chester Crown Court he was jailed for 27 years and was also given an extended licence period of 6 years.
The three victims all gave statements which were read out at the sentencing hearing where they talked about the effect that Overton's monstrous behaviour had on them.
"It is so difficult to put into words how I have been affected by being raped, beaten and having someone control and manipulate every single aspect of my life. The realisation that actually this man didn't care for me, like me or have any regard for my basic human needs. Instead, he used me for my money and to carry out his own sick fantasies. I question daily what was worse, the beating or the manipulation?"
"I am scared to leave the house alone as much as I am scared to just be in my own home. I'm scared when I close my eyes. I'm scared to meet new people or even socialise with those that I know. This man has changed me for life, not only physically but mentally too."
"Some days I feel strong, other days I feel weak but one thing that resides with me which I cannot stop thinking about is how this monster has committed serious crimes before. I've since learnt he isn't a "Fury" like he let me believe, not a boxer, not a builder, just a con-man.
"Day to day, I feel as though I just survive. I don't go out, I worry in case I am being watched. I feel anxious in case he has got somebody he knows to watch me or the children. I feel as though I am constantly looking over my shoulder. I don't trust anybody. I second guess and overanalyse everything that everyone says. If someone just smiles at me, whether they are a man or a woman, I find myself questioning – why are they smiling at me? Do they know him, do they know what's happened? I used to be such an extrovert and now I feel the complete opposite."
Senior Crown Prosecutor Karen Nolan, a specialist lawyer with CPS Mersey Cheshire's Rape and Serious Sexual Offences (RASSO) unit said: "David Overton is a violent and manipulative bully who has now been given a substantial jail term for his crimes. He is someone who must be in control of a situation.
"He is a fantasist. He is a man who wants his own way. He is a man who does not take 'no' for an answer. He has shown himself to be a man with no respect for women.
"He denied the charges and claimed the women consented to sex, invited it, and enjoyed it. They all denied that and the jury agreed with them.
"I would particularly like to thank the victims in this case for their courage and determination to see this prosecution through and bring Overton to justice, despite everything they have been through. Their Victim Personal Statements were heart-breaking to listen to. The impact of this sort of offending is so devastating.
"Sexual violence and controlling behaviour often go together and no one should have to endure behaviour like this. The Crown Prosecution Service will help and support victims to bring their abusers to justice."