Man who raped woman on her way home from a night out jailed
A man who raped a young woman as she made her way home from a night out in Liverpool has been jailed for eight years.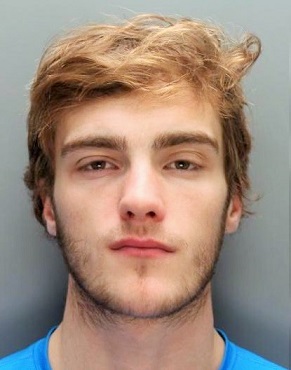 The Crown Prosecution Service (CPS) said that Callum Jamieson, 23, of Hampstead Road in Liverpool, barged into the victim as she approached her student accommodation in the early hours of Sunday 1 December 2019.
The victim, who is 20, thought it was an accident but, as she turned, he grabbed her and said, "Give me your money". The ground was icy and she fell to the floor, holding out her bag.
She thought he would take it and run off, but he ignored it and leaned over her. He then grabbed her by the hair and pulled her backwards along the pavement and over a low wall into the bushes, where he raped her.
Her screams reached a fellow student on the fourth floor of her accommodation and he ran out to see what was going on.
When he approached the bushes he could see the woman on the floor and the man stood facing away from him.
The witness said: "What are you doing?" and Jamieson said, "Oh shit" and ran off. The witness then helped the victim into the accommodation and they contacted the police.
Jamieson's probation officer contacted police after a press appeal went out to the local media, as he recognised the description of the offender. Forensic evidence also linked him to the scene of the crime. He was arrested on 12 December 2019.
Jamison pleaded guilty to rape at Liverpool Crown Court on 13 January 2020 and was sentenced to eight years in jail today (28 February 2020).
Karen Nolan, a specialist prosecutor with the Rape and Serious Sexual Offences unit at CPS Mersey-Cheshire, said: "This young woman was simply making her way home from an evening with friends when she was set upon by this man.
"She thought he was trying to rob her and tried to stay safe by handing over her bag without a struggle but he was determined to go further.
"He raped her and it was only her screams that made him stop as they were heard by a person in the student accommodation who came out and confronted Jamieson, who then ran away.
"The victim was almost home when she was attacked and has been left traumatised by what happened on that night. The Crown Prosecution Service recognises how frightening this incident was for the victim and the impact it has had on the community as a whole.
"Victims of sexual assault should be assured that they will be helped at each stage of the way to bring their attackers to justice. The CPS would like to thank the victim and the witnesses in this case for their help in bringing this prosecution."
Notes to editors
Karen Nolan is a specialist prosecutor with the Rape and Serious Sexual Offences (RASSO) unit at CPS Mersey Cheshire.