Dangerous sexual predator jailed
A 35-year-old man who targeted and sexually assaulted young women who had become separated from their friends has been jailed.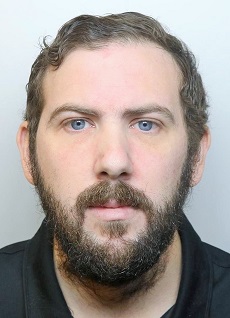 At Liverpool Crown Court today (5 March 2020) Paul Garden, of Armstrong Close in Birchwood, was described as a dangerous predatory sexual offender.
He was given an 11-year sentence for one of the two assaults he had been found guilty of and can only be considered for parole after he has served at least two thirds of that. He was given a six-month jail term for the other assault.
Garden was arrested after sexually assaulting an 18-year-old woman in the garden of her home in Widnes on 14 July 2019. The woman had left her friends to go home and change her clothing.
Garden spotted her and followed her. When she reached the gate of her home, he pushed her onto her front lawn, gripped her neck with his hand and sexually assaulted her.
She screamed and he ran off. She got into her house and told her mother what had happened and the police were called.
Garden worked at Liverpool Airport in the Duty Free shop, and is thought to have been driving around the area in the run up to starting his shift at the airport at 4am.
Following his arrest, police reviewed other unsolved sexual assaults in the area that had been committed in a similar manner.
Mobile phone evidence and car number plate recognition placed Garden in the vicinity of an assault on a 19-year-old woman on 17 March 2019.
In that case, the victim had become separated from her boyfriend following a row. As she made her way home, Garden jumped out from an alleyway and sexually assaulted her. Again, he ran off when the victim screamed.
On 22 January 2019, at Liverpool Crown Court, a jury found Garden guilty of both sexual assaults.
Wendy Scott, a specialist prosecutor with the Crown Prosecution Service's Rape and Serious Sexual Offences (RASSO) unit, said: "Attacks such as these result in unimaginable terror for the victims and also create fear amongst the general public.
"Garden ran off because the victims in this case were able to scream which is why the assaults ended when they did.
"He appears to have become bolder as time has gone on and its extremely fortuitous that he has now been successfully prosecuted and is behind bars.
"I would like to thank the victims and their families for their courage in helping us build this prosecution.
"It is never easy to relive events like this in a court but the CPS and the police will do all they can to help victims of sexual assault through the criminal justice system and to achieve a successful prosecution.
"We applied to the court for special measures that meant that the victims did not need to see the face of their attacker when they were giving evidence in court.
"I'd also like to thank Cheshire police for carrying out a comprehensive investigation and working closely with the Crown Prosecution Service to achieve these convictions."
Notes to editors
As Paul Garden was found to be a dangerous predatory sexual offender, Judge Robert Trevor-Jones imposed a four-year extended licence period as part of his 11-year jail term for the July 2019 assault. If he is found to be not safe after he has served two thirds of the sentence, he could spend the full 11 years in jail.